Today I'm starting a new column about the best ring designs. I hope to show off some of the most fabulous ways for you to show off your dream diamond. It's all about the setting…so that the end result is all about your rock, you know?
With the right supporting engagement ring setting, your center diamond (or morganite, aquamarine, sapphire, etc.) remains the center of attention – which is exactly what you want when it comes to the best ring designs.
Today let's chat about round brilliant diamonds and the best ring designs for showing off this particular diamond. If your thoughts automatically tuned to a 4 prong solitaire, I don't blame you – it's a total classic. And while I had to include this particular style in this list so that the fabric of the universe and logic remain intact, you'll note that it's far from your only option.
Round brilliant diamonds, thanks to their enduring style, look great in literally almost every setting. I really want to say literally every but this is the internet so someone out there is waiting to prove me wrong. I invite you to the comments section in earnest because seriously IDK what setting a round brilliant wouldn't look good in. Maybe a three stone with emerald cut side stones? Nope, still great.
Anyway, the RBD is surprisingly flexible, lending itself beautifully to avant garde styles, antique styles, halos of every variety, and of course the classics (solitaire and three stone.) Its ability to hide color and clarity flaws with its abundance of facets only makes it more versatile. You can't go wrong with a round brilliant diamond, so let's explore some of the best ring designs for this shape.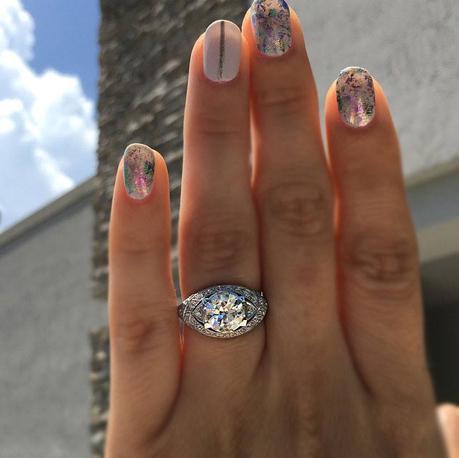 Click here to shop.
I want to get the party started with an antique engagement ring. This center diamond is actually a Transition diamond, an antique stone from the era between the Old European cut's reign and the beginning of the modern round brilliant. Because the modern round brilliant cut established the standard parameters for the cut, the diamonds that came before were more unique, with each cutter putting his own spin on the diamond. So the diamonds from this time period are classified only as "Transition" and this one perfectly anchors this Art Deco engagement ring design.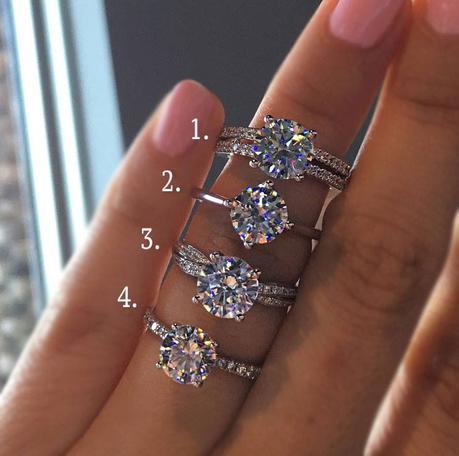 Click here to shop.
This team of A. Jaffe solitaires demonstrates how beautifully you can personalize the most classic setting for a round brilliant. In this shot alone, you can see a double banded halo, a 4-prong with unique positioning, a twisted ribbon shank solitaire, and a classic shared prong diamond band.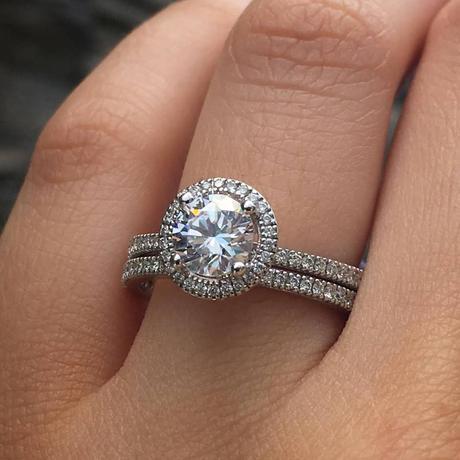 Click here to shop.
This Simon G. set is simple halo perfection. I love how the wedding ring sits perfectly flush against the band of the engagement ring, with the delicate halo floating above, and the center diamond elevated to the highest. I also love how the way the accent diamonds are set, giving all the edges a really clean line (or circle, in the halo diamonds' case.)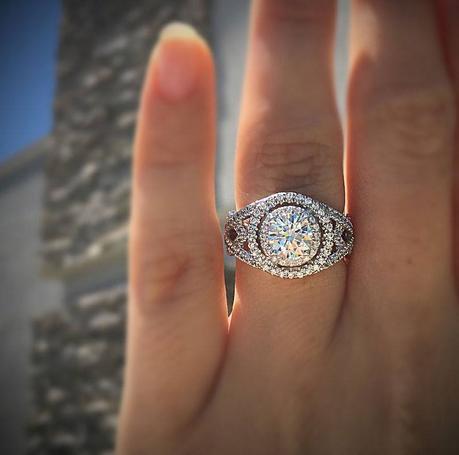 Click here to shop.
Here, Gabriel & Co. turns the round halo engagement ring design on its ear in a few ways. First, it uses a double halo, but check out that breath of fresh air between the inner and outer halo. The inner one hugs the center diamond so tight that they visually become part of the main diamond (making it look big.) Then that little sliver of negative space before the second halo tricks your eye further into seeing just one halo (making the center look bigger,) THEN that space adds to the ring's total circumference on your finger, making the center diamond look downright enormo. The basketweave diamond bands create an epic, but still airy shank that makes this ring totally unique.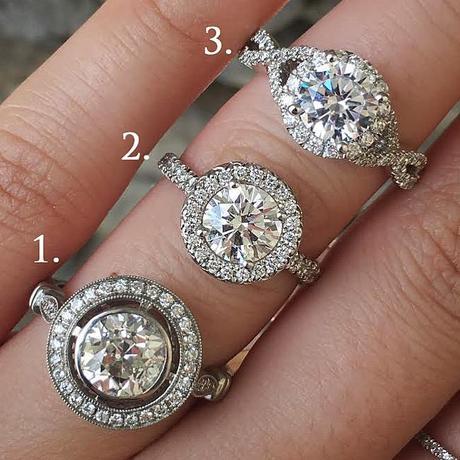 Click here to shop.
Another by-the-numbers shot! This one demonstrates a variety of a. round brilliant halo engagement rings and b. Raymond Lee Jewelers engagement rings! It's a great shot that demonstrates the different facets (had to do it) of RLJ bridal. Up top we've got a Gabriel & Co. infinity shank halo, repping the designer cases. In the center, you'll see a fabulous E color VVS1 halo from our estate collection. And on the bottom you have an antique Old European cut round brilliant in an antique setting.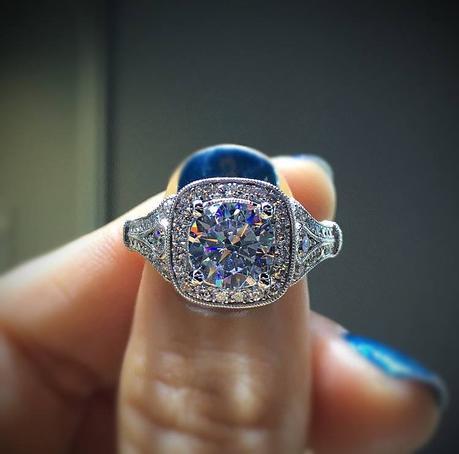 Click here to shop.
This Gabriel & Co.halo isn't antique, but it borrows heavily from Old World design. The result is a gorgeous portrait style vintage vibing engagement ring setting.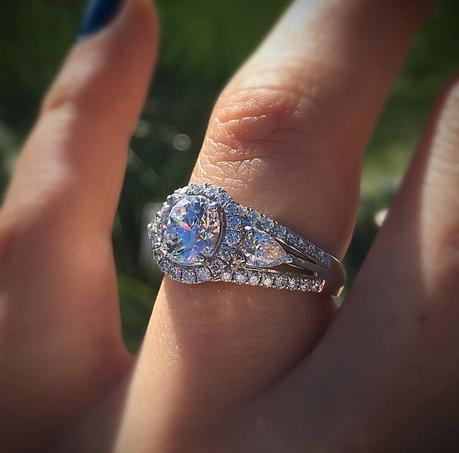 Click here to shop.
This gorgeous halo is courtesy of Simon G. It uses a split shank diamond band to embrace two large pear shaped side stones. The halo boasts slightly larger diamonds to draw focus to the center diamond of your choice.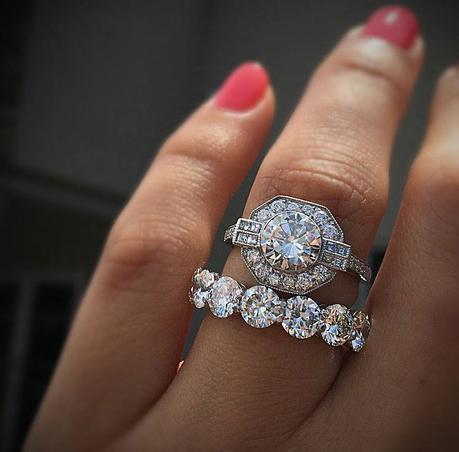 Click here to shop.
Hello, beautiful. This Art Deco inspired creation from Raymond Lee Jewelers is one of my all time favorites! It's totally fresh and unique with an octagonal milgrain halo, large round brilliants and stacked baguettes. Oh, and in case you were just a tad distracted by the six carat wedding ring, here's the link.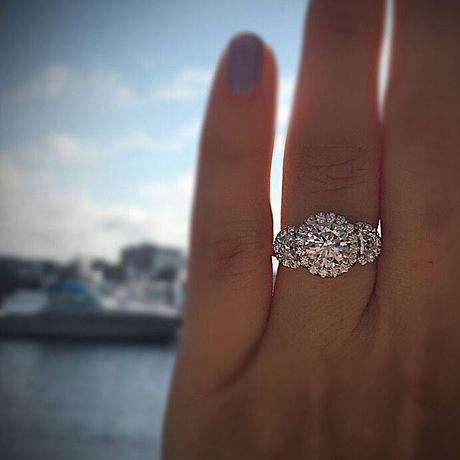 Click here to shop.
This Gabriel & Co. beauty features a three stone setting with a halo added to the center diamond and each half moon.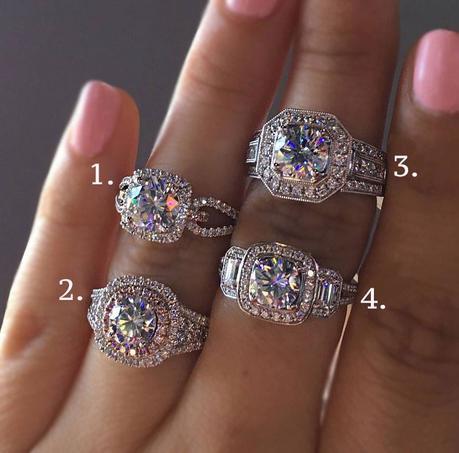 Click here to shop.
Finally, I wanted to wrap up with some fireworks, courtesy of Simon G. Each of these rings stands out in a crowd thanks to bold details that you won't find in any other ring – and they're all totally unexpected ways to set your round brilliant halo.