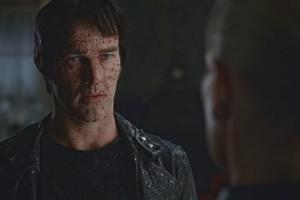 We all know that HBO's True Blood is best known for all its blood and risque scenes, but a close runner up is its long list of fabulous quotable one liners.
We all have a fave quote, but weekly, new ones pop up to challenge them. BuddyTV.com has a great list of new quotes from Episode 2: You Smell Like Dinner.
I have listed my fave top 5 below. Make sure you check out the full list here. How many of my favorites are yours too?
"It's not that I don't appreciate all the licking, cuz I do, but I'm more of a Band-Aid kind of guy."   - Jason to Timbo
"And what do you think's gonna happen when I do come to grips with it? Do you think my legs are gonna magically open for you?" - Sookie to Eric. Which is quickly followed up with:
"Well that was saucy. It must've been Fairy Sookie talking. I like it when she comes out."            - Eric to Sookie 
"I am a Christian, God damn it." - The ironic statement of an anti-vampire protester
"Now go clean yourself up. You're covered in Queen." - Nan to Bill
Source: Buddy TV – Best 'True Blood' Quotes from 'You Smell Like Dinner.' (Photo Credit: HBO, Inc.)