Independence Day Celebrations
Got plans for the 4th of July? Well if you're like me and still contemplating on the absolute best location to catch the fireworks show in San Diego, you might want to check out our list of hot spots below. Established as a federal holiday on July 4, 1776, Independence Day has been an American tradition that commemorates the adoption of the Declaration of Independence. Now let's see what America's Finest City has in store!
The "Big Bay Boom"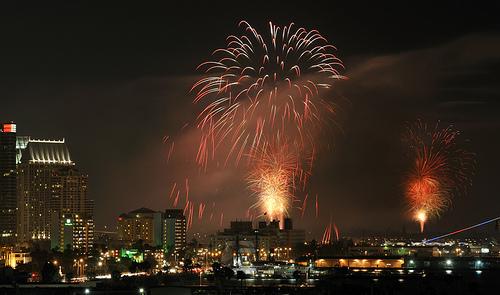 Big Bay Boom (Via: Port of San Diego)
If you want to see the biggest and baddest show on the west coast, you have to come to the 13th annual "Big Bay Boom" Fireworks Show. Established in 2001, this is actually the biggest annual event in the Western United States, drawing over half a million people.
Held at San Diego's North Bay, this event encompasses a vast area from Point Loma to Shelter Island to Harbor Island to Liberty Station to Little Italy to the North Embarcadero to Seaport Village, and South Embarcadero to the Coronado Ferry Landing. I know, ridiculously huge! The show will run approximately 18 minutes and feature some of the most technically advanced fireworks in the nation. Ranked the 3rd best Fireworks Show in the Nation by AOL, if you are in San Diego this is where you need to be!

SeaWorld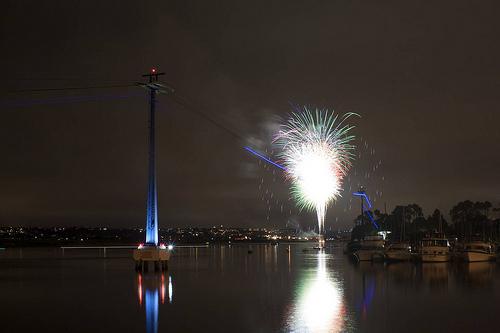 SeaWorld(Via: The Angry Photographer)
Who wants to go to SeaWorld! Well if you enjoy large crowds, SeaWorld will be a great place to catch the night's entertainment. Situated between Mission Bay, Point Loma, Old Town, and Coronado Bay, SeaWorld is truly located in the middle of it all. If you're coming from out of town, punch the address below into your GPS and you will find yourself at the entrance. SeaWorld holds their very own Into the Blue extended fireworks show so head over to get the most out of your night!
SeaWorld San Diego:
500 Sea World Drive
San Diego, CA 92109
Presidio Park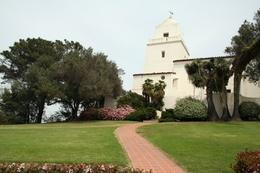 Presidio Park – Serra Museum (Via: Wikipedia)
Now for my personal favorite, Presidio Park is a Historic city park that overlooks Point Loma and San Diego's North Bay. Founded in 1769, San Diego Presidio and San Diego Mission were the first European settlements in what is now the Western United States. Given the historical significance of Independence Day, this provides a great way to memorialize the day for our nation's past. Sitting on 40 acres, this park offers breathe taking views of the city and the San Diego River Valley.
Locals gather at Cosoy Way and Presidio Dr at 9PM to watch the show at the edge of a hill that gives you a spectacular western view of the Big Bay Boom, SeaWorld, and the Coronado fireworks show all at the same time. If you want to catch all three at once, head to this spot!
Ocean Beach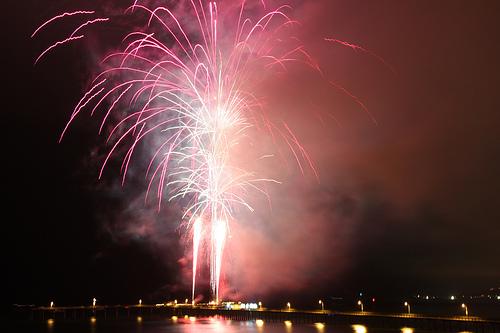 Explosion of fireworks above Ocean Beach Pier (Via: San Diego Shooter)
San Diego's beaches will be a prime gathering location for many over this holiday weekend. Ocean Beach holds its very own fireworks display launched from the OB Pier at 9PM. You get the best view from the Ocean Beach Café. This is a great chance for the family to spend the day at the beach and enjoy an evening filled with excitement.
Just like most of San Diego's beaches, OB will be packed on the 4th so be sure to leave early and stake your claim. Most people like to bring beach blankets, umbrellas, and a tent for some relief from the sun. It's not uncommon for people to camp out overnight so be sure to arrive by 4AM if you want to get a good spot. Oh, and be ready to fight for parking!
The Ocean Beach Cafe
5901 Niagara Ave
San Diego, CA 92107
San Diego County Fair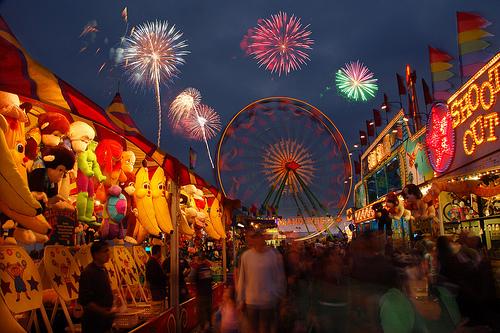 Fireworks at the Fair! (Via: Bill Gracey)
For those in North County, the San Diego County Fair is located at the Del Mar Fairgrounds. Just 20 miles north of Downtown San Diego, the FairGrounds cover a whopping 340 acres. The show begins at 9PM and they are open until midnight. Expect a place full of entertainment, food, and fair-goers. Entry to the fair requires admission. Adults get in for $14, age 62 and older $8, ages 6-12 $8, and 5 and under get in free. Great place, lots of food, music, and rides!
Del Mar Fair Grounds
2260 Jimmy Durante Boulevard
Del Mar, CA 92014
Coronado Parade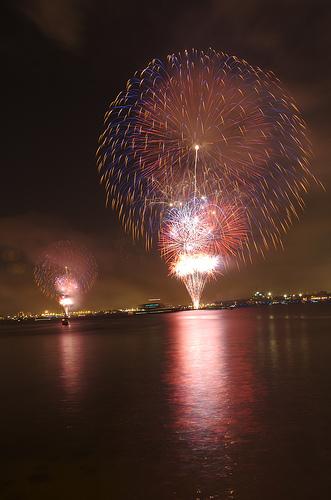 JULY 4TH (Via: mario.lozano)
Last but not least is the 65th Annual Independence Day Parade themed "America the Beautiful." Coronado holds their traditional parade starting at 9AM on Orange Ave beginning from 1st Street to Churchill Place. The days schedule features a fireworks display over the Glorietta Bay that begins at 9PM. Be advised, this event will draw crowds so early arrival is highly recommended but it is important to note that you cannot start claiming your spot on the street until after 5AM.
Let us know if you have any favorite spots for locals to enjoy the 4th of July! Happy Independence Day from TradewindsImports!
About this post
Cheryl Khan is a freelance writer living in San Diego, CA. She covers a variety of home design topics. She enjoys watching 4th of July fireworks with her family and close friends.