A) For the record I did not watch the People's Choice Awards. Lainey Gossip advised me not to, but I had already decided to just stare at red carpet pictures after the fact instead of putting myself through three hours of a show hosted by…Two Broke Girls. I love Kat Dennings and all but if it ain't Tina & Amy there'd better be a damn good reason I should watch that award show instead of Property Brothers. And even Britney vs. Justin couldn't tear me away from Jonathon & Drew. And judging by the red carpet pictures, I didn't miss much. The only dresses that were remotely good was on Sandra Bullock (obviously) and someone who attended the awards with Sarah Michelle Gellar. That's all I know. Oh and Jennifer Hudson and Alison Williams looked good, but they always do and they didn't wear any good jewelry so no points for them. Who did have good jewelry? It was few and far between – there weren't that many stars worthy of The Schwartz I guess (even DKNY was like, yeah, pass, we'll see you on Sunday.) But there was good to be found.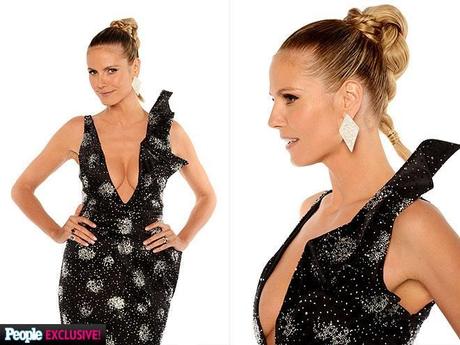 via People
Heidi Klum's dress was g-d awful, per her red carpet resolution to wear something fabulous or hideous, nothing in between. However she can always be counted upon to bring the bling and her earrings were amazing. She was one of the chosen few who wore Lorraine Schwartz, and she knocked it out of the park with these White Diamond Pave Kite Earrings.  I also loved her big ol' diamond pinky ring (12 carats) paired with a black diamond ring and her #OFIRA black jade and white diamond bands on her left.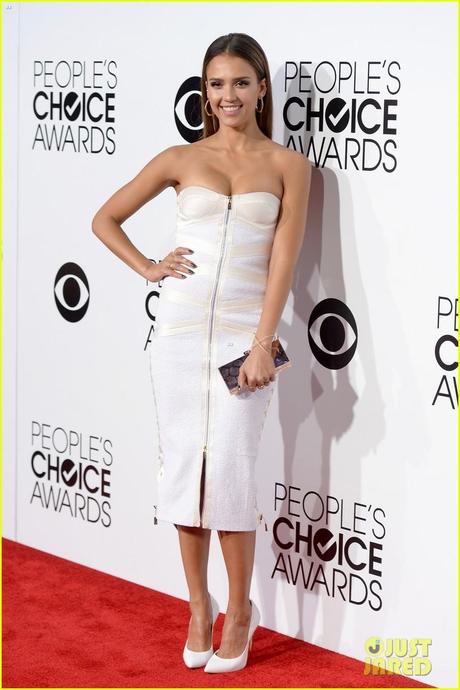 via Just Jared
Jessica Alba's unfortunate dress made her a victim of our new favorite term "mammary pancakes" so it looks ill-fitting up top and the length (and odd side stitching a-la Paris Blues lace up bell bottoms circa 2002), along with a front zipper(?!) and front slit…no bueno, even on the gorgeous Alba. However her geometric jewelry is perfect. She chose stacked rings, an interlocked infinity bangle and flat hoops all by Jennifer Meyer. It looks like she chose the large diamond hexagon hoops.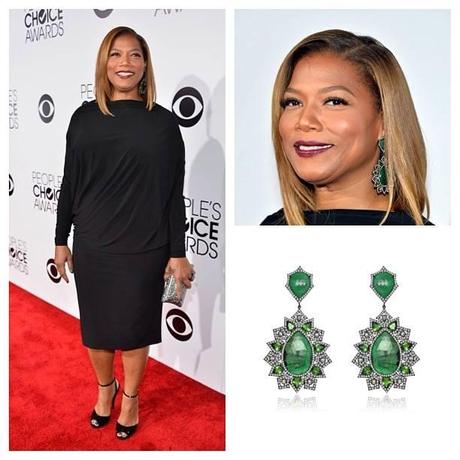 via D'Orazio & Associates
Queen Latifah looked gorgeous in black Angela Dean, and the best addition to a Little Black Dress is statement jewelry – her Sutra jewels did not disappoint! Major emerald and diamond earrings play nicely with a thick black diamond (I think) band.