No other single event in fashion influences jewelry the way that the Academy Awards red carpet does. Granted, not everyone can ring up Harry Winston when they need some diamonds, but the trends seen on celebs translate well into costume and fine pieces that most people already own. So we love watching the emerging trends for the next year in full force on Hollywood's a-list, and last night, we saw several that we were totally on board with!
The Backlace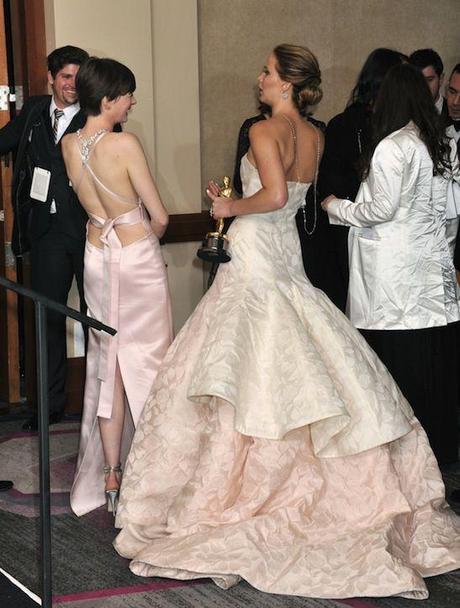 via Glamour
Biggest trend of the night, even if only two actresses wore it. It doesn't hurt that those two actresses happened to be nominated for Best Actress and Best Supporting Actress. Jennifer Lawrence chose to wear a 150 diamond bead necklace draped down her back, while Anne Hathaway reversed a shorter, but no less intricate, Tiffany diamond necklace. We'll try this trend Jen's way first, and pair it with an open or key-hole backed dress or top. Diamonds, of course are preferred, but if you don't own a diamonds by the yard necklace, try this trend with an opera length pearl necklace!
Hair Bling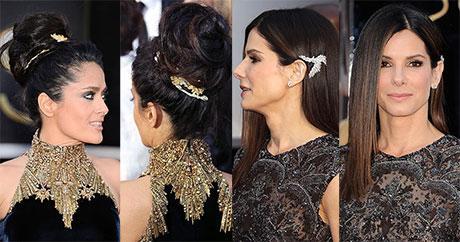 via People
We love hair bling. Just love it. So when we saw it on Quvenzhane Wallis' mom, Sandra Bullock and Salma Hayek, we were thrilled. Sandra kept hers understated, pinning hair away from the face with diamonds. Salma, meanwhile, matched her over the top hair jewels to her over the top gown. We love the Cindy Chao maple leaves choker she wrapped around her bun, accenting her dark locks in the front and the back. We'd combine these looks by pinning a vintage brooch right underneath a top knot, or possibly right in front of it for a fun twist on the popular hair trend.
Dark Shadows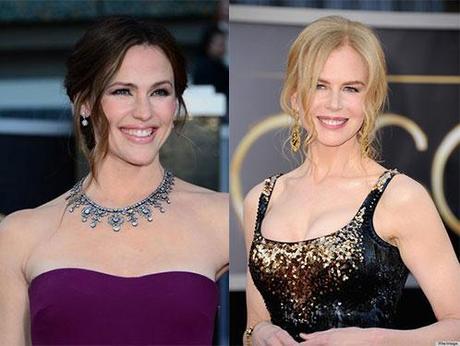 via HuffPo
We love the way a blackened metal adds a layer of gothic romance to any piece. Jennifer Garner's phenomenal Neil Lane diamond necklace, earrings and bracelet all featured darkened platinum, making the diamonds shine even bright from their noir settings. Nicole Kidman, meanwhile, donned a pair of Fred Leighton 19th century yellow gold and black enamel pendant earrings and a yellow gold and diamond chain cuff bracelet. They perfectly accentuated the gold sequin detail on her black L'Wren Scott gown. And speaking of yellow gold…
Yellow Gold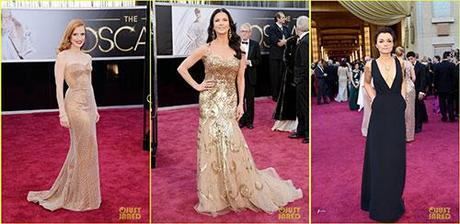 via Just Jared
YG made a big comeback last night, and in this instance, the real world was first on this trend! Yellow (and rose) gold has been rising in popularity since late 2011 – our yellow gold Cartier Love bangles have been flying out of the showcases. But last night, on a red carpet typically ruled by platinum, stars like Nicole, Catherine Zeta Jones, Samantha Barks and Jessica Chastain all wore stunning yellow gold jewelry. We loved Jessica's look for its easy to replicate relatability. Chances are, you, your mother or your grandmother owns a pair of gold ear clips (diamond optional). Paired with a chunky yellow gold bracelet, you're right on trend.