New to little Indiana? Subscribe for free to my RSS feed. Thanks for stopping by!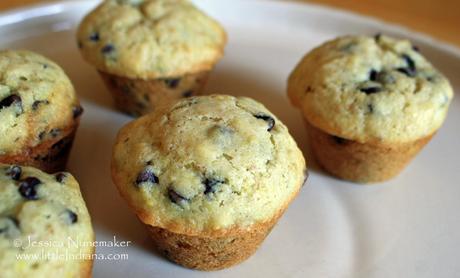 Mini Chocolate Chip Mufffins Recipe
This is the best muffin recipe for mini chocolate chip muffins–at least in our home. Our boys, of course, are huge fans.
Another recipe from my mother, this is one she started baking when I was probably middle school aged.
Combined with fresh, local fruit from a great Indiana farmer's market, it's really not the worst thing in the world, either. They go great with coffee!
Best Muffin Recipes: Mini Chocolate Chip Muffins
Print Best Muffin Recipes: Mini Chocolate Chip Muffin Recipe
Rating: 51
Prep Time: 10 minutes
Cook Time: 10 minutes
Total Time: 20 minutes
Yield: 1 Dozen Mini Chocolate Chip Muffins
Another recipe from my mother.
Ingredients
1/2 Cup Sugar
1/4 Cup Shortening
1 Egg
1/4 Cup Milk
1/2 teaspoon Vanilla Extract
1 Cup Flour
1/2 teaspoon Baking Soda
1/2 teaspoon Baking Powder
1/4 teaspoon Salt
2/3 Cup Mini Semi-Sweet Chocolate Chips
Instructions
Cream Sugar and Shortening.
Add Egg, Milk, and Vanilla Extract and mix well.
Combine dry ingredients.
Gradually add to creamed mixture and mix well.
Fold in chocolate chips.
Spoon 1 Tablespoon into greased mini muffin tin.
Bake 375* 10 - 13 minutes.
Schema/Recipe SEO Data Markup by ZipList Recipe Plugin2.0http://littleindiana.com/2013/01/best-muffin-recipes-mini-chocolate-chip-muffin-recipe/Photos are the Property of little Indiana. Do Not Use Without Permission.
Find pictures in Indiana on my Flickr photostream or on the new little Indiana Tumblr blog.
Just don't forget to tell 'em that  little Indiana sent you!
Don't miss a moment. Subscribe to little Indiana and receive instant updates to stay on top of everything "little."
little Indiana: Where to Stay, Play, and Eat in Small Towns in Indiana. Discovering Indiana's best small towns! Now get little Indiana on your Kindle.
Targeted. Relevant. Affordable! little Indiana advertising.