Our youngest son, aged 5, also known as Kid #2, came excitedly home from preschool with this recipe. "Professor Popcorn" from the Purdue Extension Office had shared a simple Layered Bean Dip recipe -and our son was a huge fan! He couldn't wait to get home, show me, and have us make it together for an afternoon snack for the family.
Surprisingly, I managed to have every single thing we needed, from the black beans to the sour cream to the green onions! I hate when I need to make an unnecessary grocery trip run. Still: don't skip the green onions if you, too, decide to make this last minute. They add a fresh taste to this easy Layered Bean Dip. It felt like spring in a snack! We serve it with store-bought Tortilla chips though Professor Popcorn made her own using baked tortillas. You could use whatever hotness of salsa that appeals to your family. We have decided that we like mild chunky salsa the best for this recipe because it doesn't overpower the rest of the flavors going on in this dip. But to each his/her own.
He now makes it mostly on his own with minimal help from me here and there (I really only need to do things like chopping the green onions or rinsing the can of black beans while supervising the rest of it). He loves that feeling of accomplishment and I love that it is something mostly good for us without a lot of extra fuss (again, we could up the health factor by serving it with homemade tortillas or just vegetables). We have had it several times, about once a week, even getting it into our favorite snack rotation during our Family Game Night.
Easy Layered Bean Dip Recipe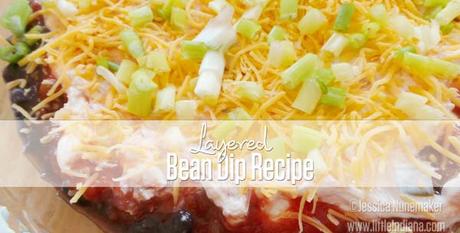 Ingredients
Instructions
Small Towns: Destinations, not Drive-Thrus! I'm Jessica Nunemaker and THIS is little Indiana!