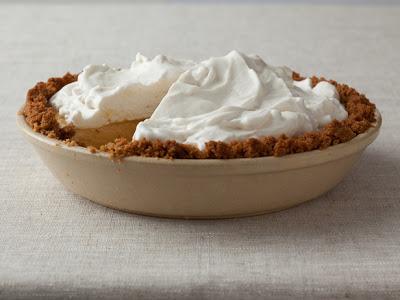 On the quest to be holiday solution-minded,
pumpkin pie
deserves to be added for being the
Thanksgiving
icon that it is.
Being a
caterer
, especially being a caterer always trying to achieve
solution
-minded success, this Best Holiday Frozen Pumpkin
Mousse
Pie
Dessert
Recipe
Solution fits the "solution" category perfectly.
This

holiday season,

instead of

running around like crazy people -- I say, let's find the best solutions to getting everything done
In a matter of days we'll be in the beginnings of the "full swing" of the holiday season (if by the time that you're reading this, we're not into the "full swing" already!). For many of us this means the start of a penny-pinching, anxiously stressful, increasingly frustrated waiting game of standing in line to buy the "hot item" of the season (hopefully) at a discount while being forced to deal with other peoples' busy holiday schedules too. Yuk-o-la. Don't you hate that?
Oh, and with this also the beginning of the holiday party season... as much as you probably love parties, you'll want (and need) to hang onto your sanity even more. Which means that common sense dictates that
there's only so far that you're willing to go
when it's a toss up between a family gathering at your in-law's and
that
annual holiday party (the one that you're invited to for the first time this year) at your bosses house (that he throws for the higher-up's) that happens every year, like clockwork.
This is the time of year when
you don't have time
for unflattering and unnecessary dependence upon so many other people when you don't know where the party is, what to bring to the party, and how much is expected that you should spend. It's a drag and completely no fun to have to wait for someone to show up and give you the answers. Although knowing that it's sometimes a two way street (we hope, right?) should make things feel a little easier.
Most of us hate it when we're dependent on others, but
sometimes that's life.
And even though it's a two-way street, being dependent on someone else is a vulnerable place where it's no fun to go. .
Being sufficiently efficient and inde

pendent

during the holiday season is where it's at! 
What you need is a few super easy to make "get 'er done" A.S.A.P.
recipes
that you can use to cater your own parties, and to take to parties as food gifts. Because everyone is always so busy, the best holiday
dessert
recipe solutions are ones that you can put together as-fast-as-possible. I wanted you to have the best holiday frozen
pumpkin
mousse pie dessert recipe solution available for the holiday season; that tastes good, that will get you lots of
"oo's and ah's"
and compliments.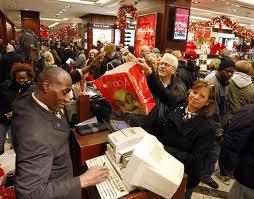 Are you like me? Does the thought of trudging through the grocery store (yet... again!) at this time of the year leave you feeling exhausted?
Unfortunately, it's a necessary "evil" trek that has to be made because
someone
has to pick up the ingredients for homemade chocolate chip cookies, darn it.
So, while you're there you might as well shop for what you'll need to make this super easy to execute, deliciously light yet decadent dessert (that thankfully doesn't take all doggone day to make). *
Eye roll
* Someone, anyone...
please
tell me, who has time to be in the kitchen all day? I don't. Not even as a caterer!
So, this best holiday frozen pumpkin mousse pie dessert recipe solution just happens to be
the best holiday dessert to serve at your holiday party.
And, of course it's great to take as a hostess gift to holiday parties that you're invited to. 
What I love about it is that
the crust is interestingly different, tasty and super easy to make
. Plus, the filling... well that's a "no-brainer" -- it's fast to throw together in no time at all. This little beauty of a dessert is put together and done in 20 minutes. The longest time that it takes to make is the 2 hour "set" time, while it's in the freezer "cooking". Don't you just love that?
What

'

s another

good

reason Cater-Hater choosesthis

frozen pumpkin mousse pie

recipe

a

s the perfect holiday dessert?

Because y

ou can freeze it* and serve it later. 
If you've never had this dessert before... it's frozen so you know it's supposed to be served cold (which is a nice contrast when serving it with a
hot
beverage), and it's creamy smooth too.
It's wonderfully easy to make, because you only cook the crust.
Then it's almost ready. You just need your cooled the pie exterior (crust), then to fill it with the cold light and delicious filling. That's it! I promise you, this is the "I'm in a hurry", "make practically at the last minute" dessert that's
really easy to make
-- to share with everyone at a party.
After you've cooled the crust that you've cooked for a mere 10 minutes, filled it, and allowed it to set for a few hours -- of course it's easy to transport, to give away as a "hostess gift" when you're invited to holiday parties. Just wrap it well and place it on the floor of your car to take with you. When you arrive at your destination, place it in the freezer and after you've had hors d'oeuvres and dinner, when it's time for dessert it will be ready to be served.
When you're

super-duper busy

, frozen pumpkin mousse p

ie

is the easiest and best homemade dessert you could make, ever!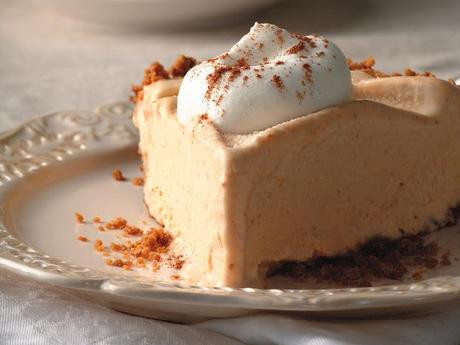 Best Holiday Frozen Pumpkin Mousse Pie Dessert Recipe Solution
(
Printable Recipe)
ZipList

, where you can store all of your favorite web recipes in one place and easily add ingredients to your shopping

list

.">
Serves 10
Ingredients
Crust:
30 small gingersnap cookies (about 7 1/2 ounces)
2 tablespoons raisins
1 tablespoon canola oil
Filling:
1 cup canned pumpkin puree
1/3 cup packed brown sugar
1/2 teaspoon ground cinnamon
1/4 teaspoon ground ginger
1/4 teaspoon freshly grated nutmeg
2 pints (4 cups) frozen low-fat vanilla ice cream, softened (see Cater-Hater Tip)
Instructions
1. Preheat oven to 350°F. Coat a 9-inch deep-dish pie pan with cooking spray.
2. To prepare crust: Combine gingersnaps and raisins in a food processor and pulse until finely chopped. Add oil and pulse until blended. Press evenly into the bottom and up the sides of the prepared pan.
3. Bake the crust until set, about 10 minutes. Transfer to a wire rack to cool completely.
4. To prepare filling: Combine pumpkin, sugar, cinnamon, ginger and nutmeg in a large bowl and mix well. Add ice cream and stir until blended.
5. Spoon the mixture into the cooled pie crust. Freeze until firm, at least 2 hours. Let the pie soften slightly in the refrigerator for 20 to 30 minutes before serving.
Cater-Hater Tip:
to save on prep time getting your pie made, after you've cooked the crust -- place it into your freezer.
To Make Ahead*: Cover and freeze the pie for up to 3 days.
To transport pie: wrap
 "caterer's style".
First, lay down
plastic wrap
section "A-B". Lay plastic wrap section "C-D" on top of it -- in the opposite direction (forming a cross pattern). Place pie in the center empty space. Wrap section "A" over pie, then wrap section "B" over pie. Next, wrap section "C" over pie, wrapping section "D" over pie to enclose. As an extra precaution, wrap with aluminum foil in the exact same manner.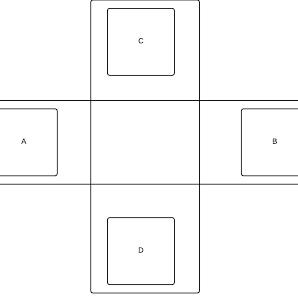 Sponsor of the Month
*****
I do this... I write to help to create to opportunities for all of you to pursue your passion to have parties without regard to economic constraints.
I think if we keep talking about the cost of parties (I blog, you write comments), together, maybe we can break down some of the party industry price barriers and shame some of the people who've taken your money and delivered a poor quality product right into growing a conscious and treating you right (nice thought, isn't it?).
Opportunities to be inspired about parties are everywhere. Yet, people looking out for your wallet are few and far between. My goal is to inspire you, causing you to question the way things are that have been the status quo for too long. When we stand together and speak up, we can be a powerful force.
Let's keep the conversation of change going. Because in the sea of everyone talking, one voice is a whisper... several voices are a scream.
Leave a comment and share your thoughts, ideas and suggestions below. Remember to be as specific as possible because what you have to say helps us all.
I really love you guys. There, I said it.
Always... be encouraged and encourage others too,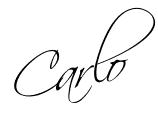 "Don't be ashamed to need help. Like a soldier storming a wall, you have a mission to accomplish. And if you've been wounded and you need a comrade to pull you up? So what?" - Marcus Aurelius
Image source: Google Images

Fruit, American, Baking, Easy, Low Cholesterol, Low Fat, Vegetarian, Kid-Friendly, Healthy, Dessert, Pie, Stuffing & Dressing, Fall, Winter, Christmas, Thanksgiving, Halloween, New Year, Entertaining : Technorati Tags

Related articles
EASY Desserts For Your Thanksgiving Feast!

Pumpkin Pie Mousse (Weight Watchers Recipe)

Busy Holiday Lemon Pie Dessert Recipe Solution

Six Autumn Desserts for the Upcoming Holidays or Everyday!
>>Your Email Address... No Spam. I Promise." />
Special Offers for Cater-Hater Subscribers!
>>Your Email Address... No Spam. I Promise.';} " name="email" value=">>>Your Email Address... No Spam. I Promise." id="awf_field-35516496" onfocus=" if (this.value == '>>>Your Email Address... No Spam. I Promise.') { this.value = ''; }" type="text" class="text" tabindex="500" />