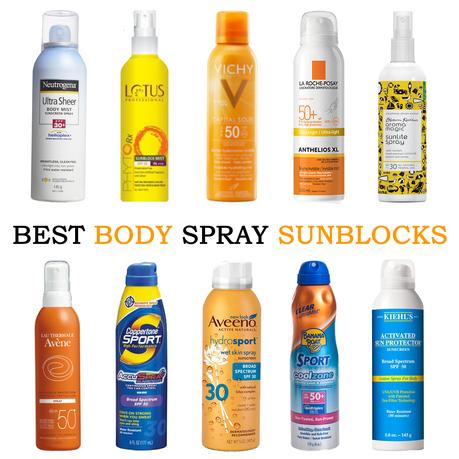 All I wish for this summer is one good waterproof spray sunblock for a vacation (and someone to take me to a vacation - of course, to put that sunscreen to use, till then I put it to use while I'm at home)
But you all must be already off to a vacation, ain't you?
So I got you a list of Best Body Spray Sunblocks!
Neutrogena Ultra Sheer Body Mist Sunblock SPF 30 (Price Rs. 675)
This was the first sunscreen I knew existed in a mist form and rest came later (at least for me)! The mist sunblock comes pretty handy for when you are in a hurry and you don't want to spend hours (okay minutes for a reality check) to blend your sunscreen into the skin and when you want reapplication from your sunscreen (if you love your skin and don't want it to get damaged before time). This sunscreen is absolutely sweat proof, water proof (Oh Hello swimmers, you can now say ~ take me to swimming b*tch and I'm not getting tanned 😉), light weight, absorbs in seconds, sets to a mat finish, doesn't clog pores, can be applied both on body and face (tho can't be directly sprayed onto the face), has an SPF 30 and gives protection against both UVA & UVB rays.
Lotus Herbals Phyto-Rx Sunblock Mist SPF 50 PA+++ (Price Rs. 595)
Came years later claiming itself to be a mist which it's actually not but who cares, when it says mist, we concluded that it's a mist! It comes in a spray form, however the consistency is more on the lotion side and not like a mist, still it's as light as a mist and is sweat proof & water proof, you may have to work for few seconds (thankfully not minutes) to absorb it into the skin and it gives great protection against tanning and pre mature aging with a high SPF of 50 and triple PA+ protection!
Vichy Sun Spray Capital Soleil Hydra Mist (Price 1890)
Now Vichy is one brand which is to be always remembered when it comes to a sunscreen so how could I forget its hydra mist sunblock. The consistency of this hydra mist is liquidy thin, gets absorbed in seconds, leaves no white residue behind and is non greasy while being adequately moisturizing. The good thing: it's paraben free, hypoallergenic and is great for sensitive skin that tends to burn a lot if exposed to direct sunlight.
La Roche-Posay Anthelios SPF 50+ Invisible Mist Ultra-Light (Price Rs. 2200)
With a very high protection against sun with Ultra UVA (PPD 25) Indication and SPF 50+ this mist sunblock had its own place in the list of Best Body Spray Sunblocks! It is a light liquidy mist formula which gets absorbed in seconds into the skin and sets to a non greasy finish (however, not completely mat) while lightly moisturizing the skin. It's water-resistant, paraben free, fragrance free, non comedogenic (won't clog the pores and break you out), non greasy (while still giving a sort of semi dewy finish), gives high protection against both UVA & UVB rays and is perfect for reapplication since the formula is light and quickly absorbable!
Aroma Magic Sunlite Spray SPF 30 ++ (Price Rs. 649)
Light as air (okay, a lil too much) and as breathable as it can be, this sunblock mist is free from parabens, oxybenzone, alcohol, artificial fragrance, it's an au naturel mineral sunscreen and is good for almost all skin types. It's water-resistant (perfect for swimmers but then I feel almost all sunblock mists are water-resistant, at least the ones I have mentioned so far are (and hey, for that I have edited the post too ~ The Waterproof Edit), is super light, absorbs in seconds (never worry if in hurry), perfect for reapplication, has a dose of some good natural ingredients and ultimately has a non greasy finish (can be used both on face and body)!
Avene Very High Protection Spray SPF 50+ (Price Rs. 2050)
The product price almost gave me a mini heart attack but the quantity and the features it has to offer makes the price so '', It will easily last for 2-3 months which if divided by 3 comes to something around 683 (okay, so why am I even involving Math here, dafuq)! This mist sunblock is light, non greasy, paraben, alcohol and silicone-free and has an added bonus of being water-resistant so it doesn't melt with the sweat or after coming in contact with the water. It absorbs into the skin within seconds of applying it and is good for reapplication as are all other mist sunblocks (that's the biggest benefit of spray sunblocks). It has a non greasy finish (can't be said to be completely matte but yes you won't see that oil grease factory on your face even if your skin is oily), has SPF 50+ (perfect if you are going for a beach vacation or to a water park where you are going to be spending lots of time under the sun and in water) and is great for all skin types including sensitive skin!
Coppertone Sport High Performance Spray Sunscreen SPF 30 (Price: Rs 900)
Coppertone sport high performance spray sunscreen as the name says is specially designed for sports' players who have to be out in the sun all day (but don't want their skin to be at risk for it). Coppertone is specially designed for sports. It provides maximum protection against both UVA & UVB rays and is perfect for outdoors (still you can't sniff the fact that you don't need to reapply it, you do it with all sunscreens no matter how high the protection and how high the SPF)! The sunscreen is easy to apply, dries off quickly and is water-resistant and the spray just works fine by distributing a perfect flow of mist on every spot.
Aveeno Hydrosport Sunblock Spray SPF 30 (Price Rs. 1500)
This sunblock spray right here stands out cause of its unique feature of being able to stick to soaking wet skin, yeah you just read it right, it's a revolutionary breakthrough! Its active naturals of Lotus flower forms a thin layer, it absorbs into the skin making the water to bead up and roll off the skin making its way into the skin (even when the skin is wet) so you don't have to wait for the skin to dry, you can just towel dry your skin (OR NOT if you wish to) and apply it by spraying the mist and spreading it onto your skin. Perfect for Swimmers, as you can just come out of the water for a reapplication - swish it, pump it up, spray it and you are good to go (of course, needs a lil rubbing too). It comes in SPF 30 and 50, but sadly the SPF 50 one is not available in India. It protects from both UVA & UVB rays and is quite waterproof so no worries of getting tanned, sun burned, aging skin even when you are out all day at the beach or at a pool.
Banana Boat Sport Performance Coolzone SPF 50+ PA+++ (Price: Rs 1500)
Banana Boat is a quite famous brand for sunscreen and has a variety of sunscreens almost for everyone (and that includes kids too)! This easy to use spray sunblock provides a very high protection with SPF 50+ and triple PA+ protection. The formula is light weight, non greasy, easy to apply & spread and is good for reapplication due to its super fast absorbing texture.
Kiehl's Activated Sun Protector Sunscreen For Body SPF 50 (Price 2450)
So you must be like - why I always have to include Kiehl's knowing the price tag of it. Then hold on before you think this, cause babes, good (best) things comes at a price and hence, this is in the list of Best Body Spray Sunblocks. This sunscreen comes with anti aging benefits besides the (best) sun protection benefits. It's a thin light liquid, absorbs quickly and leaves no residue and sticky feel behind. What's so unique about it? It comes with two good features in one product - antioxidants and sunscreen (the kind of combination you should be using daily) to get the maximum protection against sun. Oh and not to mention, it's free from parabens and silicones, good enough uh? To make you go and buy a bottle for yourself, well I'd say, don't hold back!
Edited to Add: All these sunblocks are good enough to be used on face (tho it says body spray sunblocks but all of these can be used on face too) and comes really handy for reapplication!