This is the latest release of the Benromach 10 Years. Apparently, the formulation had a bit of a tweaking and I was asked if I wanted to try the latest version and give my thoughts on it. I enjoyed the previous release well enough, so I said "sure". Thrilling back story to this review eh?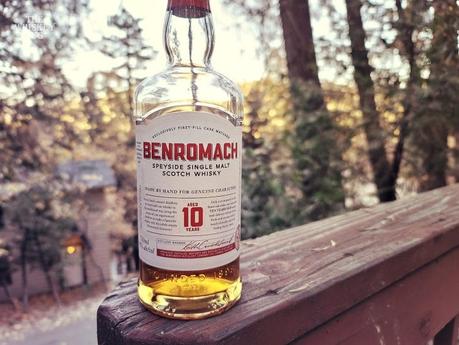 Crafted from "the finest oak casks" of ex-Bourbon and ex-Sherry, this release doesn't seem to have the additional sherry finish that it previously had. The old 'Romach 10 was a marriage of 80% ex-Bourbon and 20% ex-Sherry casks that spent 12 months finishing in ex-Oloroso casks.
Maybe it got too costly, maybe the supply of ex-Oloroso casks has dwindled, maybe it's a combination of the two factors. I'd say "who knows" but I'm sure Benromach's distiller, blender and accountants know. All I know is that I'm ready to get to drinkin' and see how this compares to the old 10.
side note: Dear whisky marketers, please stop saying you only use the finest oak, it means nothing. EVERYONE says they only use the finest oak casks and mathematically that just isn't possible. This is an eye-rolling, cringe-worthy, ghost statement. Use your words to give us real, useful, info about the process. The only way "we only use the finest oak casks" would mean anything is if there were brands touting their use of only the most tired and worn-out 5th+ fill casks. That will never happen, so please. Stop the garbage marketing fluff.
---
Benromach 10 Years – Details and Tasting Notes
Whisky Details
Style: Single Malt (Scotch)
Region: Speyside, Scotland
Distiller: Benromach
Mash Bill: 100% Malted barley
Cask: 1st fill ex-Bourbon, 1st fill ex-Sherry
Age: 10 years
ABV: 43%
Natural Color
Price: $55*
Related Whiskies
Benromach Imperial Proof
Old Benromach 10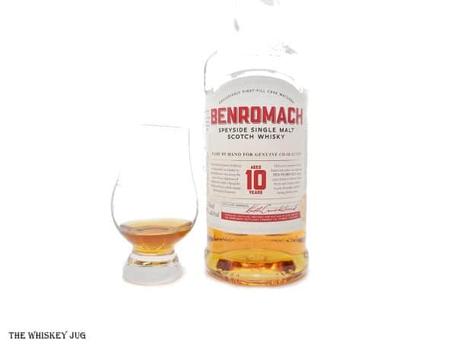 "Only ever matured in the finest oak casks, our signature TEN YEAR OLD single malt delivers delicate forest fruits and creamy malt, a touch of smoke and rich, lasting sherry notes." – Benromach
Benromach 10 Years Tasting Notes
EYE
Golden apple juice
NOSE
Orchard fruit, hay-like malt, cocoa, leather, pine resin, baking spice and a subtle smoke.
Soft, subtle and sweet with an earthy dark streak, this is a lovely aroma.
PALATE
Stewed apples, dried fruit, leather, nutty malt, smoke and some bits of charcoal and dried strawberries.
Palate of the Benromach 10 is heavier, darker and more expressive than the aroma.
FINISH
Med-long -> Dried fruit, oak, smoke and butterscotch fade to a chalky ash.
BALANCE, BODY and FEEL
Good balance, medium body and a soft velvety feel.
---
Benromach 10 Years – Overall Thoughts and Score
This is a good, semi-sweet and earthy malt that puts on a good show through the senses. Aroma starts subtle and mostly sweet, luring the consumer into a false sense of light, flighty, malt security. The palate though is waiting around the corner with an earthy-smoky punch that shocks the senses.
Finish drifts off into the night on a smoky ashy trail leaving the drinker wondering what exactly happened… on first sniff and sip that is. Once you know what to expect and settle in, this whisky shows a nice complexity and the ride becomes less jarring, more even and more enjoyable. The The Benromach 10 Years is a good sipping malt.
SCORE: 3.5/5 (above average, worth checking out – B | 83-86)
*Disclosure: The bottle for this Scotch review was graciously sent to me by the company without obligation. The views, opinions, and tasting notes are 100% my own.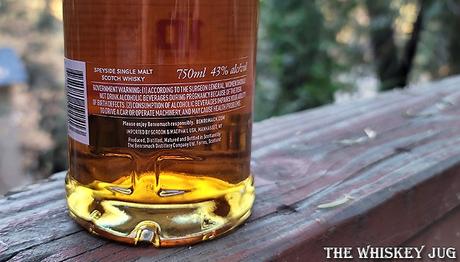 Benromach 10 Years Review
$55
Summary
Fun, expressive, tasty, aromatic and full of life. What's not to love about this single malt Scotch?
Overall
3.5
Nose

(3.5)

Palate

(3.5)

Finish

(3.5)

BBF

(3.5)
Sending
User Review
0

(

0

votes)
Comments Rating
0

(

0

reviews)

''