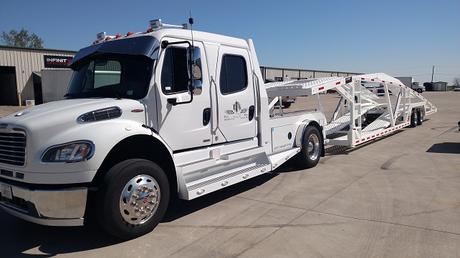 Open car hauling trailers are very common in the state of Texas and also other regions within USA. They are mostly used by professional haulers for towing multiple cars at one go. Many people are of the opinion that open trailers are inferior in performance and features to their enclosed counterparts. In reality, however, there are plenty of benefits that the former offers over the latter.
Let's have a look the most obvious benefits of open car hauling trailers:
More Affordable :
There is no doubt about the fact that open car hauling trailers are far more inexpensive than enclosed ones. This is because the quantity of materials required to construct the former ones is less, which ultimately reduces the manufacturing costs. Besides that, they also require low maintenance that decreases the upkeep expenses as well. There are plenty of firms that offer 4 and 5 car hauler for sale.
Lightweight :
Open car hauling trailers are very lightweight and can be towed around easily. Due to their lightweight and open features, they offer very less resistance when hauled against the wind. Thus, they make long interstate hauls less stressful. On the other hand, an enclosed unit is heavy and also difficult to tow when caught in the middle of a dust or rain storm.
Easy To Load & Unload :
Most professional haulers would admit the fact that open car trailers are easier to load as well as unload than enclosed ones. In addition to that, the former options make it more convenient to load and unload wrecked cars also. This makes them ideal for emergency situations and transit of cars damaged in accidents.
Great Visibility :
With an open car trailer, it is easier to visually examine the cars loaded on it. This is a great benefit during long journeys when the driver needs to stop every now & then and check the condition of the cars being hauled. Being enclosed from all sides with a roof and four walls, enclosed units do not offer this advantage.
As you can see, it can be more prudent and advantageous to invest in an open car hauling trailer rather than an enclosed one. Besides that, the former options are nowadays being manufactured with a lot of useful features such as hydraulic ramps & brakes, LED lighting, tandem duals, and so on. With so many things to offer, open car trailers are worth investing one's money in.