A few months ago I bought this benefit skincare set to test out, I couldn't believe that it was only £10 in Debenhams, my friend Zoe also bought the set so I have included her thoughts too.I have normal/dry skin and usually use Clinique 3 step skincare and Zoe has dry and extremely sensitive skin she doesn't use a particular skincare regime as her needs change.
The set consists of 6 sample size skincare products from the b.right! range so each one works out at less than £1.70 which I think is really good value and a great chance to test the products out without splurging on the whole set.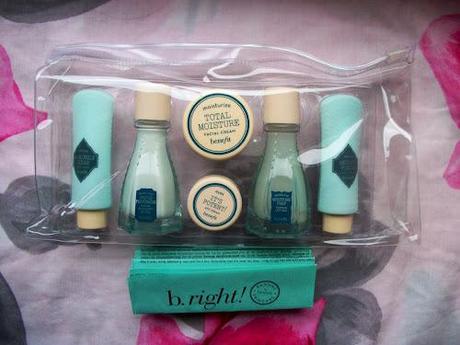 The set was nicely packaged, as expected with benefit products! I love the pattern on the box and found the clear plastic inner bag made the whole set really easy to carry around. The small bottles are almost exact miniatures of the full size with glass and cute dots which I love, but I do find it difficult to get the product out of the small glass bottles. I also thought the wash and exfoliator could have been bigger as I ran out of these a lot quicker than the other products but Zoe ran out of the moisturisers much sooner than me.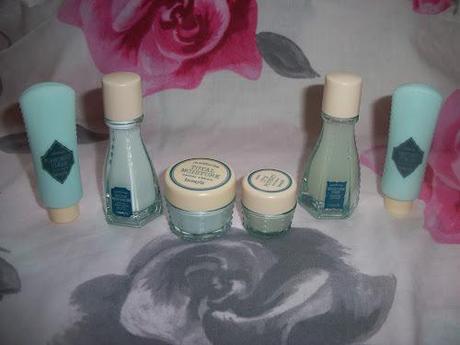 The kit includes, triple performance facial emulsion, moisture prep toning lotion, foamingly clean facial wash, refined finish facial polish, total moisture facial cream and it's potent eye cream.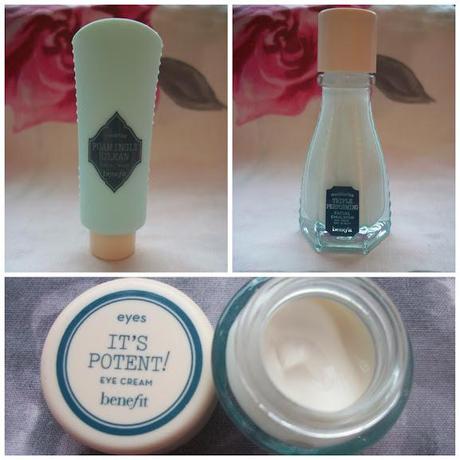 1. Foamingly clean facial wash - I loved this wash it felt soft luxurious and foamed up really well it didn't make my face feel tight like many washes and didn't irritate my eyes or nose at all.2. Triple performance facial emulsion- this wasn't my favorite as it felt quite sticky on my skin, it moisturised well but I just didn't like the feeling.3. It's potent eye cream - being an eye cream newbie I wasn't sure what to expect from this, it felt very nice going on and easily sank into the skin without looking greasy but I think I would need to use this for a lot longer to notice any changes.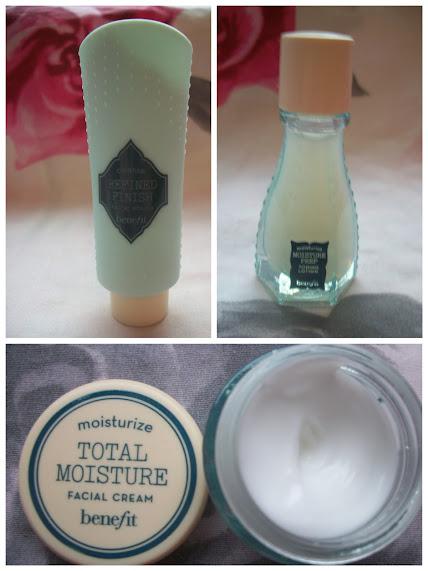 4. Refined finish exfoliator - I really liked this product I used it 2 or 3 times a week and felt like it made such a difference I will definitely be buying it full size.5. Moisture prep toning lotion - I loved this too, it felt nice so nice going on and was a much nicer experience than the usual harsh and burned toners I use.6. Total moisture facial cream - this cream was perfect for use at night as it felt really moisturising and was so thick and creamy. It is very expensive full price which would put me off purchasing especially as I wouldn't use this during the day as it is too heavy.
Overall I would say the set it's definitely worth buying and would make a great gift, the standout products for me were the wash, exfoliator and toning lotion. The biggest let down was the facial emulsion as it didn't suit me at all which is such a pity as I like to have a matching skincare set!


Zoe's review

1. What do you think of the packaging?
Good packing, loved the little clear bag as I've managed to keep all the items together.
2. Did you find the products easy to use?
I don't think there were instructions on what order to use them in so I just guessed - not sure where the toner was meant to come into it! The products were great as they didn't irritate my sensitive skin.
3. Did any products stand out to you?
Night cream, smells amazing.
4. Did any disappoint you?
The day cream is very thin. I needed to use half the pot on my face in order for me to feel moisturised. (The other half of the pot was split over my desk - ooops)
5. Did you find the sample size enough to test?
I felt there was more in the moisturisers than in the wash and exfoliator I was worried they were going to run out first.
6. Would you say the pack was good value for money


Yes definitely.


7. Would you repurchase the sample pack?
Possibly. I only liked the night cream and the exfoliator as I thought the Day cream was too thin, I didnt think the Eye cream did very much and the face wash was nice but I wouldn't pay full price for a big bottle.


8. Would you repurchase any products full size?
I have already bought a big tub of night cream :D (it was expensive though £26 oosh!)
9. Any final thoughts?
Overall I enjoyed using the products and have converted from my old moisturiser as much nicer smell and can see better results with benefit ... Just wish the range was a margin cheaper .....


What do you girls think of skincare sample sets? Do any of you use benefit skincare

?




Cariad xx