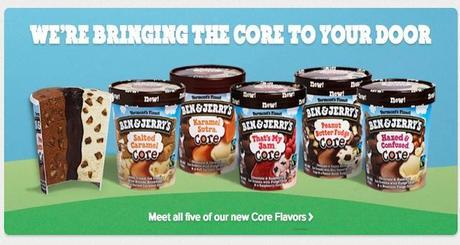 June 19, 2014
0

Email This Post

Print This Post
Ben and Jerry's Puts Integrated Marketing at Its Core
Before you become distracted drooling about your favorite Ben and Jerry's flavor, remember this is a case study on integrated marketing. However, we bet you stop at the grocery store on the way home for an indulgence.
Launching new products is the sweet spot of any business, and businesses must include a comprehensive digital strategy to complement traditional marketing techniques to reach customers. And that's exactly the candy-coated path that Ben and Jerry's followed to introduce its new core flavors, which feature a  core of fudge, caramel or real raspberry jam inside an ice cream flavor, something unique to the market.
Yet even something so delectable and unique required an integrated marketing strategy to launch.
NewsCred covered the integrated marketing case study with a lot of flavor.
Content Tells the Mouthwatering Story
As all marketers know, website content development needs to be part of the strategy. NewsCred points out that Ben and Jerry's content served multiple purposes:
Lead to reviews and articles being written. Authors needed specific pages to link to in their media.
Consumers who read those reviews wanted to learn more about the product and how to purchase it online or in a store.
New product webpages gave consumers a reason to care and a way to act on their interest.
Ben and Jerry's told their story visually, with its web design showing the creamy core. With a click of a button, consumers could find out where to buy the new dessert. Even the condensed mobile site told this story.
Let Social Media Fans Share the Scoop
Socially responsible ice cream companies get social media users talking, especially when they reward followers with exclusive deals. This has allowed Ben and Jerry's to build up its channels to more than 210,000 Twitter followers, 7.2 million Facebook likes and thousands more followers on platforms such as Instagram, Vine, Pinterest and YouTube.
Naturally, Ben and Jerry's turned to its social media fans to launch its new core flavors, and it worked. NewsCred reported that a promoted Facebook post announcing the new flavors gathered almost 35,000 likes and more than 8,000 shares. The Twitter post about the new flavors, which was not promoted, received more than 2,400 retweets.
Building on Success with Paid Advertising
NewsCred recommends using paid search and social advertising to amplify a message delivered already through other marketing channels. Interestingly, although Ben and Jerry's places paid ads for keywords, such as birthday parties and weddings, Ben and Jerry's didn't invest in any paid search advertising aimed at promoting the new core flavors.
A Few Chips in the Launch
Even with such a successful launch, Ben and Jerry's could have incorporated a couple more tactics, which small-to-midsize marketers also could embrace.
NewsCred suggests Ben and Jerry's create unique content geared toward each site's demographics. For example, instead of using the same image and wording for both Twitter and Facebook, what about using a behind-the-scenes photo for Instagram, a video for Facebook and a unique image for Twitter, all with calls to action that resonate with the specific platform?
Also, for such an important product launch, why wouldn't Ben and Jerry's include a keyword strategy around branded terms, such as "core flavors," to continue to create conversions and digital engagement through its already running social media and paid campaigns?