Writing a review for the Belvedere Restaurant in Warsaw really leaves me in two minds.  The surroundings are either amazing or bizarre, the food is either posh or pretentious and the waiters are either smart or snobby.  I really can't decide.  But what I know for certain is that this place is unmissable and it needs to be on your Poland travel tick list!
The Belvedere Restaurant in Warsaw is located within the New Orangery in the Royal Bath Gardens, making it one of the strangest and most interesting places to dine.  The culinary theme is fine dining and signature Polish dishes.  If the idea of gorging grand grub inside a huge indoor garden excites you, and if you don't mind a bit of ostentation every so often, you will love the spectacular shrubbery surroundings in Belvedere.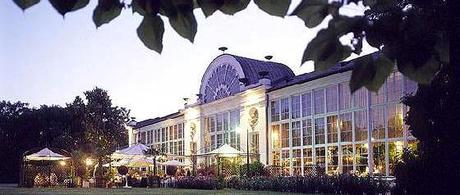 Belvedere Restaurant (a summer evening)
My Review of Belvedere Restaurant in Warsaw
3.5

★star recommendation  
Price: excellent value for money
Location: in the Warsaw Royal Bath Gardens
Service: good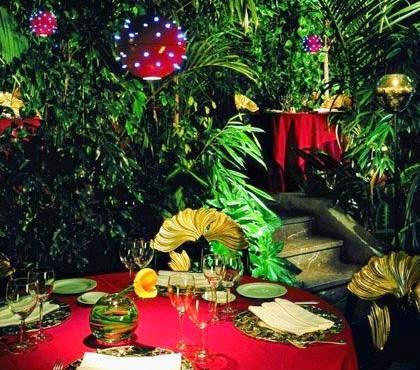 As the taxi pulled into the parking bay at Belvedere, I noticed it was very poorly lit from the outside.  I suppose this was a part of the romance?  I wasn't sure.  It was also deadly silent and all I could hear was the taxi pulling away against the pitter patter of raindrops.  It didn't really look like the pictures I'd seen on the internet but we hadn't picked the best evening either – a mid week dinner on a cold and rainy night.
As we stepped inside, there was a slight cold and sterile feeling in the air as the front-of-house staff removed our coats.  This is a little contrived and awkward, I thought to myself.
But this was all before I stepped into the stunning Orangery.  Wow.  It really was a spectacular view.  Inside what was basically a giant green house, the gold painted chairs made it feel like a secret garden that no-one else knew about, something amazing behind closed doors.  Part of me wanted to sit back and snuffle the lavish surroundings in a dignified I-always-come-here kind of way, yet the oriental part of me just wanted to snap away like a crazed tourist.

The cocktails here were to die for.  The Polish obviously know their vodkas and spirits so you will get the very best.  The food was presented beautifully – and without sounding like an ungrateful, spoiled little brat – I'm going to say that it was "enjoyable".  I'm not about to sing on the rooftops about it; it was extravagant looking and the menu screamed "opulence" with a capital "O" but fine dining doesn't always mean amazing, mouth-watering, orgasmic, life changing food. What really changed my life once was the devlish combination of grated cheddar and Heinz tomato soup – but that's another story.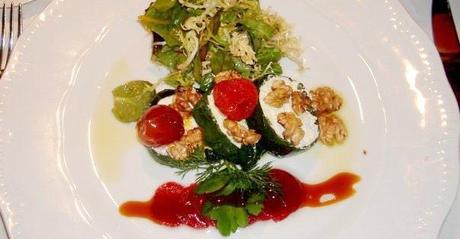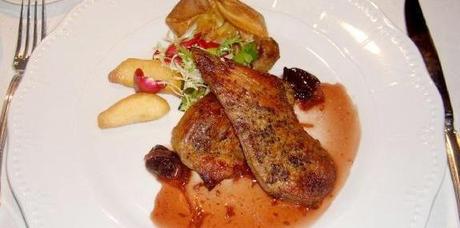 From start to finish, the meal was delightful as I had expected.  The waiters were polite and were always at hand to top up my Bloody Mary.  This was luxury dining with good food and a words-can't-describe setting, and it also made me feel quite special to know that regular diners included political leaders from around the world and even rumours of Her Majesty The Queen. 
My duck was a little over-cooked (duck isn't duck unless it's pink) but all in all, the meal was light, elegant and great value for money.  Prices in Poland were impressive throughout my stay but I really did admire Chef Henryk Nieciejowski's modest price tags.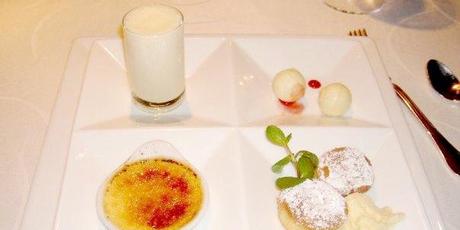 Some people find the Belvedere too formal, but if you don't try it, you'll never find out for yourself.  The atmosphere wasn't vibrant enough, probably due to the terrible weather.  So pick a weekend, pick a warm evening and pick a nice dress for the occasion.