Do you like bourbon? Do you like cask strength bourbon? Do you like bourbon expertly finished in different casks? If you said yes to all of these then you'd love the Belle Meade California Select Cask. And before you leave the comment, yes, yes, I know… CA-only release.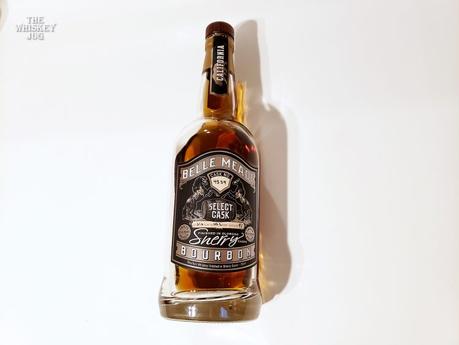 However, a tease like this can be informative. Yes, it's annoying when people write about limited / single cask things you'll never try (I feel that frustration myself), but it's always good info.
Just knowing what releases like this can be like help make decisions down the line. If what you read in the bourbon review below sounds good to you, then you know what to look for in your area. If it sounds terrible, based on your tastes, then you know what to avoid as well.
Belle Meade California Select Cask Review: Details and Tasting Notes
"The boys down at the Green Brier distillery are doing it right. They've been distilling in Nashville since 2014, but as they wait for their awesome Tennessee whiskey to mature, they've got their hands on a descent supply of high quality Indiana straight bourbon. That's the whisky you know and love as Belle Meade, noted for their single cask offerings and well appointed use of various barrel types to finish the whiskey (RIP Mr. Pickerell).

Of course, the whiskey world is hot for cask strength bourbon, so Belle Meade released this excellent single cask to show what their sherry barrels do at full strength. An absolute monster that's as thick and spicy as you'd expect, but remains nuanced with the sherry influence enhancing rather than masking the deep caramelized flavors of the bourbon. This one was split across CA so it likely won't last long in the shop or in your bar.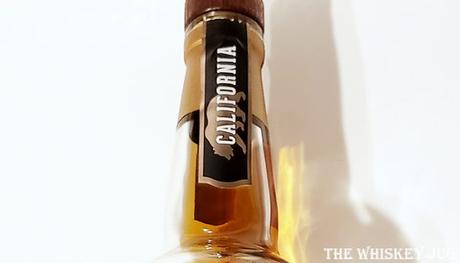 Details (price, mash bill, cask type, ABV, etc.)
Region: Indiana, USA
Distiller: MGP
Mash Bill: At least 51% Corn + Rye + Malted Barley
Bottled For: California
Cask: New Charred Oak, ex-Sherry Butt
Age: NAS (4+ years)
ABV: 51.6%
Cask Strength | Non-Chill Filtered | Natural Color
Batch: California
Price: $100
Tasting Notes
EYE
Ruddy oak
NOSE
Dark sherry sweetness and warm heavy oak with notes of red licorice, dark chocolate, dried dark fruit, leather, citrus, clove and anise.
PALATE
Dark fruit and oak leads with bits of hazelnuts, baking spice, fruit syrup, citrus, Strawberry Necco and vanilla.
FINISH
Long -> Oak, brownies, dried dark fruit and roasted nuts.
BALANCE, BODY & FEEL
Perfectly balanced, round full body and an oily heavy body.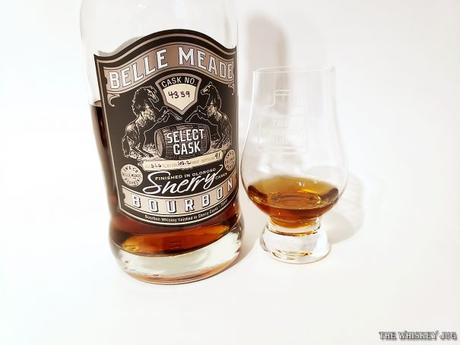 Belle Meade California Select Cask Review: Overall and Score
Doubling down on the heavy sherry and oak across the senses it's something I can't get enough of. The Aroma is like strawberry shortcake in an oak-paneled room; Palate is a fusion of everything I love about sherried whiskies and bourbon; The Finish is darkly rich and fades out with a roasty note.
Ever since I opened the Belle Meade California Select Cask I've been a bit obsessed with it and as it opens it evolves and brings an increasingly elegant delivery. A bit of water brings out some leather notes on the aroma and deepens the dark fruit on the palate, opening richer notes of blueberries, blackberries and cherries. Damn, it's good.
SCORE: 90/100 (A-)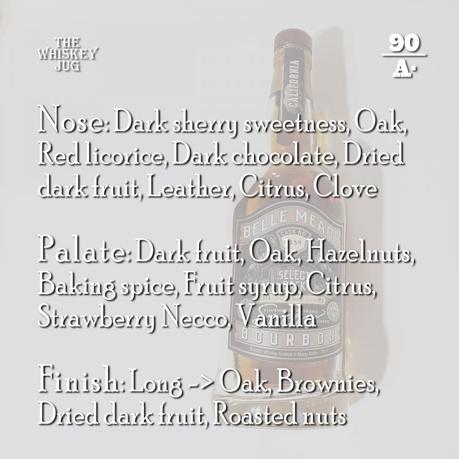 Belle Meade California Select Cask Review
Nose -

91

Palate -

90

Finish -

90

Balance, Body & Feel -

91
91
Belle Meade California Select Cask Review Summary
Belle Meade California Select Cask is a huge bourbon that comes through balanced and easy… dangerously easy. One of the best Belle Meade releases I've ever had.
Sending
User Review
0

(

0

votes)
Comments Rating
0

(

0

reviews)

…'…'