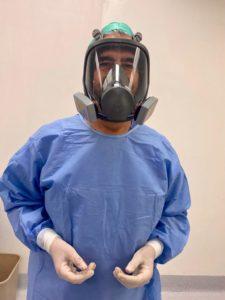 Dr. Rod is geared up and ready for surgery...or...ready for outerspace??
We are so excited to resume our scheduling efforts for Dr. Rodriguez Villarreal, Dr. Elmo Aramburo and the entire team of surgeons!! The last several weeks have been hard for us all, so we are thrilled to be coming back with renewed enthusiasm to help our patients.
Our team is EXCITED to be performing weight loss surgeries again after being quarantined for the last month. For the safety and well-being of our staff, our patients and all families involved, we are monitoring CDC recommendations and taking ALL necessary and required precautions when performing surgeries. The hospital has also been compliant and testing their staff on a regular basis.
Currently, there is a limited number of surgeries each day, to help prevent exposure. The doctors will also do a CT-Scan upon arrival, to ensure you do not have COVID-19 prior to having surgery.
As the last several weeks have had a bit of uncertainty in the air, we are confident that we will still provide the same great level of service and continue to do our best to help as many people as we can. We encourage you to spread the word of BeLiteWeight. About 40% of our patients come from direct referrals, and we appreciate every single one of you for sending your friends, family and co-workers to us. Please, continue to help us help them!
BeLiteWeight (800) 215-6497 or email directly to: [email protected]
This entry was posted in Bariatric Surgery, Gastric Bypass, Gastric Sleeve Surgery, Health, Weight Loss Surgery and tagged COVID-19, Gastric Bypass Surgery, Gastric Sleeve Surgery, Weight Loss Surgery by
admin
. Bookmark the
permalink
.