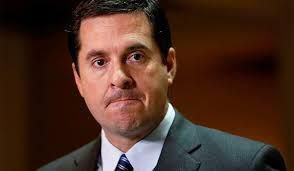 Nunes
The House Intelligence Committee voted for releasing the memo by its Chairman, Republican Rep. Devin Nunes, attacking the FBI and Department of Justice — but voted against allowing release of a rebuttal by its Democratic members.*
Trump will clear the Nunes memo's release, against the strong objections of his own FBI and Department of Justice, who say the memo gives a false and misleading picture, and improperly spills classified information and threatens national security. Even Republican Senate Intelligence Committee members opposed this.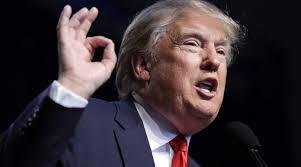 "This is my credibility number"
The Nunes memo charges bias and conspiracy within the FBI and DOJ to undermine the Trump administration. Trump today tweeted that those agencies "have politicized the sacred investigative process in favor of Democrats and against Republicans." Even though the heads of both agencies are Trump appointees. (And former FBI head Comey was also a Republican — whose actions regarding the Hillary Clinton e-mail investigation likely threw the election to Trump).
House Speaker Ryan defends Nunes's actions as a proper exercise of Congressional oversight. Nunes is a Trump toady whose smearing the FBI and DOJ is really an attempt to discredit the Mueller investigation.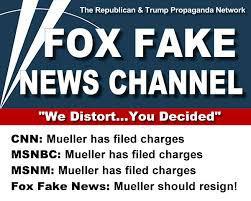 They're preparing Republican partisans to disbelieve whatever Mueller comes up with. The regime's media mouthpiece, Fox Fake News, parrots this party line. All their outrage is directed against the investigators — not the Russian subversion they're investigating!**
And what does the Nunes memo say? Reportedly, it merely alleges the FBI was politically motivated and unjustified when it secured a FISA warrant for surveillance of Trump campaign operative Carter Page, who had Russia connections. That's it. (The warrant was obviously amply justified.) And Republicans are still banging on that Mueller's investigation is supposedly corrupt merely because a former staffer, who was in fact fired for it, sent private messages opposing Trump's candidacy. Does this discredit Mueller? They're discrediting only themselves. Their charges of bias and conspiracy are ludicrous.
And who's "politicizing the sacred investigative process?" It's uncanny how Trump's attacks always apply more to himself.
To knowingly twist the truth to degrade public confidence in these agencies, undermining rule of law and investigation of foreign meddling in our election — in order to inoculate Trump against likely charges of obstruction of justice — itself constitutes obstruction of justice. Trump's complicity in Nunes's criminality compounds his own offenses.*** These actions furthermore border upon treason. The Russians by themselves could not damage America more.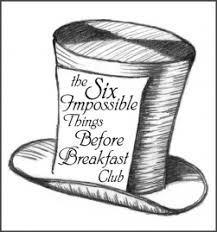 Trump on Thursday delightedly quoted Senator Orrin Hatch that he's the greatest president in American history. Including Washington and Lincoln? Yes, said Hatch, according to Trump, who apparently believes this. "Why sometimes," Alice said, "I've believed as many as six impossible things before breakfast." She must have been a Republican. (Hatch denies Trump's tale.)
* Reminds me of my report, as an administrative law judge, recommending against the Public Service Commission's plan for the Shoreham nuclear power plant. The Commission (unprecedentedly) tried to stop my report being made public. But one Commissioner appended it to his dissenting opinion.
** The White House has meantime ignored the law in refusing to implement the sanctions on Russia that the Republican-controlled congress almost unanimously enacted.
** It is a perfect example of the common law crime of misprision.
Advertisements
&b; &b;