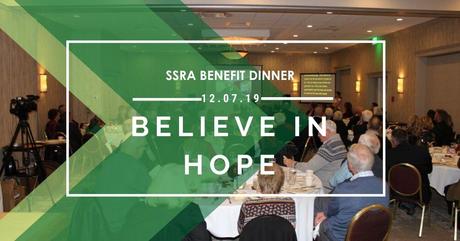 We were thrilled to welcome just shy of 100 supporters to our 2019 Believe in Hope Benefit Dinner, December 7, 2019, at the Ingleside Hotel in Pewaukee Wisconsin. Our first Superficial Siderosis Research Alliance benefit dinner was truly an amazing evening. Racing against a very short deadline, SSRA event coordinator Sue Dempsey, SSRA President Kyle Dempsey, and our volunteers showed exactly what the SSRA is capable of when a motivated group works together. Ticket sales were almost double original estimates requiring a venue change and room size upgrade to accommodate this wonderful group of people.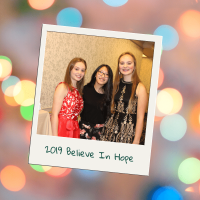 Be sure to visit our benefit dinner event photo gallery.
The evening began with a guitar duo provided by SSRA treasurer Lloyd Gleisner and friend during the pre-dinner meet and greet. Cocktails were enjoyed as the silent auction bidding was opened. Every auction item was successfully bid on before the night ended and one lucky live bidder went home with a pair of Green Bay Packer tickets.
Our program began with the introduction of SSRA President Kyle Dempsey by Master of Ceremonies Randy Kohler. Kyle shared his heartfelt message about the catalyst for founding the Superficial Siderosis Research Alliance and the vision He and his wife Sue have going forward. Guests were shown a short Friedreich ataxia video highlighting the achievements of fellow rare disease group FARA and the impact of long-term supporters.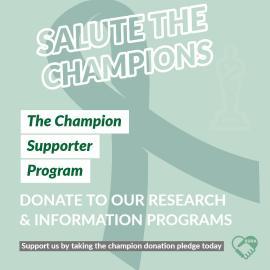 Every evening must have its hiccups and ours was no exception. Due to an unavoidable delay our guest speaker, Dr. Michael Levy, missed his flight and was unable to attend in person but thanks to technology he was still able to deliver his presentation. The night ended with a message from SSRA Board Member Randy Kohler announcing the roll-out of the SSRA Champion Supporter Pledge program.
We are so thankful to our guests, supporters, and planning committee for making this event such a powerful night for our alliance. If you missed our inaugural 2019 benefit, no worries, planning has already begun for our next benefit evening in 2020.