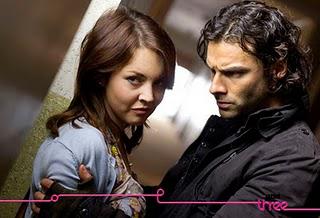 I have to confess that I haven't really been a fan since Day One with this one, not that I didn't like it, but because I just didn't watch the first series during it's original run. In fact, I caught a random episode two or three episodes intot he second running of the first series, and thought "ooh, I remember seeing the trailers on BBC3 for this, and thinking it sounded interesting", but of course when I'd originally seen the advert, they tend to advertise things as "coming soon", and unless I'm specifically looking out for them, they often pass me by! And this one evidently did. But, I ended up catching up on what I'd missed, and luckily only had a couple of months to wait before the second series began in January last year.
I also have to confess, that after the awesome first series of Being Human, I found 90% of the second series a bit of a let down. The series was only really saved, for me, by a very good last episode, and I strongly feel that if I hadn't been drawn in by what had happened to Annie, I'm not convinced that I would have watched this new third series.
But, of course, you really want to hear about the third season, of which, for anyone who hasn't watched it yet, I won't reveal too many spoilers, although some are just unavoidable. I do, however, want to talk about Lacey Turner.
Lacey Turner was in the media recently talking about how nervous she was about moving into new material, following her previous role in Eastenders, playing Stacey Slater. Did she have anything to worry about? Well, I had faith in her, and I'm really glad to say that she did herself proud. She has firmly stepped away from Stacey, and proven what an amazing young talent she is.
Lacey played Lia, the title character of this opening episode. And knowing that Lacey was playing Lia I was instantly intrigued as to what importance she was going to hold over Mitchell. I won't give that away, but I do have to say that she played it very well, although you could never tell if she was playing games with him, or was just overall loopy! But, all is eventually revealed!
Other notable guest appearances, included Robson Green (Soldier, Soldier) playing werewolf McNair and the fabulous Paul Kaye (Dennis Pennis) as a slightly bonkers Vampire.
As usual, it was George bringing in most of the laughs, as he finds himself accidentally arrested and accused of "dogging" (oh, the absolute irony of that one!). As much as I like the character of Nina, I sometimes can't help wishing that she wasn't such a central character. In my head, the three mains are Mitchell, George and Annie, but Nina appears to have been included, and I'm not sure if I like that very much!
Mitchell's role in this episode was predominantly to bring Annie back from the Afterlife, or whatever you want to call it. Without giving too much away, I personally thought that Mitchell managed to save Annie far too easily, because I'd expected it to play a bit of a larger role in this series, but unfortunately it didn't, which was a little but of a let-down.
Overall, I'm much more hopeful for this series to be better than the second one, and I'm very interested to see what is going to happen with Robson Green's character!