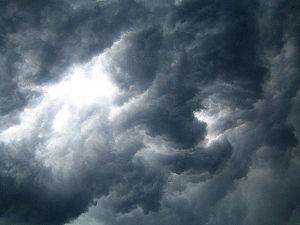 Image via Wikipedia
Today for Story Friday – please enjoy a story of both mishaps and success – which of course is what life provides us in varying doses –
Bernie Marcus was a poor Russian cabinet-maker's son from Newark, New Jersey. Arthur Blank was raised in a lower-middle-class neighborhood in Queens, New York. Blank once ran with a juvenile gang, and his father died when he was only fifteen. He has said, "I grew up with the notion that life is going to be filled with some storms."
(I thought it so interesting that the word Blank used was storms – after yesterday's blog of wishes and the wish in the quote that life would give you storms for seasoning.)
In 1978, Marcus and Blank worked together at a hardware store in Los Angeles. The store was taken over by a new owner, who fired them both. The day after they lost their jobs, an investor friend suggested they go into business for themselves.
"Once I stopped stewing in my misery." Marcus recalls, "I saw that the idea wasn't so crazy." Marcus and Blank opened the kind of store they had always dreaded competing against; a no-frills, hanger-size outlet with a huge selection and high-grade service.
Today, their Home Depot stores are at the top of the home-improvement industry.
The story goes on to say that Marcus enjoys talking to other entrepreneurs. And how he asks them, "Was there a point in your life when you despaired?"
He was once quoted as saying, "I've discussed this with fifty successful entrepreneurs. A forth of them had that character-building experience."
Because I've been fired – and lost out on jobs I really wanted, and not been selected for things I knew I was perfect for – I relate to these two men.
I also know – that it took more than simply weathering a storm to create and build up the Home Depot empire –
Today my challenge to us is this: Instead of comparing ourselves to anyone – can we accept that fact that everything that happens to us – especially the storms – are gifts – and will probably have some sort of rainbow included?
More goodies from this world wide web…
Friday Funny
Jennifer's wedding day was fast approaching. Nothing could dampen her excitement – not even her parent's nasty divorce.
Her mother had found the PERFECT dress to wear, and would be the best-dressed mother-of-the-bride ever!
 A week later, Jennifer was horrified to learn that her father's new, young wife had bought the exact same dress as her mother!
Jennifer asked her father's new young wife to exchange it, "Absolutely not! I look like a million bucks in this dress, and I'm wearing it," she replied.
Jennifer told her mother who graciously said, "Never mind sweetheart. I'll get another dress. After all, it's your special day."
A few days later, they went shopping, and did find another gorgeous dress for her mother.
When they stopped for lunch, Jennifer asked her mother, "Aren't you going to return the other dress? You really don't have another occasion where you could wear it."
 Her mother just smiled and replied, "Of course I do, dear…. I'm wearing it to the rehearsal dinner the night BEFORE the wedding."
Good people skills mean being gracious! J
Remember you create your day by the way you think! Make is magnificent!
Blessings, Shawna