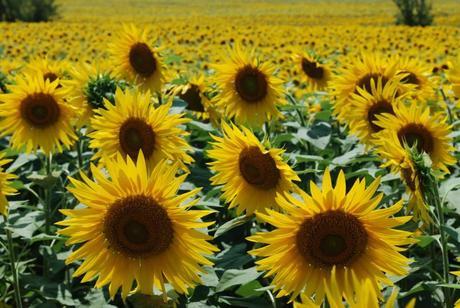 We've now been traveling for two solid months.  I'm a bit sad to report that this month felt like it flew by much faster than the last, but is still feeling very slow compared to the typical life we had at home.  The good news is that we have another 16 months left of our planned itinerary!
As with our last report, each month we feature a travel review of the highlights, lowlights, and spending we had during the course of our adventure.  These are provided as a snapshot of what our RTW trip is like for your reference, although we know that every trip is different.  
Spending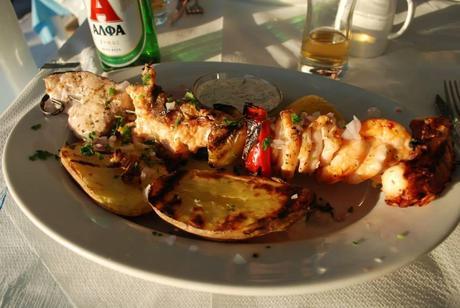 During our second month of travel we spent a few days in the mountains of Austria in Mayrhofen (partially shared with month 1), 18 days in Italy (Venice, Cinque Terre, Florence, Rome), and 12 days in Greece (Heraklion, Chania, Santorini, Milos, and Athens).
Our total out-of-pocket spending for the month was roughly
$6,750 USD
, surprisingly higher than the previous month, but only a bit higher than what we were projecting ($6,250). 
This spending includes the following breakdown on a per day average for the two of us combined (in USD):

Accommodation Food Sight Seeing Transportation Souvenirs Misc.
Mayrhofen $46.20 $57.14 $28.22 $9.37 $0 $0.25
Italy $87.05 $67.29 $13.75* $59.85 $12.06 $6.62
Greece $67.07 $49.79 $14.52 $53.89 $6.86 $4.43
*Excluded from the above table is roughly $1,000 in partnerships in Italy that covered mainly premium walking tours and a car rental.  We paid for our gas for the car (roughly 100 Euro and is included above) but got free museum admission and food on some of our walking tours, such that the out of pocket spending without these would likely break even.  The only difference would be a bit more spending on food and sight seeing and less on transportation.
In this particular breakdown, it is worth pointing out that our accommodation budget for Italy and Greece was
considerably lower
than our actual spending.  In Italy we budgeted $65/night for rooms, about $20 lower than what we spent.  In Greece we budgeted $40/night for rooms, about $25 less than what we spent.  These were the main causes of our spending overruns.
This occurred for two reasons: 
We changed our plans after making our budget to visit more expensive cities (Corniglia in Cinque Terre, Santorini, and Milos are great examples). 
We opted to stay in the city centers in these spots during peak season.  This comes with a particularly high premium in this part of the world that can be up to DOUBLE the shoulder and low season prices. 
But you know what?  It was totally worth it.
RTW Tally Snapshot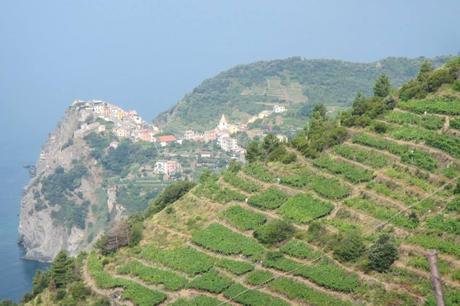 We've now filled in all categories of our RTW Tally except for one! (And don't worry about that one, we already are making a big change for Month 3 that we'll talk about at the end of this post).
I'm quite impressed with our increase in number of books read in this last month as we had quite a bit of relaxation time built in where we could enjoy some of the simpler things travel allows.  The best book this month?
Around the World in 80 Days
, of course. 
Days Traveling: 62   (+31)
Countries Visited: 8   (+3)
Dollars Spent (USD): $20,234   ($6,750 due to this month only)**
Pictures Taken (Jeremy): 5,189   (+2,151)
Miles Traveled: 7,499   (+2,265)
   Planes: 5; Trains: 29
   Buses: 2; Ferries: 2
Days of Rain: 1.5   (+0)  
Did that really just happen?
Sick Days: 1   (+1)  
I don't want to talk about it.
Itinerary Changes: 0
Arguments: 1   (+0)   
A miracle!
Days Apart: 1.5   (+1.5)
Nights in a Dorm Bed: 7   (+0)
Combined Books Read: 6   (+4)
Bottles of Wine: 18   (+7)
Yep, it was a good month for all things but spending.  But that one was expected. 
Random Thoughts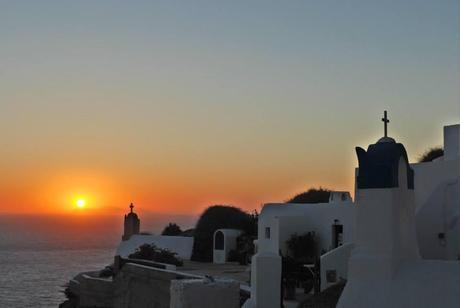 As with the last RTW trip covered on this site, these monthly updates are a great place to put in the little random details that we found interesting in the countries we visited that may not find their way into a full blog post.  The following are some of our favorites from the countries we visited in Month 2:
Although we mentioned it in a post, it is good for us to reiterate that driving in Florence was one of the biggest headaches of our trip so far.  We were stressed out about it far more than we enjoyed it, but the destinations we got to see are memories that we'll keep with us forever.  Would we do it again?  The jury is still out on that.
Our first website crash occurred during Mayrhofen which consumed one of my sight seeing days to get it fixed.   As this has happened a few times in the past, I've gotten pretty good at fixing it in a fast period of time.  Hopefully no one noticed it!
We're very bummed we spent 18 days in Italy and only 12 in Greece.  It is like a night and day difference to each other in terms of just about everything.  If we could go back and change our itinerary at one point this month, we'd flip these numbers and add even more time in the Greek Islands.
July and August is a bit of a painful month to travel in southern Europe due to the temperatures, so we have taken to the mid-day nap routine, much to our enjoyment.
There was supposed to be a strike in Greece that was to cancel all domestic flights for three days.  We were flying from Milos to Athens on one of those days.  Since ferries were pretty full to begin with we made a booking of a ferry ticket from Milos to Athens as "insurance."   If there was a strike, our actual travel insurance would have paid for the airfare loss and we wanted to be ready as we had a flight to Turkey scheduled just 2 days later.  Well, the strike was canceled at the last minute.  We were lucky in that we canceled our ticket more than 3 days in advance and we got 100% of the money back in cash.  Still have to pay it on the credit card, but I'll shuffle money around all day for free points.
Coincidentally, because of the high winds, our ferry from Santorini to Milos was delayed by almost 3 hours.  This is the same ferry we had booked in the previous bullet that continued on to Athens.  It was originally scheduled to get in to Athens around midnight, and that particular day would likely have not made it until 3 am!  Thank goodness that strike was canceled because our travel day was just as windy, and a 30 minute flight is much better than being surrounded by nauseated ferry-goers.
Although this will be covered in a future post, Greece is one of those places where it is easy to travel cheaply, but just as easy to splurge at every corner.  If you're like us, a place you fall in love with always entices you to spend more, and we did (but are totally okay with that).  Thrifty travelers should keep this in mind.
Likewise, having to go the ATM twice in the same city is very, very depressing.  We had to do this during a stop in Italy, but mostly because we spent 6 nights in a few cities, our longest stops yet.
Angie had her first go with homesickness, but not so much for the usual reasons you would think.  She misses baking and is particularly upset that it is fresh fruit season and she can't can some jams and preserves.  When I reminded her we were in the Greek islands, she got over it.
Future Posts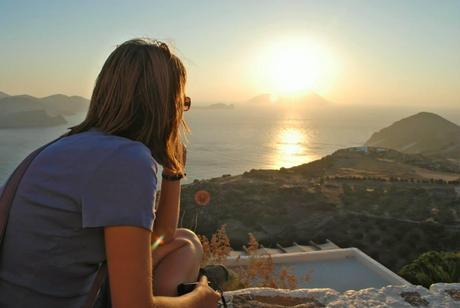 Since each month is limited on the number of days, we cannot write our posts fast enough to fit them all in!  But don't worry, we've got ideas for a lot of great posts for after this trip ends (if it ever does).  The following are a selection of some we're thinking of!
Agave Plants in Cinque Terre
Cinque Terre is an Odd Place
Rome Restaurant Reviews
Exploring the Deepest Corners of Venice 
Street Sign Graffiti in Florence
Island Boat Tours in Milos (coming in the next week)
How to Get a Refund With Sea Jet (Greece)
30 Hours in Santorini (coming in the next week)
A Lesson in Greek Hospitality
..and more!
KEEN Shoe Summary
We're really pumped to have received great shoes for this trip, and our KEEN shoes and sandals are one of our favorite things in our packing list.  After the last RTW trip we had a great post covering the life and death of our travel shoes so we thought it'd be interesting to do a running display of how our shoes are holding up this time.  Each month we'll post a photo of our shoes to see how they're doing if anything has changed.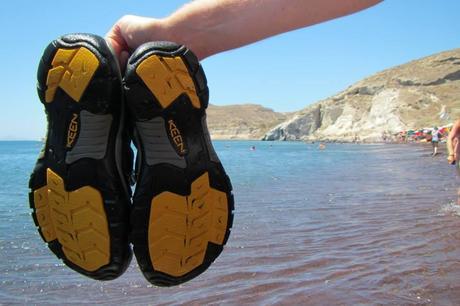 Last month we mentioned that breaking in new shoes is always the worst part as it is rough on the feet and can be a bit uncomfortable until they're ready.  Shortly into month 2 we had no further issues with our shoes and think they've finally made it to their perfect state for travel.  Jeremy's are showing a little wear, but only because he is being rough on them like he always does with his shoes.  The fact that it took 2 months to even show anything is a great sign of what is to come.
We also took our sandals out for a number of trips in this last month, including a long hike in Cinque Terre on rocky and sandy terrain.  It is hard to think that a sandal would have enough tread to handle a rough hike, but these were just as good as the shoe (other than an occasional rock under the foot which can be sometimes tricky to get out).  At the beach we ran straight into the water and found they were dry just a day later, thanks in part to how hot Greece is in August. Awesome!
If all things hold up with these, our next month's report will feature something new in this spot.  Perhaps the state of our marriage? 
That should be a fun one to talk about.
So what will month 3 bring?
  We're on a plane to Cappadocia tomorrow, and spending the next 2.5 weeks in Turkey!  This will be the first part of our trip where we do not have any plans made in advance other than our 3 nights in Goreme.  After that? 
Adventure.
   All we know is we need to end up in Istanbul to meet a friend of ours who is flying in from the US at the end of August. We were going to go to
Egypt
from there, but our plans have changed (stupid political unrest and government "travel warnings", come on Egypt!) and we now have no idea where we're going to go!
So will we end up in Bulgaria?  Cyprus?  Jordan?  Who knows, and you'll just have to stick around to find out!   Like with everything, if you have any ideas we'd love to hear them.  Our only restrictions are that we cannot go inside the Schengen Zone of the EU and we need to get to Romania after that to begin Month 4.  Pretty simple!
Will you come along for the ride in Month 3?
Is there something you'd like us to cover in our monthly reviews? Or perhaps something you'd like to see more or less of in our posts? Comment below to let us know and we'd be happy to feature it!