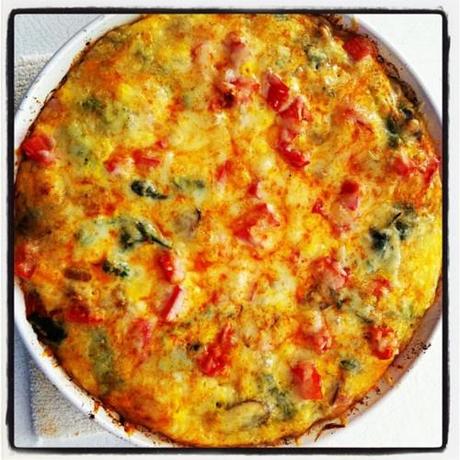 Before we headed to the farmers market and other market store this weekend I had some crisper drawer clean-out to accomplish. There is seriously NO better way to get some almost gone bad veggies used up than to make a frittata. Especially if you have a basically endless supply of eggs on hand that comes with a nice sized flock of back yard hens!
Ingredients
8 eggs
2 medium sized potatoes shredded, rinsed, and patted dry
1 cup of green (I used baby spinach)
1 roma tomato diced
1 cup thinly sliced mushrooms
1 onion chopped
1 clove of garlic minced
1/2 cup of crumbled sausage or bacon (I used spicy turkey sausage)
1 cup of shredded cheese (use what you have on hand! I used swiss and a dash of left over motz)
1 Tbs salt free seasoning (like Mrs. Dash)
1 Tbs of fish sauce
1 Tbs of white wine
1/4 tsp hot pepper
2-3 Tbs coconut oil
Sprinkle of paprika
salt and pepper to taste

Directions
Preheat the oven to 400 degrees. Grease a quiche pan.
Shred the potatoes into "hash-browns", rinse, and pat dry. Spread them in the bottom of the quiche pan, top with a liberal sprinkling of salt free spice mix and once the oven is up to temperature, bake for 10-15 min until the potatoes are tender.
Prep the veggies- chop the onion, mince the garlic, slice the mushrooms, rinse and dry the spinach, and seed & chop the tomatoes. Melt the coconut oil in a medium saute pan, and sweat the onion with a pinch of salt and hot pepper. Cook until tender. Add the minced garlic for about 30 seconds. Stir in the mushrooms and cook on medium until tender.
Turn off the burner and stir in meat, spinach, fish sauce, white wine, and salt free seasoning. Warm until the spinach is wilted and most of the liquid has evaporated. If it doesn't evaporate, turn the burner back on low for a short time.
Shred the cheese of choice.
Wisk the 8 eggs.
Once the potato crust has been baked until soft, remove from the oven, add the layer of sauteed veggies and meat, toss on the diced & seeded tomatoes, and pour on the whisked eggs.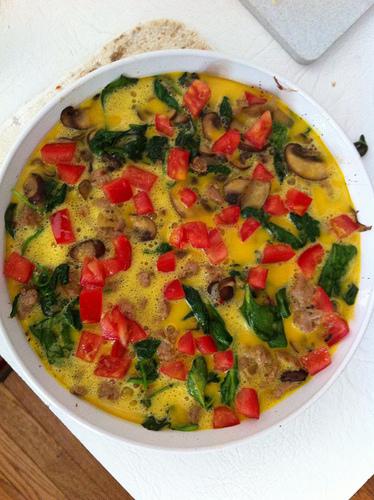 Distribute the shredded cheese evenly across the top and add the paprika.
Bake at 400 degrees for about 20 min, until the egg is thoroughly cooked.
Serve hot, warm, or cold.
Everything but the kitchen sink- frittata (Taken with instagram)