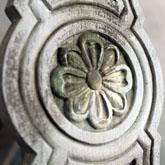 We were having a lazy Sunday yesterday and didn't want to leave the house for anything. At the same time, we wanted to fix up an old chair we had so Pete could finally have something to sit in at his
circle drawer desk
. I know, that was almost six months ago when we got that desk! Poor Pete.
I'm lucky enough to have a brother who understands my love for dumpster furniture. It's free and always a good project. He brought me home an antique chair that was absolutely hideous. Covered in dirt, tacky fabric... but perfect for our circle drawer desk!
Here she is when I met her: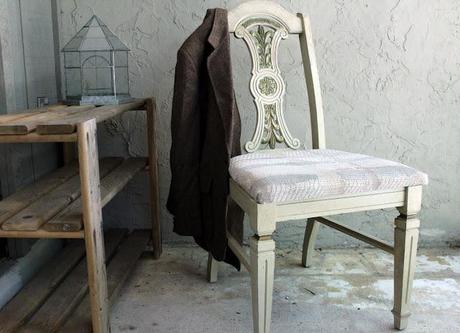 I will never understand why fabric like that was so popular in the 90s. Yuck!
Since we were feeling lazy, we decided to challenge ourselves. We were going to refinish this chair without having to buy anything. Lucky for us, our apartment is full of fabric, paint, tools, you name it. I'm sure we're not alone in this.
Here's what we used:
- Pale Bloom paint left over from the
circle drawer desk
and the shangri-lucy dresser.
- Hammered brown paint left over from our chandelier lamp.
- An old wool herringbone coat that Pete never wears
Here's what she looked like after: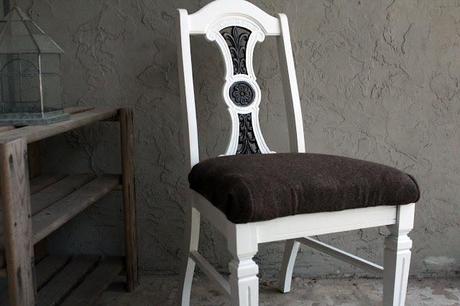 I love that we were able to do this without stopping by the fabric store or home improvement store!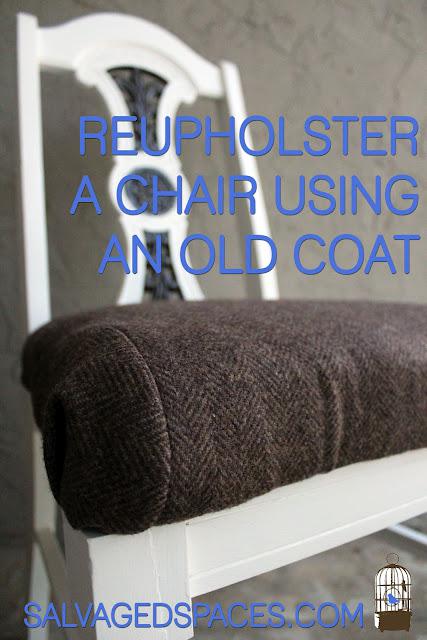 I've never reupholstered a cushion before, but this was way too easy! I pretty much wrapped the coat and stapled. Let's pause again and remember how ugly the cushion used to be: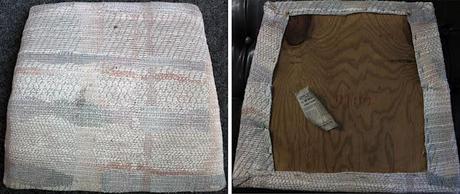 Uh, no. Bad idea. Never look back!
To do this yourself, you'll need:
Staple gun with staples
Scissors
Flat head screwdriver
Padding
Old coat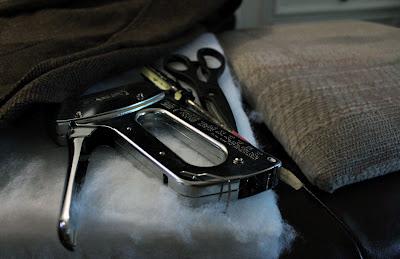 I used the flat head screwdriver to remove the old staples and fabric. I already had some cushion in the apartment that I picked up for $1 at a thrift store a while ago. I
knew
that someday I would do something with it! 
Now, before I get negative comments about cutting up an old wool coat, let me just say one thing.
We live in Florida!
 These coats just shouldn't exist here. But instead of throwing them away, I thought I'd make something else out of it. You can find old wool coats at thrift stores for really cheap (in case you don't have any laying around your house).
I wrapped the coat around the cushion and positioned the shoulder pads toward the front of the cushion. The hardest part was folding the sleeves around the cushion to make it really snug, but it still wasn't that difficult.
Total cost for us that day: $0! Now we can finally sit down when we write a blog post.