For anyone who hasn't already seen today's announcement on the Models Own Facebook page, they will soon be bringing three new spring/summer inspired shades to add to the much loved Beetlejuice collection. This collection already features a number of duo-chrome polishes with a very unique finish for the nails with autumn/winter inspired colours, and now Models Own have made some room for a bit of sunshine and fun into the collection in the form of these new polishes.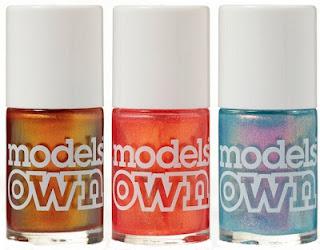 L-R: Copper Red, Tropical Sun, Indian Ocean.
"Perfect for spring/summer, the new range includes Copper Pot, a deep olive tan, Tropical Sun, a glistening sunset and Indian Ocean, a calming, iridescent blue with soft pink undertones."
Personally I hadn't bought into the original Beetlejuice collection as I simply don't wear darker shades and the polishes all featured darker tones, but now that these spring/summer shades have been announced I can see myself getting very excited about Indian Ocean which just looks like pastel duo-chrome perfection in a bottle and the perfect shade for any kind of summer holiday this year.
These three will be launched on the Models Own website on Monday March 19th and will become available in selected Boots stores near the end of the month. What do you think about these new Beetlejuice shades?