Hey guys. I'm so stuffed I can't even think about another bite of food.
I'm going to skip most of my eats today because Max and I did something amazing and a little spontaneous. We made Beer Can Chicken! But before we get to that tasty recipe I have another crazy thing to share.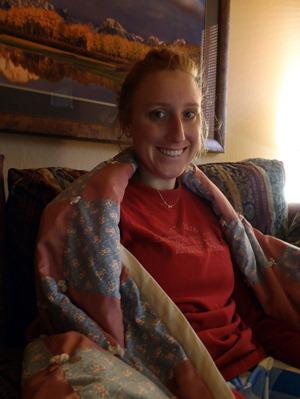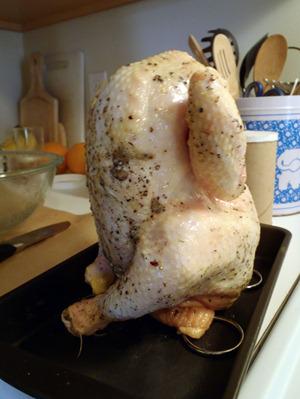 I ran 4 miles this morning in 41:40 as my first long run of 1/2 Marathon Training!!
It was pretty hard, I'm not going to sugar coat it. After the 3rd mile my legs were screaming Maren!! What are you doing to us?? But I pushed through, with the help of my distance running coach, Max. Here are our splits:
mile 1- 10:06
mile 2- 10:16
mile 3- 10:40
mile 4- 10:37
Running with Max had me really excited and I had to keep telling myself to slow down for the first mile and a half which led to me needing to walk twice. But I'm really happy with my splits and hopefully next week I'll be able to run the entire 4 miles.
How to make beer can chicken.
For a printable recipe click here!
So there I was, being a complete foodie watching reruns of Top Chef: Texas on Bravo. I saw one of the contestants make Beer Can Chicken for one of the challenges and I knew I had to make something so fun.
Beer Can Chicken is a super moist chicken because the heat from the grill heats the beer in the can and creates steam from within the chicken. Don't worry the bird isn't supposed to taste like beer, the beer just makes it uber moist!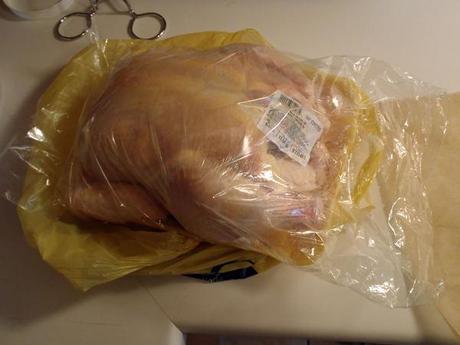 Luckily, Max thought it was a fabulous idea too. I roped him into dealing with the raw chicken. I don't like guts…….
First you need an entire raw chicken. When you open it, the guts will be wrapped in a package inside the ribcage, simply remove the package and scrape out any remaining organs. Our chicken had a kidney left in there.
Once everything is removed rinse the bird in water.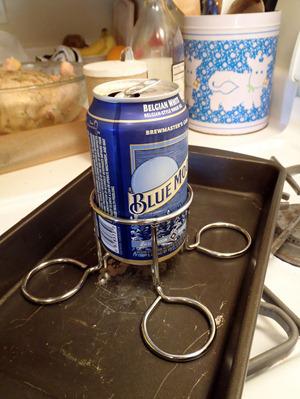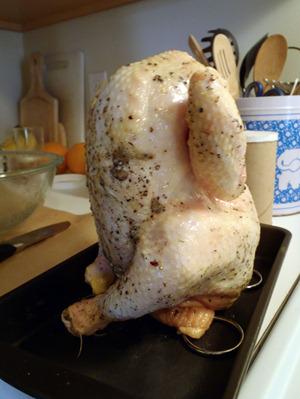 We put the chicken in a bowl and rubbed it with evoo and sprinkled with salt, pepper and garlic powder for some extra flavor.
Now, you can get a little advanced and buy a Beer Can Chicken Stand like the one Max found at Cost Plus World Market. It just helps make sure the chicken stands upright and balanced on  top of the beer can, but you can do it without.
We chose to use one of the new Blue Moon Belgian White cans. Simply pop the can open and pour out about a third of the beer. Then place the chicken over the beer can. Basically, the beer can should be up his bootay…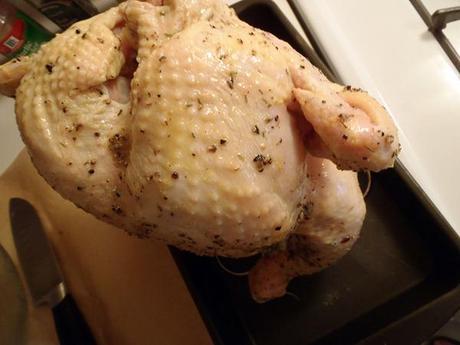 Put the chicken on the grill, we heated ours to between 350 and 375 before putting the chicken in. Cook until the bird measures 160 degrees when measured with a meat thermometer.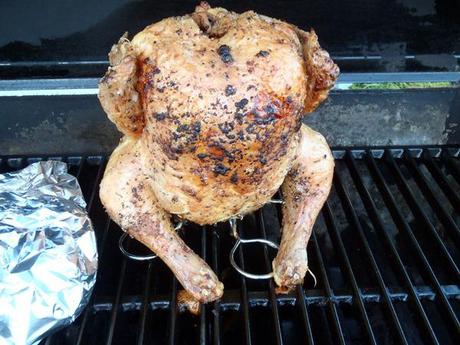 Our bird was 6 pounds with the guts still inside. According to the internet a 6 pound chicken needs 2 1/2 hours of cooking to get to 160 degrees. Our bird only took an hour and a half. So definitely check the temp often. Ours was a little over cooked since we weren't expecting it to be done so fast.
While our chicken cooked we sampled a Sierra Nevada wet hop ale.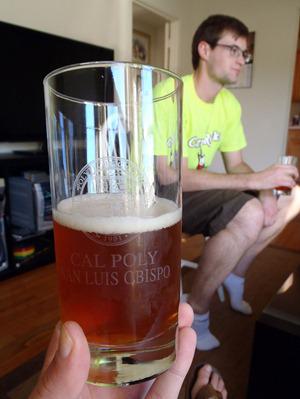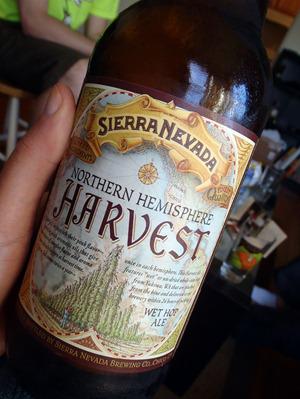 It was pretty hoppy but full of flavor. I'm not too partial to IPA's so I gave most of my sample to Max and poured myself a glass of Blue Moon with orange instead.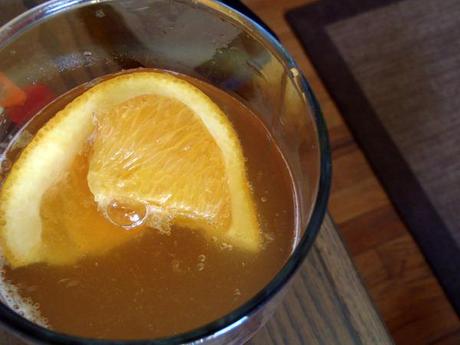 Much better.

With our chicken we made veggie kebabs and roasted potatoes, all done on the grill.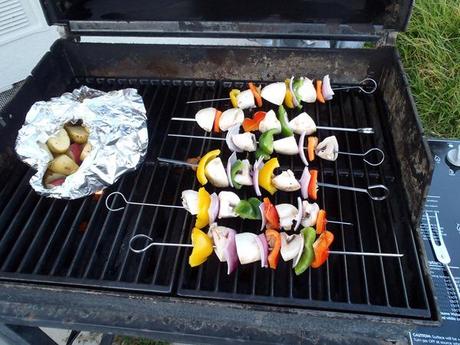 Everything smelled so delicious. It was impossible to walk outside without drooling. Max was very concerned that all people walking by his house were going to spontaneously steal our chicken and run off with it so he sat by an open window with a HUGE bbq tongs ready to pounce on anyone suspicious.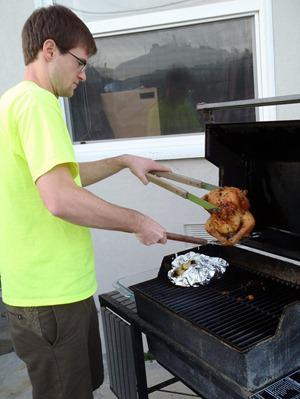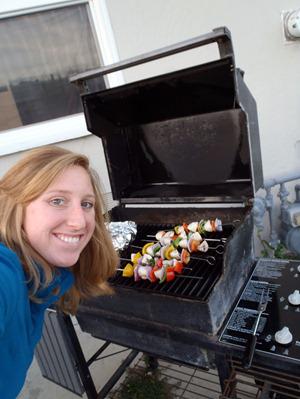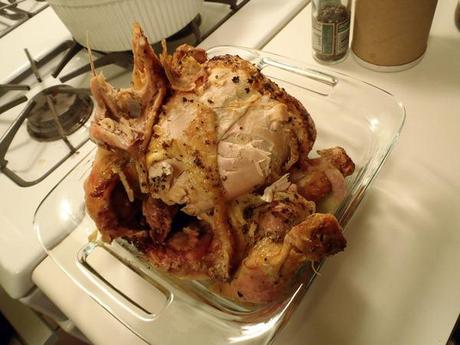 Beer Can Chicken basically becomes pulled chicken because it's so moist. Max tried to pick up our bird by the drumstick bone and it just pulled straight off the meat!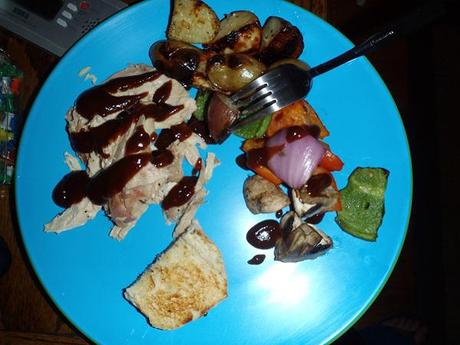 I wanted to sample everything so I had a serving of Beer Can Chicken, veggie kababs: red onion, bell peppers, and button mushrooms, a small slice of roasted bread and roasted potatoes. I covered everything with some spicy Jack Daniels BBQ sauce.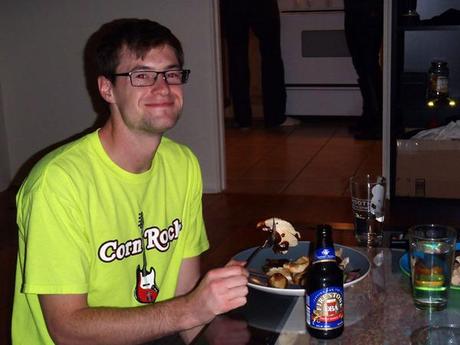 To get the recipe check out this link and my new ReciPage Page!!! All my recipes are revamped and organized. Check it out.
Tell me about you!!! I want to know????
What is the most advanced thing you've ever made?
Beer Can Chicken!
Do you like IPA's???
I'm trying so hard and they are growing on me but they still aren't my favorite.