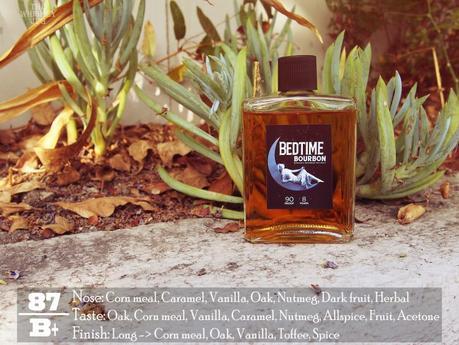 Bedtime Bourbon is a sourced whiskey who is straight up about that and doesn't even attempt to hide it, which is awesome. No shitty backstory, no overwrought theatrics, not deception, no stupid stories, just good sourced whiskey bottled and served. The only thing they could do to make this better would be to offer it at barrel proof because the world needs more barrel proof George Dickel, err…, I mean whoever they got this from…
In Louisville Bourbon Transit's Words: Bedtime Bourbon
"In order to get the taste we are looking for, Bedtime Bourbon was distilled in Tennessee and aged through eight long, hot, humid summers down there.

But we are Kentuckians, so we know that if you want a bourbon to taste right, you can't do it without plenty of the Bluegrass State's legendary limestone-filtered water.

That's the mineral-rich water we use in Bardstown when we dump barrel-strength Bedtime out of its charred oak barrels and cut it down to the smooth 90-proof taste we think you'll love."
Obviously, I have my theory about who I think distilled the Bedtime Bourbon and it's interesting to see so many indie versions of this come to light in recent years. What an interesting time we live in.
Bedtime Bourbon Info
Region: Tennessee, USA
Distiller: Unknown (thinking Dickel)
Bottler: Louisville Bourbon Transit Co.
Mashbill: At least 51% Corn + Rye + Malted Barley
Cask: New Charred Oak
Age: 8 years
ABV: 45%
Price: $50*
Bedtime Bourbon Review
EYE
Light caramel
NOSE
Cornmeal, caramel, vanilla, oak, nutmeg, dark fruit and a touch herbal. It smells like well aged Dickel.
PALATE
Oak, cornmeal, vanilla, caramel, nutmeg and some allspice fruit and acetone… it tastes like a well aged Dickel.
FINISH
Long dusty fade of cornmeal, oak, vanilla, toffee and spice.
BALANCE, BODY & FEEL
Good sense of balance, medium body and a soft velvety feel.
OVERALL
There's no mistaking Bedtime Bourbon for anything other than Dickel, the second I opened the sample bottle it screamed it and there's nothing wrong with that because I love George Dickel! Since they fully disclosed that it was sourced from Tennessee and aged in Kentucky I don't have any issues; everything is on the up and up and they've managed to get some tasty barrels.
The one problem I see with them going the route of sourcing something so incredibly unique is that should they want to make their own bourbon they won't be able to replicate this flavor. But if they can continue to keep up the sourcing good on them, Bedtime Bourbon will be a great source of indie Dickel for years to come!
SCORE: 87/100 (B+)
*Disclosure: This Bedtime Bourbon sample was graciously sent to me by the company for the purposes of this review. The views, opinions, and tasting notes are 100% my own.