This post was originally writen and published on Huffington Post.
Many businesses today can benefit from using social media influencers to help inform and motivate others about their product or service. The major problem, though, is finding the right tool to point out the influencers who have the most likelihood of being helpful for your cause. Choose the wrong tool and you could be wasting a lot of time and money, while your competition is making sales. Most sites, which promise to measure social media influence, like Klout, are simply measuring popularity instead. It seemed like we would never have a tool that would truly be able to find these critical influencers, but along comes Jugnoo, the new on-demand social CRM platform (mobile and web) in the cloud.
Take just one look at Jugnoo and you'll see how cool it is, and is going to be. This Canadian company innovated a smart new platform that is the first and leading Social CRM tool for businesses and individuals who would like to take full advantage of Social Marketing. It is easy to navigate, available in mobile and web versions, and is far more powerful than HootSuite. Jugnoo is also the first Social CRM tool that allows you to read and get notified of your Facebook messages. For social media novices, they start you off with a list of 43 tasks (Figure 1) that will get you up and running.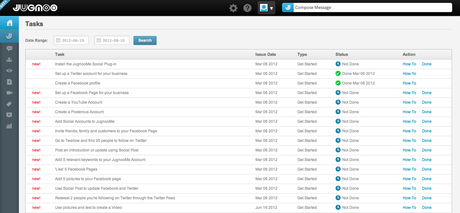 The company promises to help your business save time and money, build trust and relationships, grow revenue, and get brand control in the social media world. Apps available now include:
Social Post: share updates to multiple social media accounts in one post

Social Dashboard: monitor and engage directly from your connected Facebook and Twitter accounts

Social Search: set up keywords and follow conversations on the social web

Facebook Coupon: create compelling offers to turn fans into customers

Facebook Slideshow: Bring your products to life with captivating slideshows

Create Video: create engaging media content that promotes your business

Distribute Video: post your existing videos on YouTube to connect with your audience

Share Article: become a thought-leader by sharing your articles across the social web

Web Analytics: detailed reports to track your website visitors and their actions
For most businesses that are establishing a social media presence these apps should be more than enough. But there are even greater possibilities coming for those businesses which are actively seeking to use social media to motivate action and change behavior. A demo this weekend got me very excited because it included some of the new features they will be rolling out this summer and fall. The analytics will be expanded from just website to include social analytics (Figure 2) and Google analytics (Figure 3).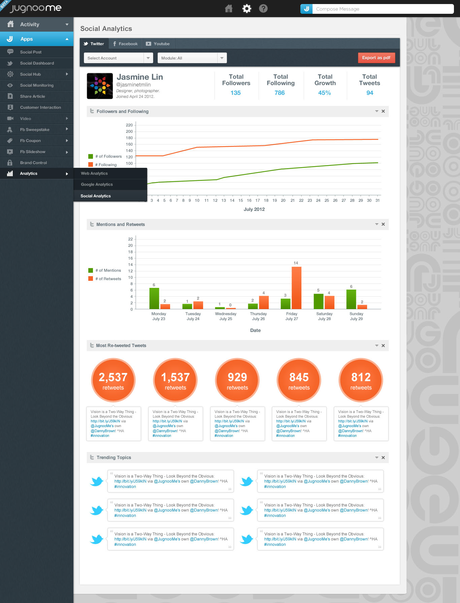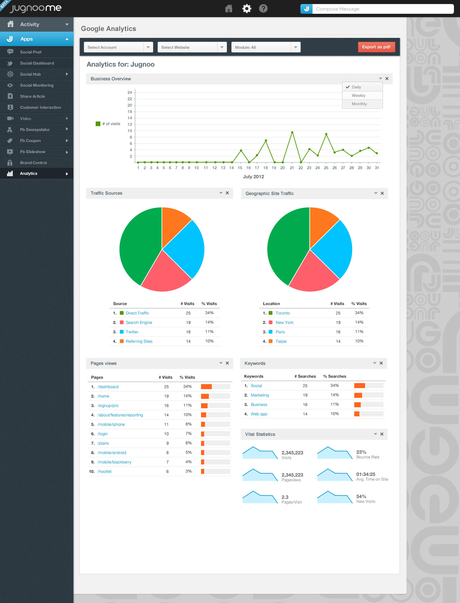 One app that really grabs attention can help business marketers discover social media influencers via their ripple effect. This will even be done in a visual mode so users will be able to see all established connections between influencers (Figures 4 and 5).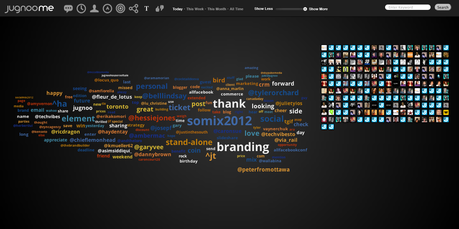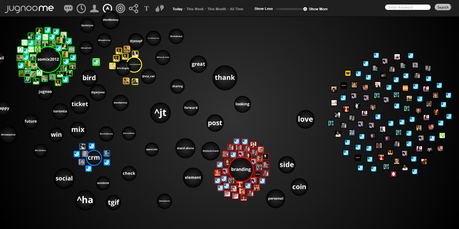 This fall Jugnoo will also launch new features that will help you monitor your return on investment (ROI), thereby becoming the first tool with ROI integration. When fully functioning, this new platform will be a powerful tool in the social media toolkit. Not only will your business be able to completely manage and monitor its social media marketing from one convenient location, it will also be able to greatly expand it through the use of peer influencers. You can use this most coveted group of social media devotees to help build relationships and a community of devoted followers for your product or service. If you don't Jugnoo now, you will soon.