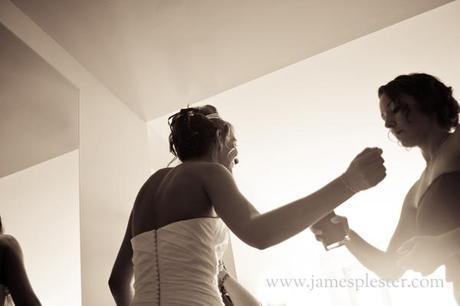 This real wedding blog is of course about far more than a pair of Christian Louboutins. It's a family focused wedding day full of laughter and smiles, with a wedding day story from a bride who has the prettiest giggle and the most sensual smile I've seen! Clare and Jon are a perfect match. Their day was a relaxed, fun celebration in an incredible venue, and I have some fabulous photos to share with you today.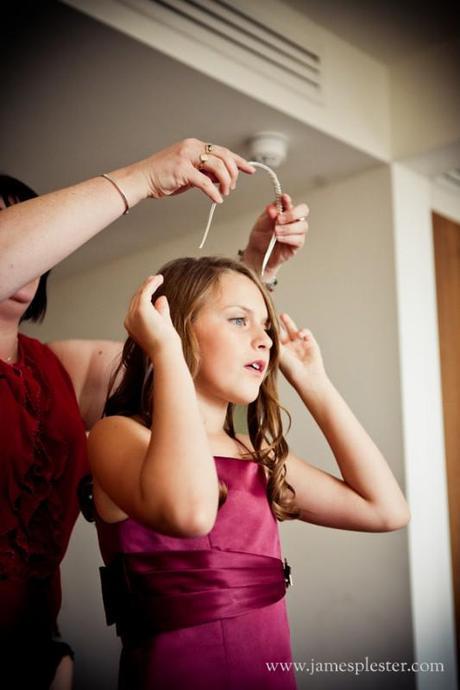 The photos are by James P. Lester Photography – husband and wife team James and Lianne met at Leeds Corn Exchange so the wedding venue has a place in their hearts too! I think the romance shows in the pictures. Along with Clare's words they tell a wonderful story.
Enjoy!
Clare's bridal preparations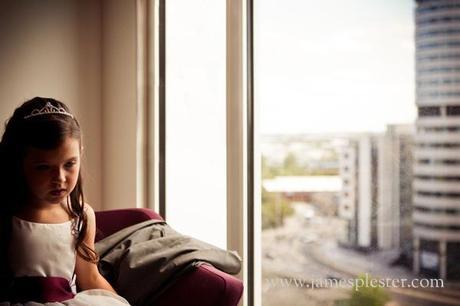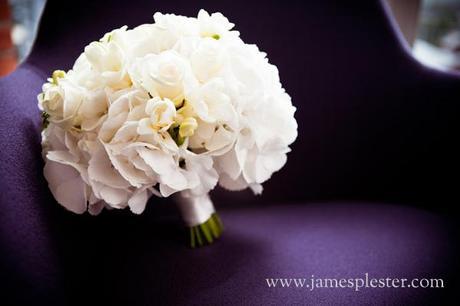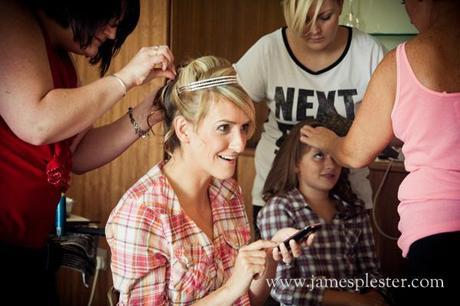 The bridesmaids (6) and I stayed at the Mint Hotel on the evening before, this was also where we got ready. Stacy came over to do our hair from 8.30, each bridesmaid had a time and had to make sure they were there! It went far too smoothly! We had loads of fun getting ready and chilling out (the wedding was at 4pm so gave ourselves loads of time), photos started at 1pm so got lots of 'pre' wedding shots.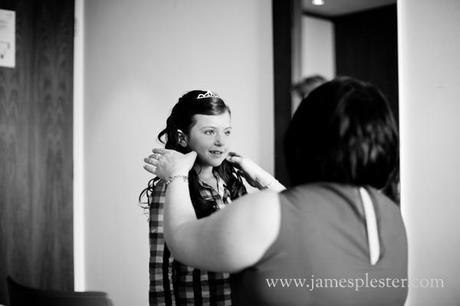 "My wedding dress was bought from Confetti and Lace in Pudsey, Leeds. The name of the dress was Tabby2, it was strapless with a full train (not easy to get down the steps!) and the material was taffeta. Jane Carter was the sales assistant who was more than happy to let me try as many gowns as I wanted until I was happy (many shops I visited tried to restrict) and also ensured that the dress purchase became a really exciting part of the wedding "experience".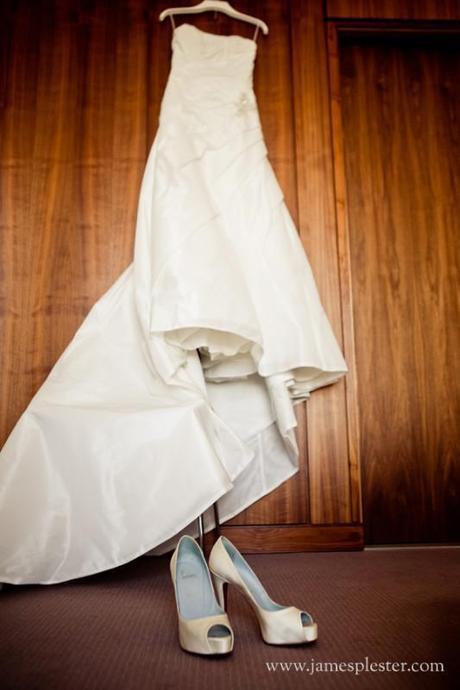 Shoes – the first thing I bought & my only demand, the rest of the wedding had to fit around! Christian Louboutin hyper prive heels. Pure joy! Also they fitted as the something new and something blue (they come with blue inserts)
Jewellery – my something old was a diamond necklace I've had since being a teenager. My rings were from Tiffany.
Clare and Jon – the wedding ceremony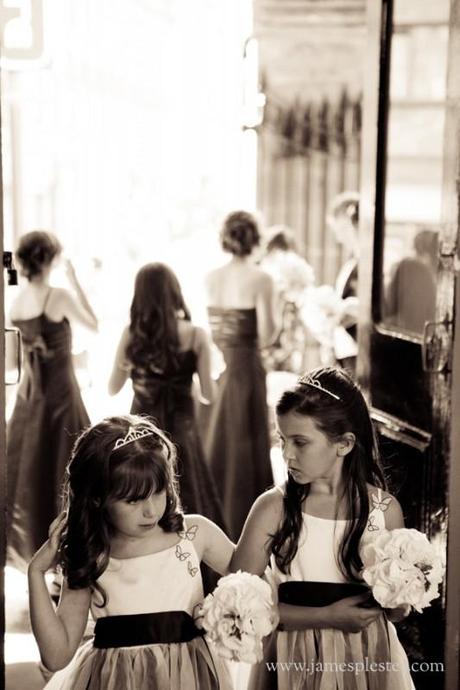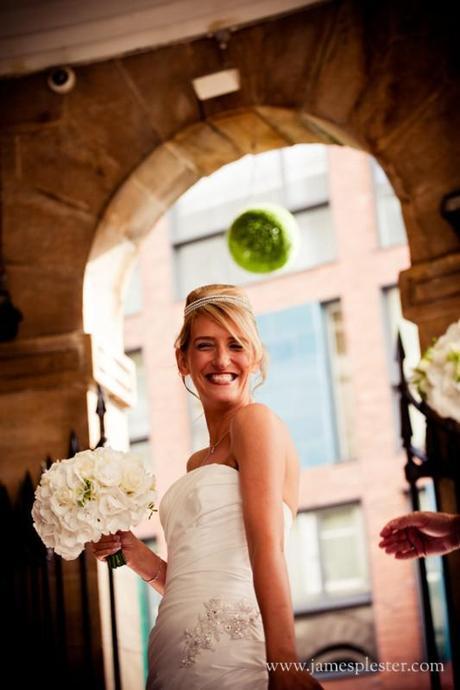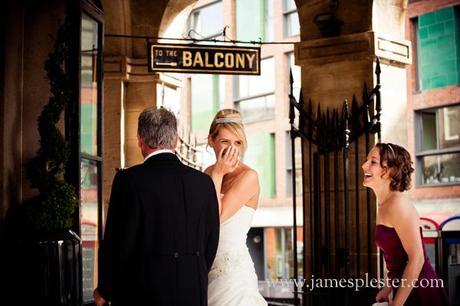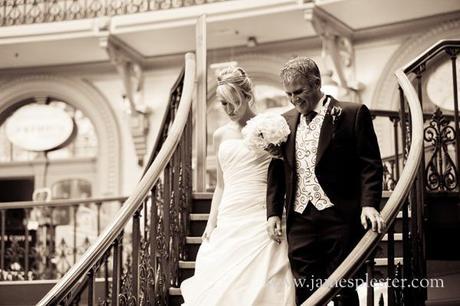 Memorable wedding day moment: Walking down the steps in the Piazza to meet my husband to be was a truly wow moment and for once it was me being tearful!
Jon wore a black tailcoat with an ivory waistcoat. As a "nod" to his deceased father he carried a photo in his side pocket.
His son was his best man and my best friend's father was the "borrowed" father of the bride. They wore a similar suit with a waistcoat to match the bridesmaids.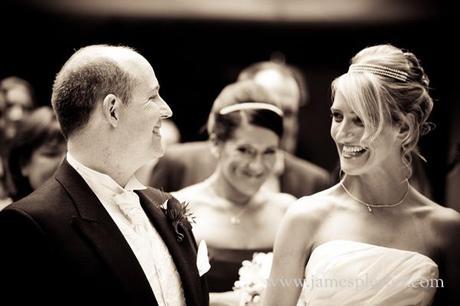 We had 50 guests for the ceremony, Jon's daughter read a reading (No Matter What by Debi Gliori) we wanted more 'action' shots as opposed to stiff family portraits so were able to spend longer chatting to the guests after the ceremony. The end result of the photos is so impressive and exactly what we wanted.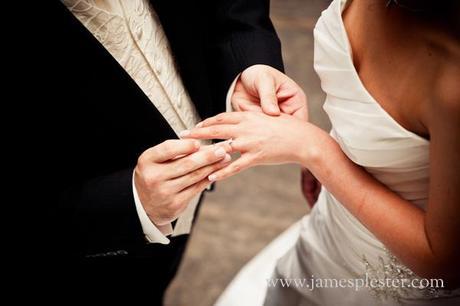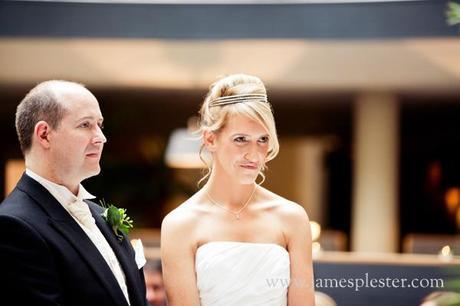 Anthony's Piazza, Leeds Corn Exchange wedding venue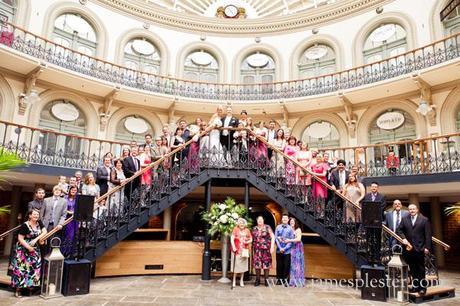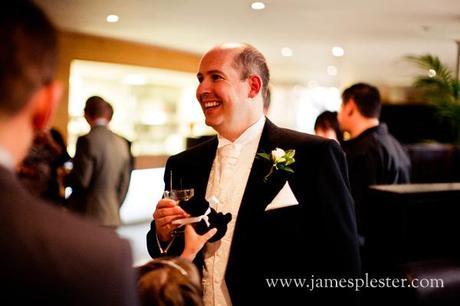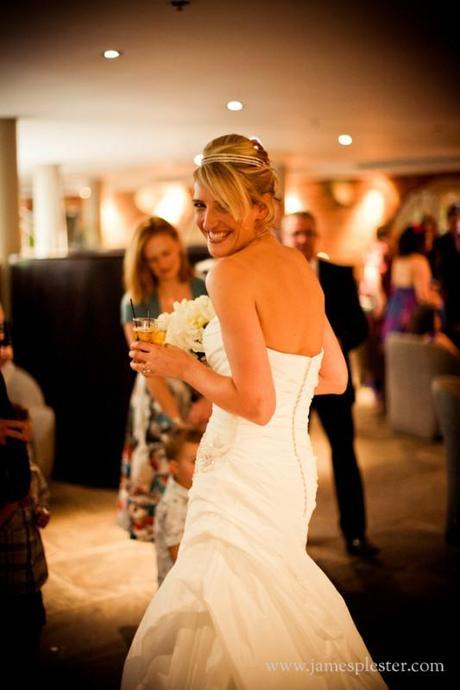 We wanted our wedding somewhere that had meaning to us. Anthony's Piazza in Leeds was the place of our first date. Luckily they had started conducting civil ceremonies a year previously, plus with it being such an amazing venue it was a no-brainer.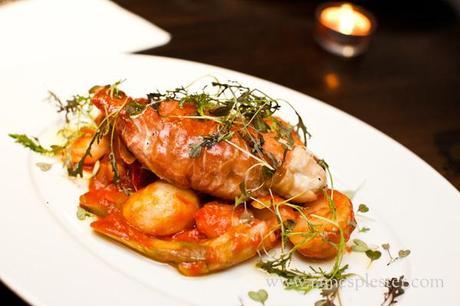 The main meal was chicken stuffed with sundried tomato butter on a bed of roasted vegetables, followed by vanilla cheesecake. The presentation was amazing. The cake was a layered cheesecake, this was then served as a cheese course later in the evening (the guests loved it!). Favours were given as individual boxed cupcakes.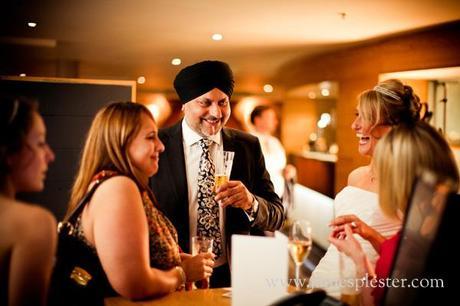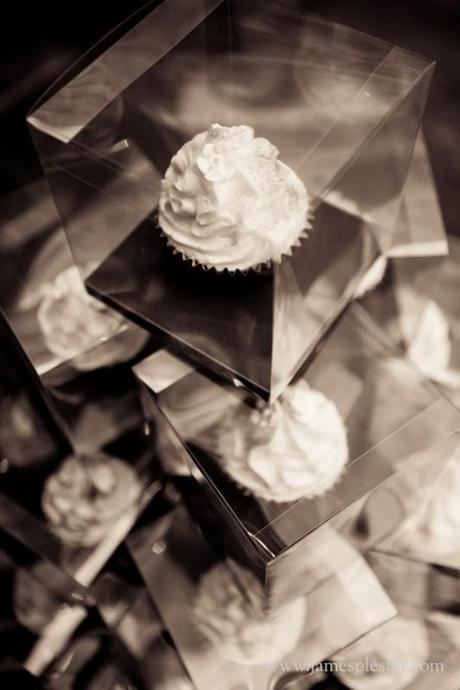 A special wedding memory: The layered cheesecake – inspired by Tony Flinn (head chef) at Piazza, loved it!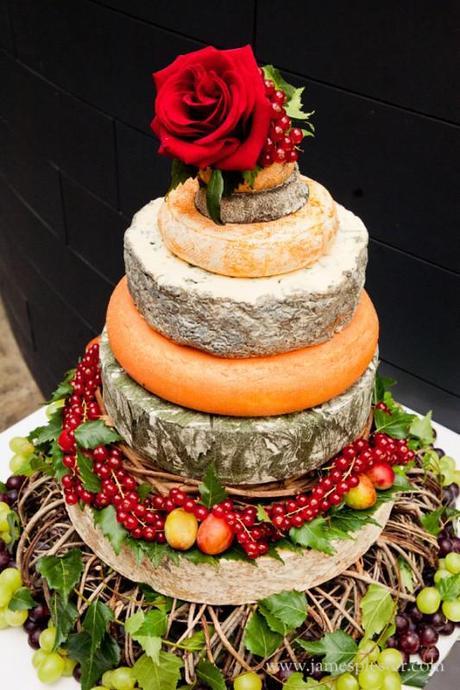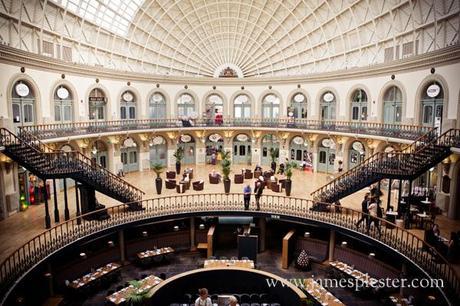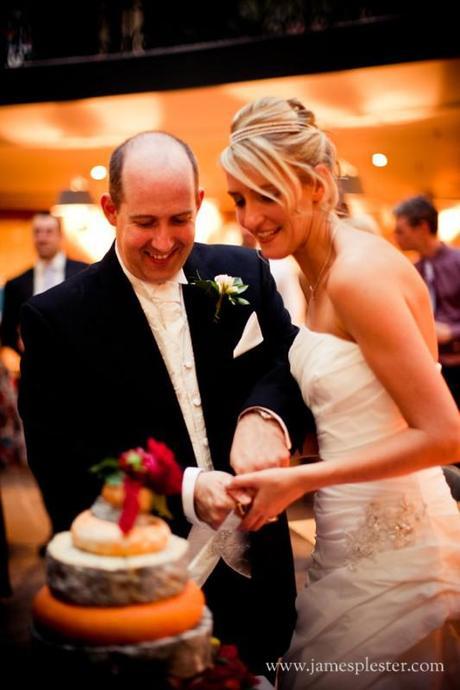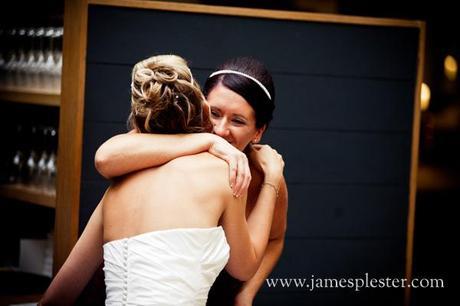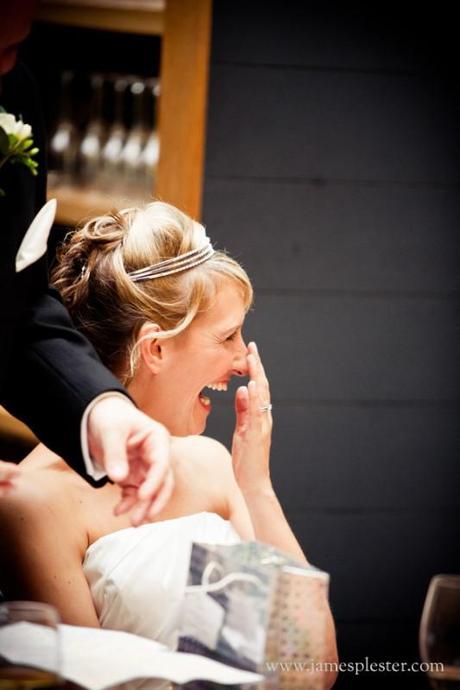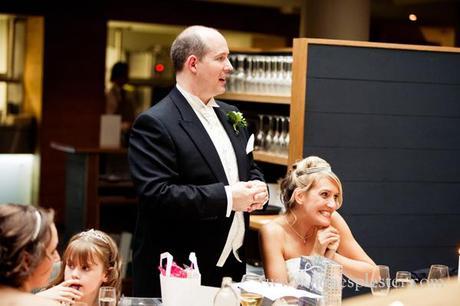 There were over 10 small children during the day so we made up party bags for each child and also turned part of the Piazza into an area for kids to play in, this made them feel as if they were part of the day.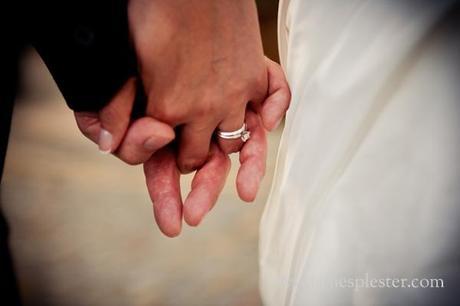 Wedding day advice: I was told that my husband and I should grab 5 minutes alone at some point in the day. James, our photographer, took us outside as the sun was setting and took some photos as we wandered up and down the cobbles chatting and laughing together. It is good to get that breather as the day goes so quickly.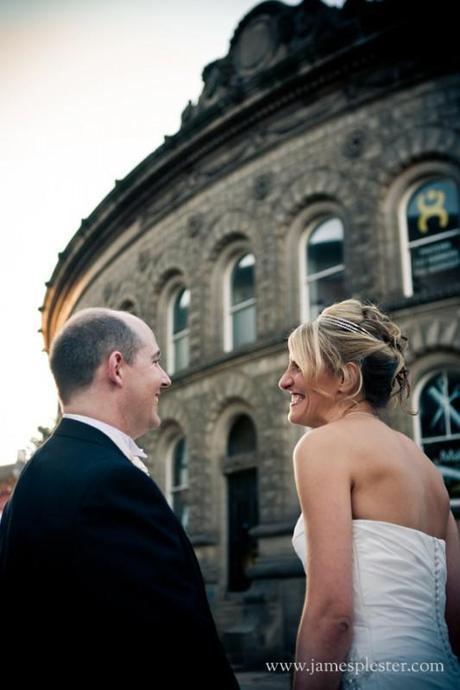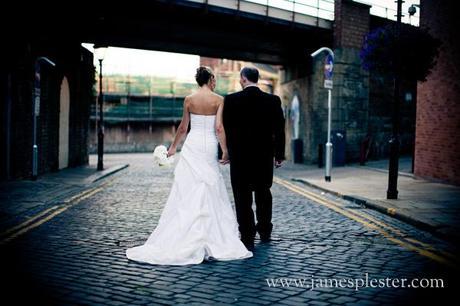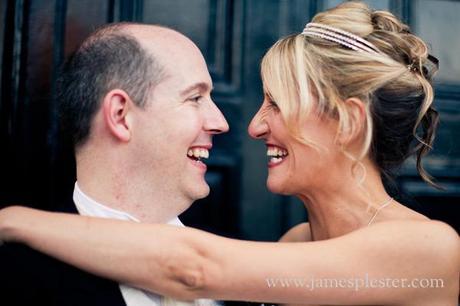 We had a further 40 guests for the evening, the Piazza lent itself to a great venue for people to mix and to dance and everyone said they had a really good time. We wanted a relaxed, fun wedding and were not disappointed.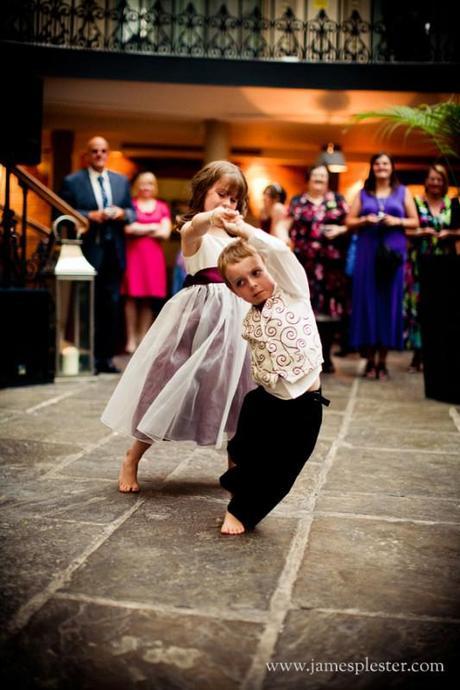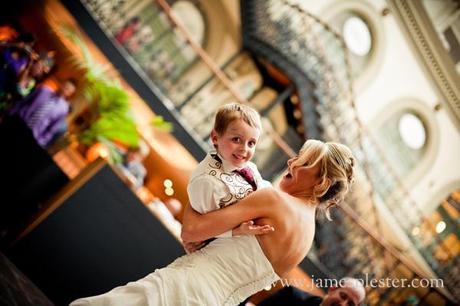 We'll always remember looking up at the lit glass ceiling in the evening – so romantic.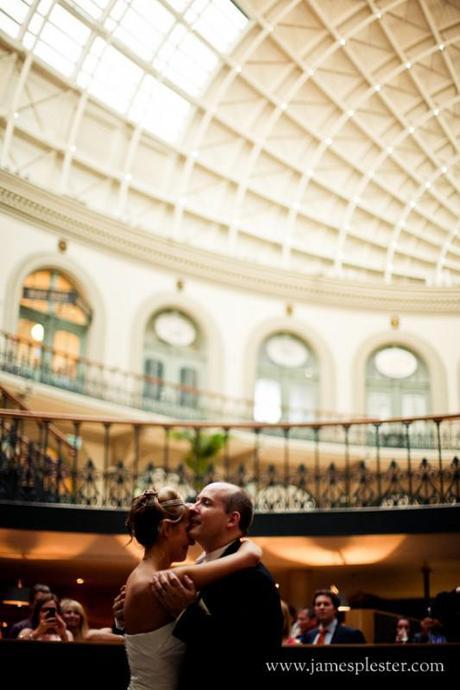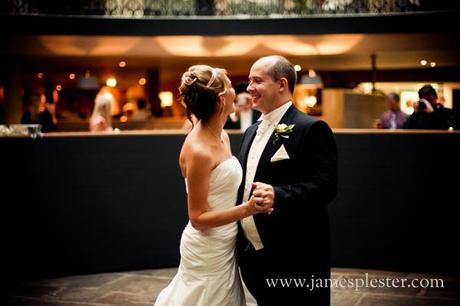 Clare's wedding planning advice:
Due to work constraints the majority of the wedding was planned in the last couple of weeks – make sure your bridesmaids are on hand to help when it gets hectic.
I sent around (in a slightly anal fashion) a spreadsheet basically giving everyone a time of where / what / how. No excuses, no faff on the phone, just do it!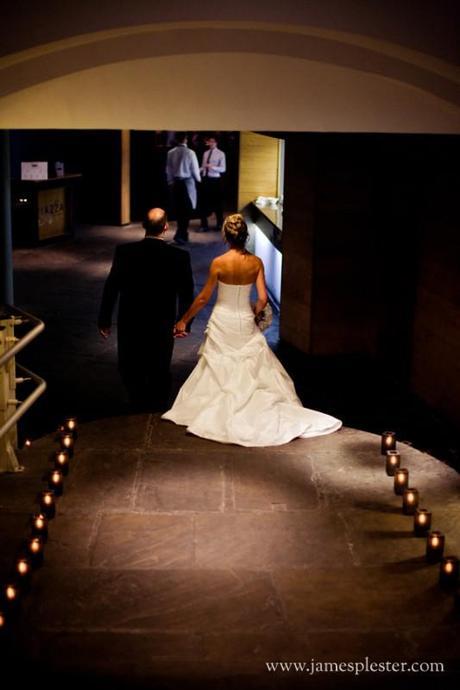 Clare and Jon's recommended wedding supplier list
www.confettiandlaceweddings.co.uk  Jane Carter is exceptional at matching the best dress to each person
http://www.anthonysrestaurant.co.uk/piazza  Olga Garcia, Tony Flinn and the team at Anthony's were amazing at ensuring the day went perfectly.  The food was out of this world and the team were very attentive to everyone's needs.  They have been doing weddings for less than 2 years and are very enthusiastic, they look like they really enjoyed the day aswell and kept safe all our things that we inevitably forgot!
http://jamesplester.com/ Our fab photographer, I utterly hate having my photo taken but James managed to make us feel at ease and we rarely spied him taking pictures during the day.  The result was a lot of "action" shots which forever tell the story of the day.
Stacy Wright Hair by Design, Leeds.  After one appointment and a good chinwag she knew exactly what to do with my hair.  Also patience of a saint with keeping kids still!