I just wanted to share some exciting news about the newest polish rack we've added to BeautyPopShop! Paying homage to one of my favorite childhood characters (I'm half-Japanese, remember? lol), I'm pleased to introduce you to our "Good Kitty" nail polish rack!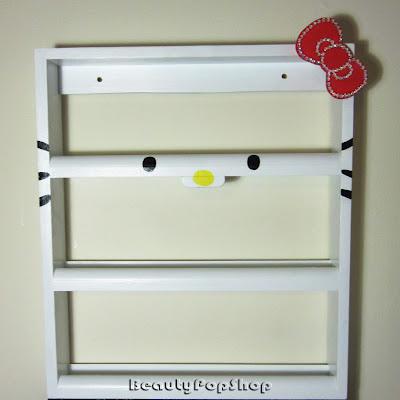 This is the petite version of our "Good Kitty" polish rack! Look familiar ;) And yes, those are real Swarovski rhinestones on the bow!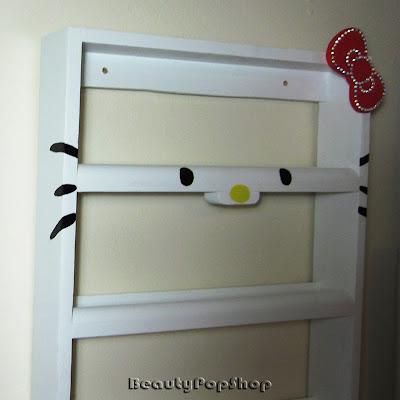 Love those whiskers! Everything is hand painted and the Swarovski rhinestones are individually glued by yours truly ;) It's insanely intense, but the finished product is so worth it!
We've been working on this design for a while, but I wanted to make sure everything was perfect before we showed it off to you lovelies. Isn't she so darn cute???
Our "Good Kitty" polish rack will actually complement her naughty twin--"Bad Kitty" polish rack--which will come in black!
Both come with your choice of 3 different color bows--red (I remember when she only wore red!), fuchsia, or teal. All 3 have the same Swarovski embellishments. They come in the same 3 sizes are "Nice Rack" polish racks come in--petite (27-30 bottles), medium (36-40 bottles), and large (45-50 bottles).
We have several other things in the works, one of which is sitting within a few feet of me and aaaaaalmost done--you're going to love it! It brings the concept of fabulous nail polish racks to a whole new level ;)
What do you think of our "Good Kitty" polish rack?