The next big thing in the make-up world is foundations that are more than just a foundation – many are including primers, moisturisers, anti-aging properties, SPFs and more.
I've read a few beauty blogs reviewing the new products out there and I've chosen to buy the three-in-one foundation from Max Factor – Facefinity All Day Flawless. This product includes a primer, concealer and foundation, plus a SPF 20; one of the main things that I look for in my skincare and make up. I've been using mineral foundation for years, but I find that it wears off easily during the day and I wanted something with a bit more coverage plus a longer-lasting formula.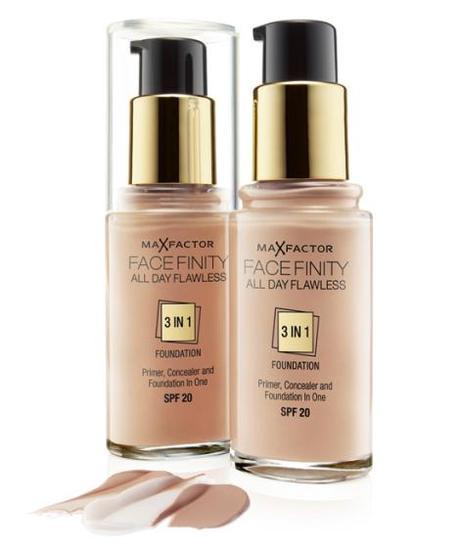 This foundation certainly lasts longer, due to its much more dense coverage than other foundations – I really feel like I'm getting my moneys-worth out of this product – more so than the usual watery formulas that slide off your face as soon as you leave the house in the morning. The coverage is so dense that it almost covers up my freckles! The colours run a little lighter than the usual Max Factor range; so where I'd usually choose the absolute lightest shade for my skintone, in this product range I need the next one up, which for me was Warm Almond 45.
The only thing is that with good coverage and long-lasting comes a mattifying, drying effect. In other blog reviews that led me to this product in the first place, the overall consensus seems to be that this foundation delivers a 'radiant glow' rather than the dryier matt texture that I experienced, so I'm guessing that my drier-than-adverage skin has something to do with it and I'm using a little extra moisturiser underneath the foundation to counteract the mattiness.
I will be coming back for more of this product, because it hasn't caused any problems on my sensitive skin and I like the level of coverage I got from it – although I still needed a concealer in a couple of places, it was pretty much a one-stop product for me.