How are you getting on with your festive shopping? After a full day of high street shopping, a second day of trawling the internet and a final day of visiting the shops in the local village, I think I have pretty-much finished my Christmas shopping. I am delighted, as there is usually a last-minute rush on Christmas eve for one forgotten gift and I'd much prefer to be resting at home with a mince pie and mulled wine on Christmas eve! Just to be sure, I've allocated this coming Sunday as 'present wrapping day' so that I can wrap, label and double-check all the gifts to be sure that I've got everything sorted, which will still allow me a couple of days to buy any missing gifts!
My final online order will be with M&Co who are offering free express delivery when you spend £50 or more.  The last date for orders with this delivery option would be 22nd Dec so that's ideal for any forgotten last-minute presents! I've put together a wish list of my favorite festive items from the website and here's what I'm planning to buy with my £100 wish-list budget: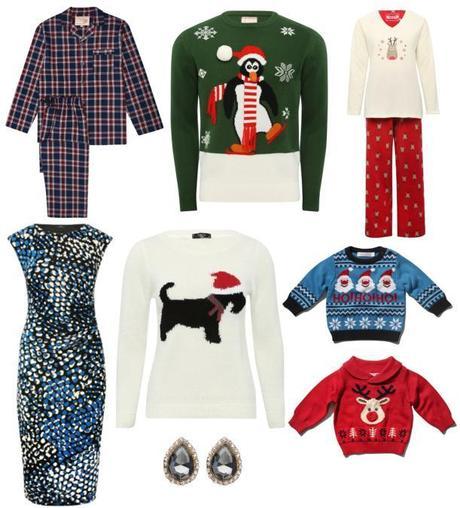 We have a tradition in my family that we all have a new pair of pajamas for Christmas. I think it started when my brothers and I were little and even now I wrap up PJs for my husband! My brother has passed on the tradition to his children, who will each receive festive pajamas on Christmas eve too. That's right, the PJs will be wrapped up, under the Christmas tree, and it is the only gift that we are allowed to open on Christmas eve. I love our tradition of the Christmas eve bath, followed by new PJs and snuggling down to watch The Snowman while tracking the arrival of Father Christmas on NORAD – it really kicks off the festivities! I chose a
traditional checked cotton set
for hubby and a very festive
reindeer fleece set
for myself, so I definitely won't be getting cold this Christmas!
You may have noticed from my previous blog posts that I am a big fan of festive jumpers and I couldn't resist adding a few to my shopping basket. Can you believe that all of these jumpers are already reduced in the sale?! I snapped up a skating penguin jumper for hubby at 50% off (I know he'll love it and wear it all Christmas!) and I chose a scotty dog jumper from the petite range for me. This jumper reminds me of a dog jumper that I used to wear to primary school and I'm such an animal lover that I really couldn't resist it! While I was browsing the Christmas jumper section, I spotted these gorgeous tiny knitted jumpers for my niece and nephew – they will look so cute in them this Christmas – so I picked out a santa jumper in blue and a red reindeer shawl jumper for the little 'uns.
Finally, I added a couple of items just for me: I had enough left in my budget to pick up a party dress for Christmas day so I chose this stunning shift dress, which has been featured in Slimming World magazine. It has all the elements that I look for in a going-out dress, including cap sleeves, flattering gathered waist and midi length. At only £14 (better than half price!) I couldn't not buy it and I'll be able to wear it to the New Year's Eve party too! I've teamed it with these sparkly teardrop jewel earrings which were an absolute bargain at only £3.20!
Thankfully many of the items I chose were already reduced in the sale so I picked up nearly £170 worth of clothing and accessories for the bargain grand total of m=just £93.70 for all of these items – and free delivery! AND I've finished my Christmas shopping! What could be better than that?! Let me know how you're getting on with your preparations for Christmas and I'd love to hear what you'll be buying in the festive sales so please leave me a comment below!