I should begin by saying I'm not an #mua and I'm not going to morph into one, but, hey, I put my face on on the daily and I even put in some pizzazz for special days so, why leave out that part of My Small World? It's not perfect, but again, we learn as we grow. No? This is a look I wear to work sometimes. It's mute enough for the work place and still some glam.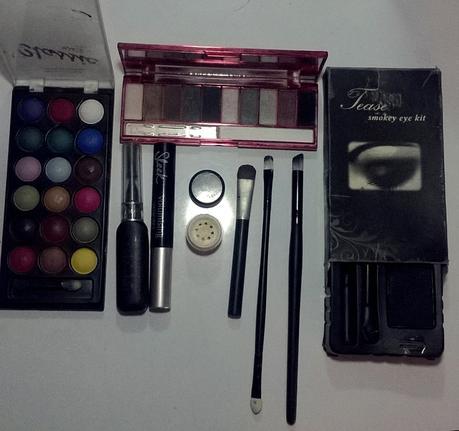 1. I applied the deep pink shade on the first row in the Classic Makeup USA eye shadow palette all over my eye lid and into the crease, but not up to my eyebrows.
2. I put on the L'Oreal Hip High Intensity Pigments Eye shadow in Exciting on top of the pink shade, but this time I avoided the crease ( the crease is the part of your eye lids that fold in when you open your eye )
3. I applied the brown shade (third shade from the left ) on the fancy red ybf  palette all over my crease and blended it upwards a bit and then towards my lower lashes.
4. Then, I drew a line of black very close to my upper lashes with the Tease Smokey Eye Kit black eye liner pencil and traced the line with the angled brush dipped into the Tease Smokey Eye Kit intensely black eye shadow to keep it truly intense and prevent it from sliding.5. I put on two coats of each mascara, waiting a bit in between coats to allow each coat to set a little.
And Voila, Pink eye shadow worn to work.