I've worked my ass off the whole of this groggy Sunday morning learning about kidney function and homeostatic control of ions and water balance (don't ask), so what better what to treat myself than to share a haul with all of you and show you the bits and bobs I've been buying recently!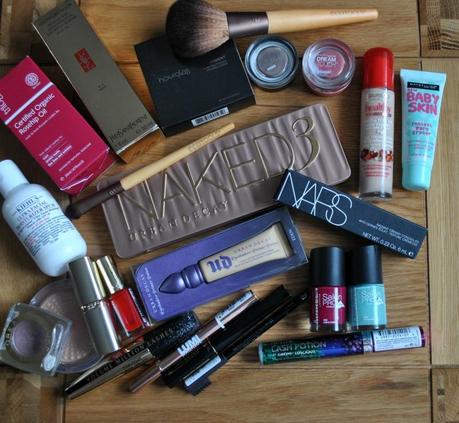 I will just say, this may be large….. and there may be another one coming soon, but fear not! I'm not some crazy lady who can't stop spending, I've been saving up since October to go on a massive spending spree this month, I was in Edinburgh last weekend so I basically had to. To be honest though I didn't end up getting a lot of the stuff I wanted in Edinburgh as I kind of felt bad seeing Alex's face as I dragged him around the beauty hall of Harvey Nichols, so a lot of this stuff is online. Part 1, this post, is going to be all of the beauty items I've bought, and part 2 will be a few pieces of clothing, some stuff from the Body Shop that haven't arrived yet, and just random things I've bought. So here goes.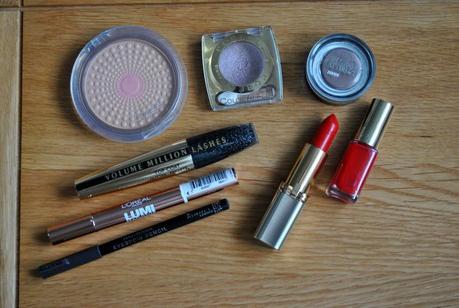 First up are the products I bought just before New Year, when I wasn't actually supposed to be spending anything. My excuse is that there were essentials that I needed (yes, an eyebrow pencil is classed as an essential) and it was New Year, I deserved new things to look gorgeous! I headed straight for the L'Oreal stand as I had seen a gorgeous eyeshadow there not so long ago and I couldn't resist any longer, it's the Colour Appeal eyeshadow in Metal Plum, a shimmery lilac-y taupe that I have used so much since purchasing. Then I spotted the large powder thing, I call it a thing because I don't actually know what it's called! It's from their Lumi Magique range and is described as an illuminating highlighter, when I first bought it there was a gorgeous shimmer over the top but that's all gone now sadly :( Just for reference, I have the shade 02 Rose Radieux. L'Oreal had an offer on where if you spent over £15 you got a free set including the Million Lashes Glitter Top Coat, Colour Riche polish in 401 Rouge Pinup, and a Colour Riche lipstick in the shade 460 Scarlett Creme, and obviously I couldn't resist so repurchased my favourite under eye illuminator from the Lumi Magique range. Oh and I also finally got the Maybelline Colour Tattoo in Permanent Taupe, and the Rimmel Professional Brow Pencil in 004 black brown.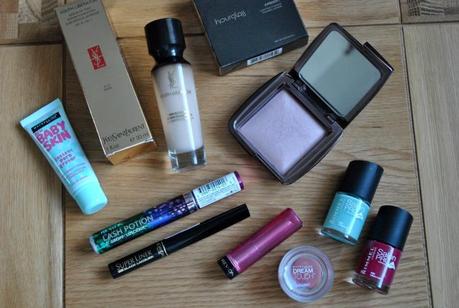 Next up are the products I did get my hands on in Edinburgh, which if you follow me on Instagram (you should be, it's hannahhepton), you'll already have seen! I headed straight for Harvey Nichols on the Friday afternoon when we got there and immediately bought the YSL Youth Liberator Serum Foundation in the shade B10, and the Hourglass Ambient Lighting Powder in Mood Light. I originally wanted Diffused Light, but I spoke to a makeup artist who was visiting from their London store and she said this would be better for my dry skin. I LOVE IT. The price tag is a little hard to swallow but I don't care, it's beautiful and I want more. Everything else I got that weekend were from Boots, which was absolutely huge and I could have spent hours in if I was by myself! From the Revlon stand I picked myself up another of my favourite lip butters, this time in the shade Raspberry Pie, and the Revlon Lash Potion mascara. They had an offer on where it was 2 for £10, the mascara is £9.99 on it's own! I also got two more shades of my favourite nail polish, Rimmel Salon Pro in the shades 402 Urban Purple and 500 Peppermint. I'm slowly working towards owning them all! I didn't even have this in mind when I went shopping but when I saw the Maybelline Baby Skin primer I thought I may as well try it, and got this along with another of the Dream Touch Cream Blush pots, this one is the shade 07. Lastly was a purchase I kind of regret as I don't like it, the L'Oreal Super Liner in Black Laquer. Hmph, unimpressed.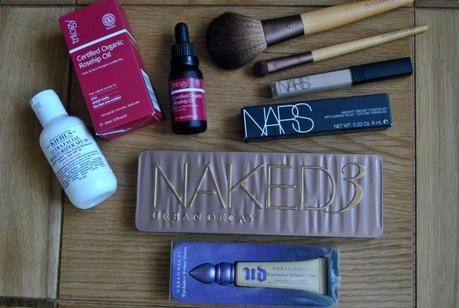 Last but not least it's the products I ordered on the Sunday night when I got home, ha! Clearly I'll talk about the Urban Decay Naked 3 palette first, it was out of stock literally everywhere in Edinburgh so I got this ordered straight away. Sadly when it came Strange had smashed, but BeautyBay.com gave me a 30% refund so I was pleased with that! I made a little House Of Fraser order as I really wanted the NARS Radiant Creamy Concealer, but ended up ordering the Urban Decay Primer Potion in Eden and the Kiehl's Ultra Facial Moisturiser SPF 30 whilst I was there too. The Trilogy Rosehip Oil and Eco Tools brushes are from Feel Unique, and so far I am very, very impressed with the Rosehip Oil. I think it's going to be a new holy grail product for me.
I also got the Bourjois Healthy Mix Serum foundation finally, I saw it on one of those cheap makeup stands for £3.99 so thought I'd give it a go. I haven't worn anything else since!
That's it! Expect in depth reviews of this products soon… well you know, give me a few weeks, and feel free to leave a comment below if you would like to see a review of a specific product! What have you been buying recently? Link me up to your recent hauls so I can add more things to my ever growing wishlist :D