When I tell people I paint my own nails, they usually exclaim "Oh, I can't do that, mine look terrible!" But the truth is I've practiced and have got better at it with time and so can you.
I do enjoy painting my nails, but obviously my time is limited these days as it is for many of us busy mamas. However, I was really excited to try a few darker tones for the fall, but I can't really spend money on a manicure nor spend too much on fancy polishes.
So when I found e.l.f. (eyes, lips, face) polishes in burgundy, dark purple and gray for $2 at Target last week, I decided for that price to MAKE time!
What a beauty bargain...TWO BUCKS!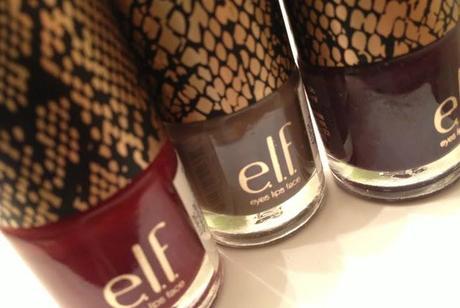 I know what your asking..."yeah, but how long will the polish last?" Answer... longer than you think!


So it's not OPI or the well-known polish brands, but with two coats it stays on for a good week - I started with the steel/grey and loved how it looked.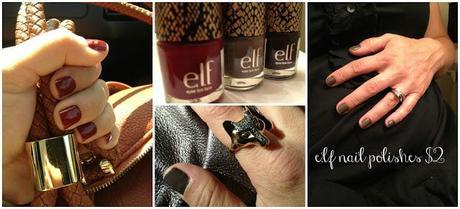 e.l.f.http://www.eyeslipsface.com/ polishes at Target Stella & Dot ALICE by Temeperley Ring Burnt orange handbag from Zina Boutique in DC
Here's how I see it, you get to try out different colors on the cheap and look fabulous in the process! AND for three polishes I paid $6 which lets me play around with the colors and not feel that I spent too much on something I don't like.
I'm loving that.
I'm a huge fan of e.l.f and their low priced polishes certainly make the cut.
Very Busy Mamá Tip: When you paint your nails, it doesn't matter if you get polish around the edges on your skin. Let it dry and then gently scrape around the edges with warm water. It comes off on it's own.
What nail colors are you wearing this fall?
*Not sponsored, just my own beauty find*