Picking a bathroom vanity sounds like such an easy thing to do but when you look at all of your options, you may be overwhelmed to think of how many different styles, color combinations, and features you have to choose from.
Well, today we're going to round up some unique bathroom vanity ideas that you can use to jump start your bathroom remodeling project. Whether you're aiming for a modern bathroom makeover or a cozy rustic escape, there's a vanity that will fit perfectly into the design and layout of the bathroom of your dreams.
Modern Bathroom Vanities
Modern vanities are characterized by sharp lines, black and white color combinations, and simple drawer pulls. Modern design seeks to create something that is visually pleasing and equally functional. Smooth surfaces make it easy to keep your bathroom clean with a simple wipe down.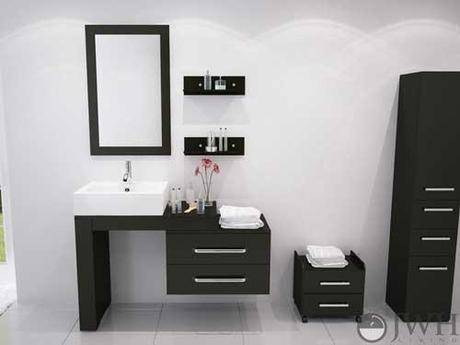 33.5″ to 57″ Scorpio Single Vessel Sink Vanity. $899.00.
View more modern bath vanities.
Transitional Bathroom Vanities
Transitional is a style that sits in between modern and antique. Transitional vanities feature many of the basics of modern design yet they include some simple decorations such as door beveled doors in geometric shapes. Transitional is very modern with a little bit of hand carvings for a bit of detail.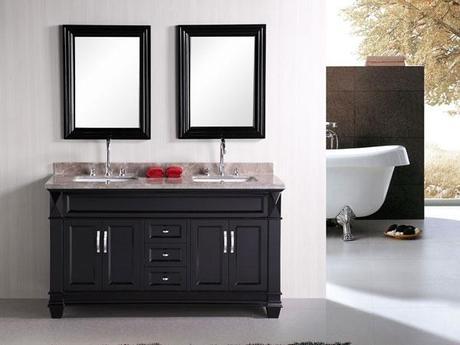 60″ Hudson Double Sink Vanity. $2,099.00.
View more Transitional Vanities.
Country Bathroom Vanities
Nothing says country more than the beauty of mother nature. Although country holds many commonalities with rustic, country favors the rural country barnwood style made for the American cottage retreat.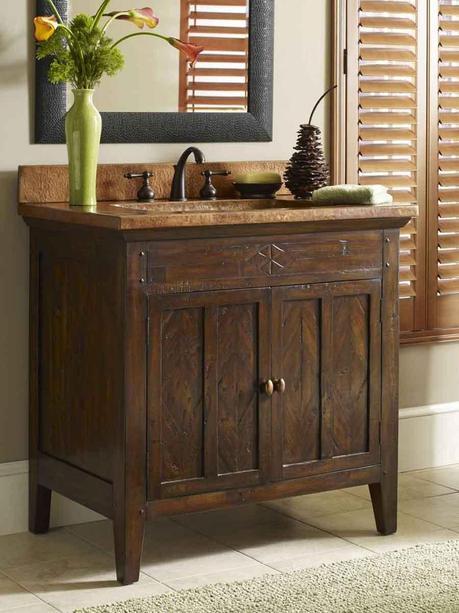 36″ Cobre Single Bath Vanity. $2,205.00.
View more Country Vanities.
Furniture Style Bathroom Vanities
Furniture style vanities mimic the style and design of popular household furnishings. Here we see bathroom furniture come alive and become a part of the rest of your home decor. Furniture style vanities are ornate, decorative pieces that really help bring the entire home together.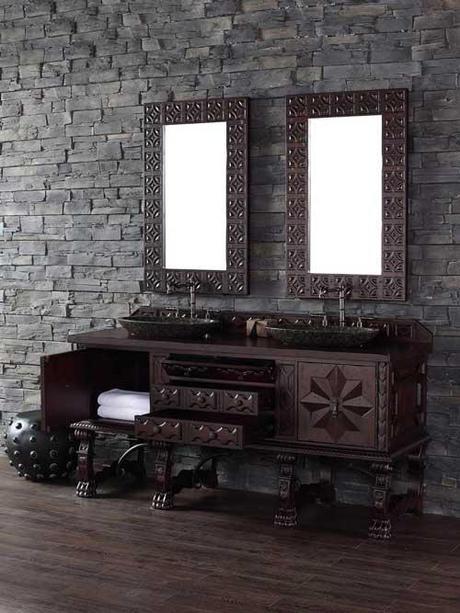 72″ Balmoral Double Sink Vanity. $3,250.00 .
Learn more about Furniture Style Bathroom Vanities.
European Bathroom Vanities
As European and American trends influence one another, European vanities started becoming more popular in late 2013. Some of the key features include the staple gray ash finish, push drawers, integrated sinks, and often narrowed design.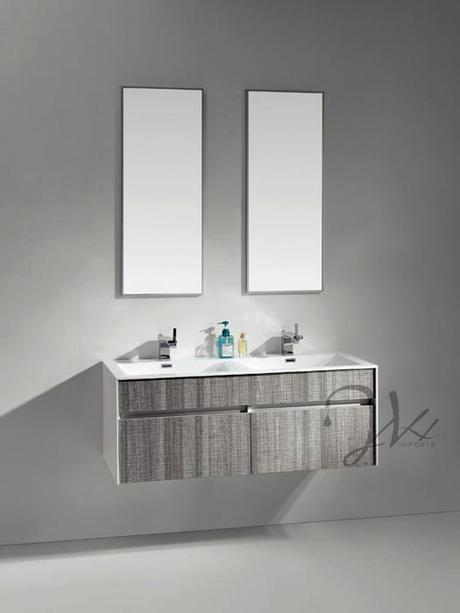 Lund Double Sink Wall Mounted Vanity.
View more European Vanities.
Rubberwood Bathroom Vanities
Rubberwood has become a popular "Green Home" option as it is derived from the parawood rubber tree. Rubberwood is a sustainable materials that offers 90% the strength of solid oak, making it perfect for the bathroom. Remodel your bathroom and preserve our natural resources at the same time.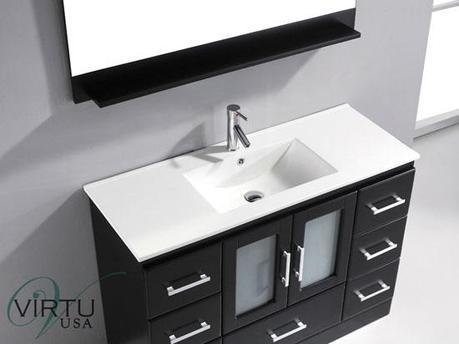 47.25″ Zola Single Bath Vanity. $1,265.00.
Learn more about Rubberwood Vanities.
Integrated Sink Bathroom Vanities
Intregrated sink vanities feature one piece tops that integrate the wash basin and countertop into one piece. Integrated sinks are very modish and are extremely easy to clean. The rich white finish is refreshing and cleansing.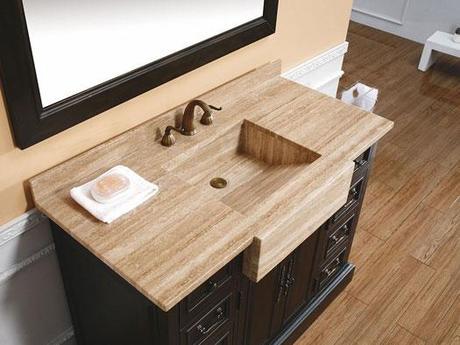 48″ Cerenova Single Bath Vanity. $2,275.00.
View more Integrated Bath Vanities.
Bathroom Vanities with Glass Doors
Glass doors are more of a modern and contemporary feature that has become quite popular. Most manufacturers use frosted glass which gives a hazy finish that provides privacy to your personal bath products beneath the sink. It gives the vanity a new edge and can compliment a glass vessel bowl.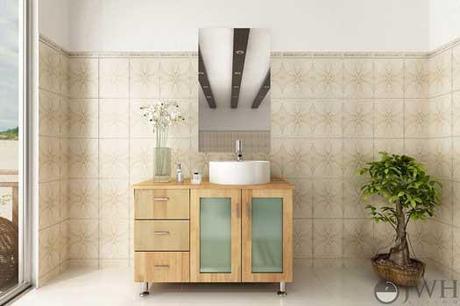 39″ Lune Single Vessel Sink Vanity – Naked. $899.00.
View more Vanities with Glass Doors.
French Provincial Bathroom Vanities
French provincial home furnishings are characterized by cabriole legs, scalloped carvings, aged patinas, and limited staining. This style originates from the French provincial towns of Blois, Orleans, Lyons, and more.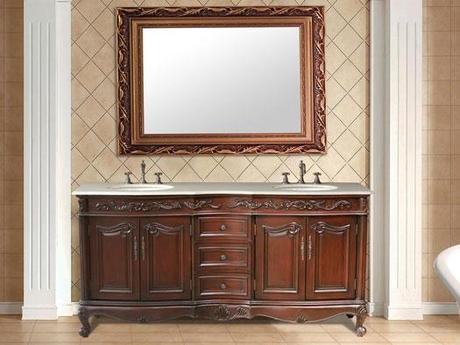 The Van Buren Double Vanity shown with Cream Marble Top. $1,659.00.
View more French Provincial Bathroom Vanities.
Bowfront Bathroom Vanities
Bowfront vanities are something that's a little outside of the norm with their concentric design. These rounded vanities change depth perception as the vanity jumps out at you and is distinguishably different from the standard square cabinets we always see in the bathroom. Bowfront vanities are popular with antique and vintage designs but can also be found in many other styles.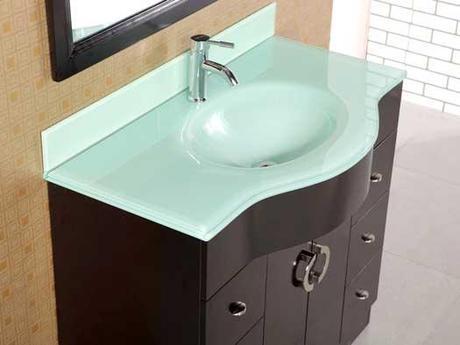 40″ Aria Single Bath Vanity. $999.00.
View more Bowfront Vanities.
Louvered Bathroom Vanities
Louvered doors have a charming appeal that is reminiscent of plantation style, rustic, and country homes. Pulling their design from the classic window shutter, louvered vanities help you continue a common theme throughout your home.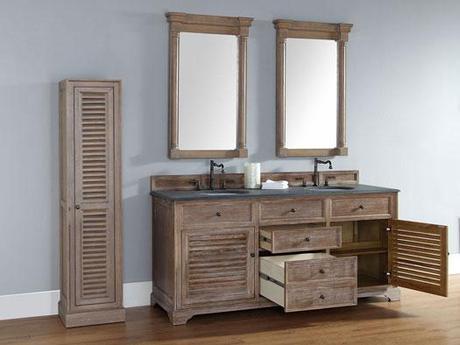 72″ Veroli Double Sink Vanity – Driftwood. $2625.00.
View more Louvered Bathroom Vanities.
Floating Bathroom Vanities
Floating Bathroom Vanities, otherwise known as wall-mounted, allow you to preserve floor space in your bathroom. This is just one way that you can help make your small bathroom look bigger as floor space is the baseline for measuring the perceived size of a room.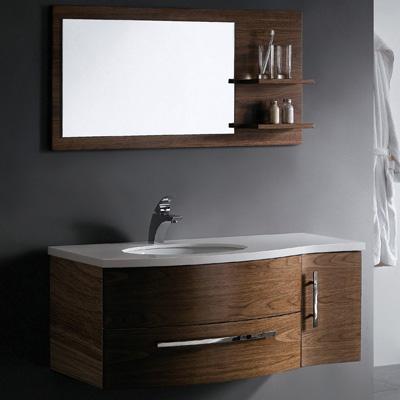 44″ Kariba Single Bath Vanity. $1,296.00.
View more Wall Mounted Vanities.
Vessel Sink Bathroom Vanities
Vessel Sinks were all the rage in the mid-late 2000's and they are still seen as a modern feature. With literally thousands of vessel sink options out there, you have the ability to completely customize your bathroom. You can choose from glass, stone, and handmade pieces.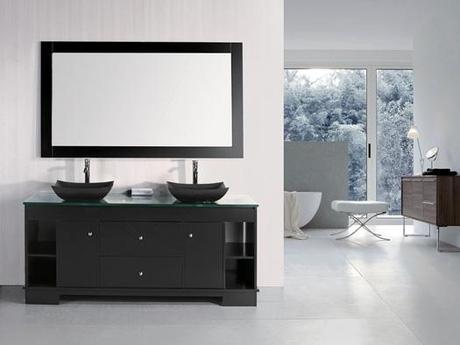 72″ Oasis Double Vessel Sink Vanity. $2,560.00.
View more Vessel Sink Vanities.
Walnut Bathroom Furniture
Walnut Bathroom furniture is noted for its rich color and unmatched level of durability. You'll notice satin-like grain and rich finishes. Many luxury furnishings are made out of walnut wood because of its special qualities and unique appearance.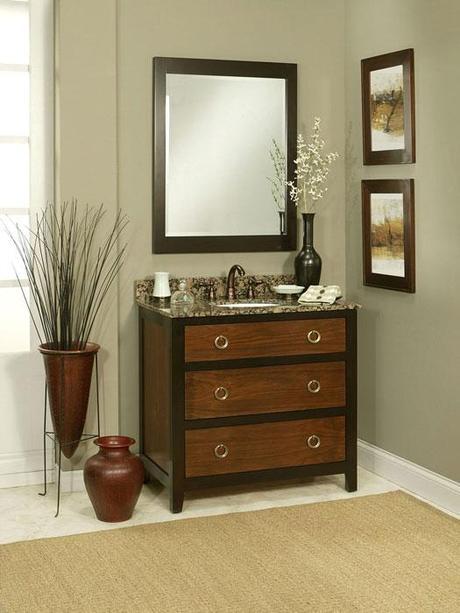 30″ Urban Walnut Single Bath Vanity. $2,143.00.
View more Walnut Bathroom Furniture.
Small Bathroom Vanity Ideas
So some of the ideas above may seem nice but "will they fit in my bathroom." Well first of all, many of the vanities you see are available many, many different sizes, finishes, top options (including topless), and more so keep this in mind while you're shopping. Here are some small bathroom vanity ideas that will help you pinpoint a vanity that looks beautiful without taking up too much space in your bathroom.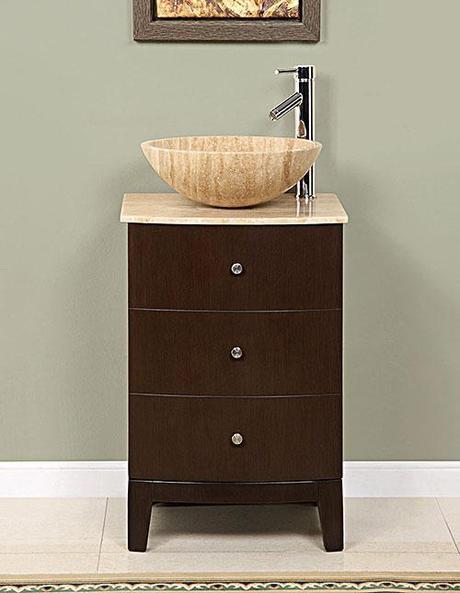 20″ Vesuvius Single Vessel Sink Vanity. $999.00.
View more Small Bathroom Vanities.
Narrow Depth Bathroom Vanities
The standard depth of a bathroom vanity is 21″. When begin searching for a narrow vanity, you'll find that it can be very difficult to find something that will meet your measurements without choosing go with a custom vanity. These vanities have a depth ranging from 8″-18″.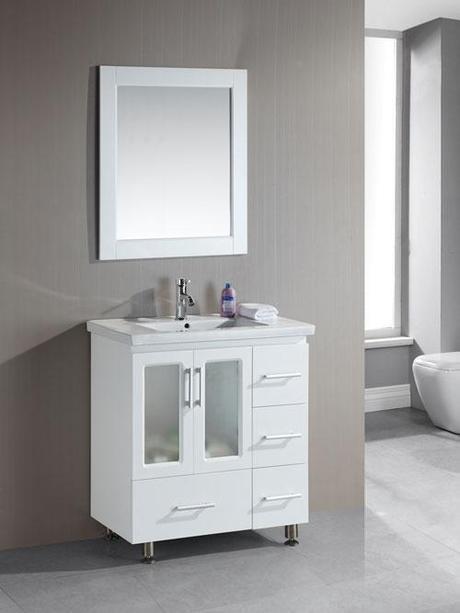 32″ Stanton Single Bath Vanity – 18″ Depth. $929.00.
View more Narrow Bathroom Vanities.
Unique Bathroom Vanities
Tradewinds Imports is the premiere online retailer of high end bathroom vanities. Here you will find thousands of bathroom vanities, faucets, fixtures, and even full shower enclosures.
–Browse More Bathroom Vanities–
More Bathroom Vanity Ideas:
Bathroom Vanities with Right Side Sinks
Formaldehyde Free Bathroom Vanities
18 Bathroom Vanities with Dovetail Drawers
The Best Bathroom Vanity Brands
10 Solid Wood Bathroom Vanities that Will Last a Lifetime
About the Author
Cheryl Khan is a designer and writer at Tradewinds Imports.com, an online specialty site dedicated to retailing fine bathroom furnishings. She has extensive knowledge about all the finer details that go into planning the perfect bath renovation project and is an expert on all things bathroom! Send her your bathroom Q's on twitter @SuperInteriors!