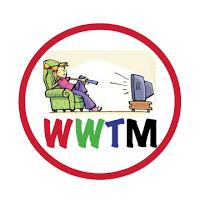 THE ANSWER TO WEDNESDAY'S TRIVIA QUESTION: Dylan, Brandon & Kelly from 90210 greatest love triangle ever!  FIRST FIVES: Elke Raskob, Mike O'Dea, Karen Hadley, Brett Blattman & Bobby Aguilera HONORABLE MENTION: Larry Price
Sons of Anarchy Trivia Question: Annabeth Gish starred as Kat in Mystic Pizza
THE NUMBERS 
Tuesdays Broadcast Top 5
America's Got Talent-NBC 2.5/11.4
Big Brother-CBS 2.3/6.9
Dancing with the Stars-ABC 2.2/12.6
New Girl-FOX 1.7/3.0
The Mindy Project-FOX 1.3/2.6
Tuesday's Cable Top 5
Sons of Anarchy-FX 2.5/4.8
The Big Bang Theory-TBS 1.1/2.7
19 Kids and Counting-TLC 1.0/2.4
American Dad-Adult Swim .9/2.0
Tosh.O-Comedy .9/1.4
Tuesday's Twitter Top 5 Primetime Ratings 
Finding Carter-119,000 Tweets MTV
Dancing with the Stars-ABC 94,000 Tweets
Big Brother-CBS 89,000 Tweets
Sons of Anarchy-FX 71,000 Tweets
New Girl-FOX 19,000 Tweets
THE SHOWS
Big Brother
Julie's hair was a mess and what was with that necklace? 

Derrick told Frankie before the eviction that he was going on Tuesday night. Another brilliant move. Frankie can't hate him at jury.

I love Caleb, I do, but he thinks HE'S been running things? Derrick just sat there and let Cody and Frankie go at it. Can I say brilliant again? That's twice in 2 bullet points.

Holllla's from Derrick's wife and baby. Hollllla Daddy!!!!!

I've become obsessed with Derrick's hands and how overused that are. They must be tired. 

I'd say Victoria's sick of being put up on the block but I think she loves seeing her picture on that screen every time.

It's JUDO not JUDY! 

I loved Caleb's Dad. Underneath that beard, you can tell Caleb looks just like him.

Pretty sure it said "THE LORD YOUR GOD" behind Caleb's parents on the wall, in case you were interested

Shameless CBS plug for new show Stalker in the final Veto of the season.

Does Derrick have anyone's back? I don't think so.

Cody had the POV but couldn't make a move so he just got the sole vote and finally made the big move.

Caleb's speech was good but Cody's was too. I forgot about The Hit Men. How many alliance names were there in all? I gottta figure that out.

Victoria made the final 3 amazing, but yet, a good idea.

Loved that the crowd went wild for Caleb. He did sound shocked and like he might cry didn't he?

Wait til all of these guys watch the show back and realize that Derrick ran the house from the beginning. 

When the hats on backwards, Derrick really looks ultra piggy

"Jules" don't forget to plug NFL Football on BB tonight" "Les, baby, do you really think people need to be reminded about Thursday Night Football?"  "It couldn't hurt though babe, just do it, I am your boss" "Okay I'll give the NFL a plug but only if you get me a new stylist next season" "Let me think about it and get back to you" "Love ya" "Love ya too boss man...car's here gotta go to the studio"  That's what's in my head sometimes.
THE OTHER STUFF
-It wasn't the best lip sync battle, but this is why we love Jimmy Fallon. Watch the entire clip, Jimmy's 2nd round selection is impressive. I don't think Gwen Stefani gets the whole lip sync battle thing, but of course Blake Shelton's hilarious. I'm trying to think...is he now ALWAYS with an adult beverage in hand? What's up with that? http://www.nbc.com/the-tonight-show/segments/11951
-22 Million downloads for the A&E Nets Watch apps. 22 MILLION! That's impressive right? For anyone that doesn't know, the A&E Networks include A&E, History and Lifetime.  I've had um all downloaded for a while. Name your favorite show on each network for some bonus points. 
-Did anyone watch The Red Band Society last night? I reviewed it a while ago after I watched the pilot. While I had some logistical issues with it, I really liked it. What did you think? Sure it was odd that none of these sick kids had parents except for the kid in the coma and I'm not sure how they'll keep these kids in the hospital for more than a season, but I enjoyed it and I love Dave Annable. Let me know if you watched. 
-I guess we'll get to see Stefan again soon. I was totally bummed when Bill Hader left SNL last year. Good news for me, he's coming back in October to host! Yeah! I will bet anyone that Seth Meyers makes an appearance too. Lets see if I'm right. 
-Melissa Rivers will make her first appearance on E! since losing her Mom on 9/4. E! will be celebrating "Joan Day" tomorrow night. I'm STILL upset about Joan. I don't know why but her passing hit me harder than Robin Williams. Is anyone else feeling the same way?
-CBS announced that with the start of the Fall season, they will be going with Live +7 Day rating projections. They are right that L7 and C7 metrics will more accurately measure viewers consumption patterns, I just don't want to pay for those inflated numbers. Sooooo I guess we'll see what happens. 
September 20th marks the 30th anniversary of The Cosby Show and a few days later on the 22nd, we'll celebrated the 20 year anniversary of Friends. TV Land will be running a Cosby Show marathon and TBS is running a Friends marathon. MAN do those numbers make me feel OLD. Friends was 20 years ago! OMFG
-If those numbers didn't freak you out, did you get freaked out when you saw the 100 Days til Christmas posts all over Facebook Tuesday night? They freaked me out enough to start looking at Christmas cards! Got a lot of people crazy…the post was shared 182,000 times and the page passed the 5 million mark.  I gotta start my list!
Thursday's Trivia Question
: Okay, another love triangle I forgot…Jason, Tim and ??? Name the girl, name the show. For added bonus, give me the answer back with the guys nicknames. 
WWTM-Kristy
Like me on Facebook at Watching Way Too Much
Follow me on Twitter at [email protected]
http://watchingwaytoomuch.com
[email protected]