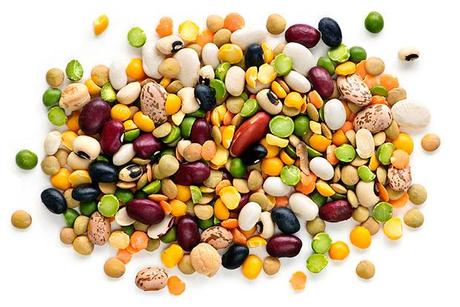 Days are gone when people were particular about eating healthy food. The growing generations have taken the fast food route by eating cheese burgers, pizzas and fries, an unhealthy choice. The point is foods can generally be classified into healthy and unhealthy food. The food that we eat makes a big difference towards our living. Healthy food can keep our body in sound condition. Our body is designed in such a way that it requires continuous supply of nutrition for efficient functioning.
Beans are a good source of minerals and vitamins. It is often ignored in our diet. This article clarifies on the nutritional value of variety of beans and the importance to include them in our diet for a healthy living.
Black Beans-Black beans are a rich source of magnesium and have a velvety texture. They can be prepared along with salads and have a sweet taste. They are available in stores in either canned or dried form.
Black-Eyed Peas-Black-Eyed Peas are small shaped beans with a tint of black color underneath. They offer good nutritional value and are important for pregnant women. They go well with salty meats like bacon and ham.
Cannellini Beans-Cannellini Beans are Italian kidney shaped beans which are high in protein content. They are square shaped at the edges holding their shape well. They also have rich content of minerals, B vitamins and fiber.
Chickpeas-Chickpeas are the most common among beans and have rich nutritional value. They are round shaped and have a nutty flavor. Their nutritional value includes dietary fiber, Calcium, Iron, Magnesium and Vitamin B6.
Great Northern Beans-Great Northern Beans are small kidney shaped beans that are white in color. They are a good source of calcium. Because of their nature to easily absorb seasoning they can be used in soups and stews.
Now that you know the nutritional value and flavor of all the beans, it's time to include them in your daily diet. Eat healthy and live healthy.