Following on from our look into the bright world of tropical interior design, we now turn our gaze to the styles of a more continental destination – the seaside. What does the seaside mean to you? Fun filled days spent from child to adulthood, a weekly walking destination or last-minute weekends away chasing the sun; they all have one thing in common – relaxation.
It's therefore no surprise that, in bathrooms, we often source bits and bobs that remind us of the seaside and the associated memories of relaxation. Bathrooms are, for some, the only place to spend time alone and unwind.
We are fans of the seaside bathroom but in recent years 'big box' retailers have brought out accessories that have marred its reputation. In this blog post we aim to banish the tat, showing you how to bring seaside serenity to your bathroom in both modern and contemporary styles.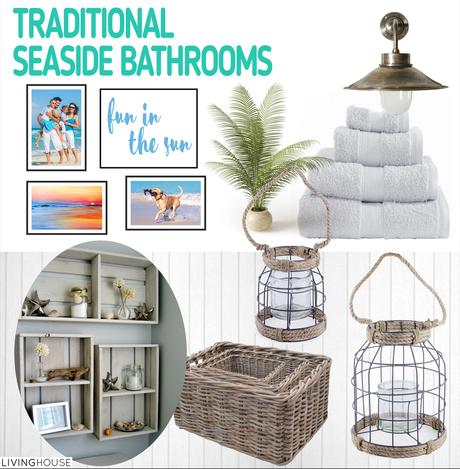 Starting with traditional, here is that quintessential, dreamy beach house aesthetic. In this style of bathroom, too much white doesn't exist. Layer white cabinets and panelling on white walls, fluffy white towels and robes on doors. White-washing rustic wooden furniture can brighten it up and make it fit. Here's a little guide on how to do it:
Prime the surface of the wood: Sand the wood so the paint will adhere. Wipe the surface free of dust and grime.
Water down matte, white, water-based paint until thin and runny.
In a well-protected (from splashes!) area, apply the mix in thin coats with a bristly brush.
Build the layers, sanding in between, until you have a weathered look to your piece. For protection from humidity, you can buff the surface with a clear wax – or dark if you would like to intensify the rustic look.
This white look is great for small bathrooms or cloakrooms as it brings about a sense of space.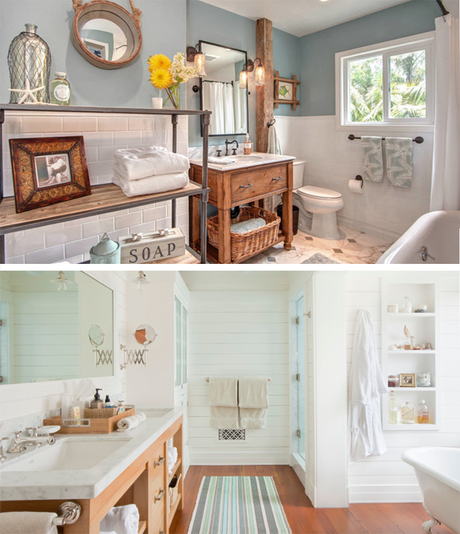 Open shelving contributes to this feeling and provides a great space for artefacts to rest. Strew some interesting shells or pebbles sparsely on the shelves, then focus on what your bathroom storage. Seagrass baskets fit the look and give you good storage for unsightly bottles. Consider sourcing some shell-shaped guest soaps and storing them in a basket – both useful and decorative.
Some finishes seem to just click with this style. Antique brass taps and light fixtures, rich and rustic floorboards and wire-frame accessories. If you're on a budget or unable to renovate then you can DIY your way to the beach. Take glass candle holders, vases or jars and hot glue rope around the base to a height of around 10cm for an elegant and rustic accessory. Then, as mentioned above, paint or stain your own furniture and shelves to transform the room. For a personal touch, frame a collection of photos that are seaside themed and arrange them on a large wall. You could even use a transfer of a calligraphy motto as a centrepiece for your composition.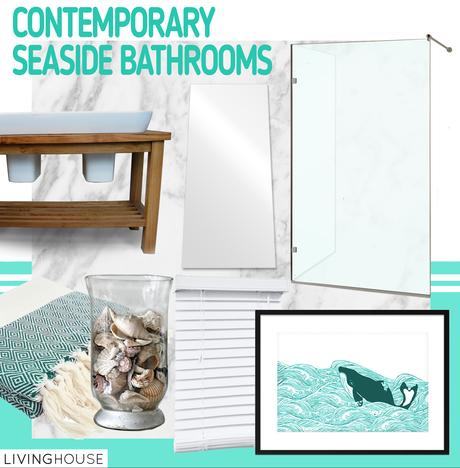 This look is in real contrast to its traditional cousin. This style is about the essence of the seaside, not having lots of physical reminders. Warm, wooden furniture and cool, marble floors bring harmony to the room. Ensure you have plenty of storage capacity in your furniture so you can keep surfaces free from clutter. If your windows are small, keep the space bright by using frameless shower enclosures. Surprisingly, the slight green tinge to glass can subconsciously remind you of the ocean!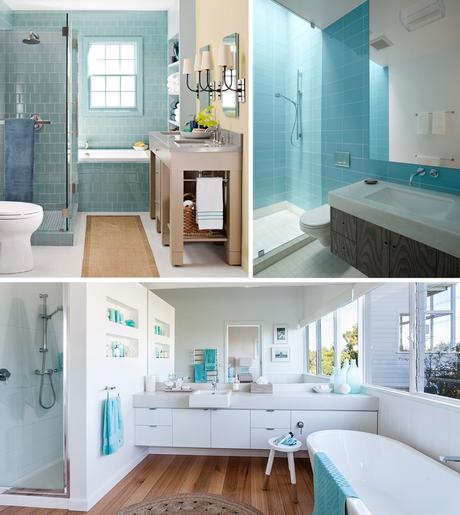 Another big difference between contemporary and traditional seaside looks is the use of color. You can get away with painting certain walls bright blues and greens. We suggest playing around, perhaps tiling halfway up the wall with a bright color or having a line of cheerful tiles in your shower. Don't be afraid of colour, as long as you bring the design together with accessories; it's hard to go wrong.
Turkish bath towels look like attractive beach blankets but they dry very effectively whilst being gentle to the skin. You can source them in all sorts of modern patterns that look wonderful hanging on a towel rail.
Staying with the bright and sleek theme; use large, frameless mirrors to open up the room and bounce light around. For windows, keep them undressed to let light pour in. Depending on your room layout, you may need some privacy. We would suggest using white blinds that disappear when not in use or frosted window coverings that obscure the view without blocking light.
If you have tall ceilings or are building from scratch then consider a countersunk bath in a raised platform. This works best when placed next to a window with a fantastic view that brings the outdoors in.

Be it traditional or modern, there are plenty of ways to implement the beachy, seaside feel to your bathroom and it's up to you to pick and choose the elements that resonate with you. You really can make the room as sleek or as cottagey as you desire.