If you– like many– loved Beach Fossil's 2010 self-titled debut, then I'm sorry, but you're out of luck. The Brooklyn quartet have seemingly abandoned their dream pop roots in favor of a punchier, punkier sound on new sophomore LP Clash the Truth. Unassuming opening track "Clash the Truth" acts as a blue print for Beach Fossils' new approach, which represents a darker, more cynical viewpoint.  "DREAM. REBEL. TRUST. YOUTH. FREE. LIFE. CLASH. TRUTH," frontman Dustin Payseur chants aggressively, like a mantra, until the track comes crashing to a dramatic halt. Intense, moody, confusing stuff, indeed.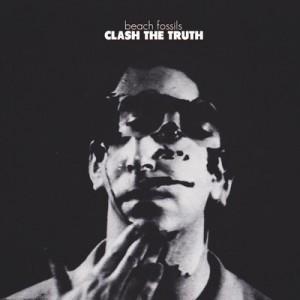 The fourteen tracks on Clash the Truth dodge in-and-out of mellow, steady beats, quick guitars, and unexpected moments of quiet. The cinematic "Modern Holiday" puts the listener at peaceful ease before, well, taking off into "Taking Off." The song is a poppy, alt-rock ballad that tells a dreamy tale of uncertainty. "Am I excited, or am I just confused?" Payseur asks. The question never really finds its answer. "Shallow" is a grunge-inflected display of fierce, quick drumming, and the riff– oh man, that riff!– on sign-of-the-times single "Generational Synthetic" is enough to get any post-punk geek's panties in a bunch. It's the album's standout track, by a long shot.
However, there's nothing all that revolutionary happening on Clash the Truth. "Burn You Down" is pleasant, classic post-punk with a sweet, melodic edge. Shoegaze-y "Careless" features a free, easy feeling of intimacy, while the equally dreamy "Sleep Apnea" is a sleepy, lazy lullaby that doesn't quite live up to the terror of its name.
In a lot of ways, Clash the Truth is reminiscent of English post-post-punk band Bloc Party, back in their early days. Then again, in 2005, Bloc Party's assertive, dynamic debut really changed the indie rock game. Here, Beach Fossils aren't changing much of anything, besides their own minds. Still, Clash the Truth is an enjoyable romp through familiar territory.

3 / 5 bars