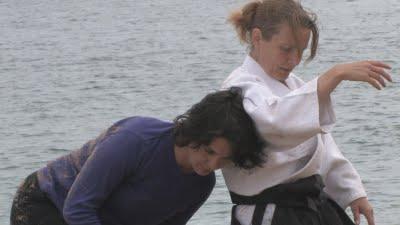 I can't say I underwent any great epiphanies at Kirstie Simson's and Adam Benjamin's workshop in Plymouth a couple of weeks ago.  But it was affirming and I was glad and grateful to be there.  I've heard Kirstie described as "a force of nature" a few times now and really, it's accurate. One of the many wonderful things about her is that while she taps into that sense of power and connection in her own dancing, she helps lesser mortals like myself touch it sometimes too.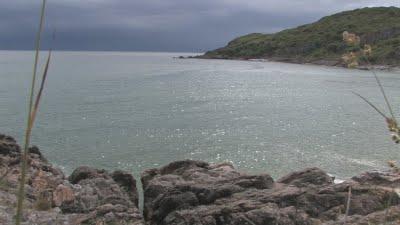 the crack at Pwlldu
Adam's work is more heady and we head-butted quite a bit (me and my questions…).  I found him very generous, and ultimately, the whole experience was affirming, both of myself and what I do.  I'm not sure if that's because of or in spite of all the things that get in (that I put in?) the way.
I had a day's birthday grace after I got back to Swansea and then went straight into filming with Jane Hosgood.  I met Jane after my return from Earthdance last January, when I was looking for something tangible to do to tackle some of the physical questions that had come up after Nancy's work.  Jane runs the Gower Aikido Club with her husband Steve, a convenient five minute walk down the hill to the sea from my grandmother's house.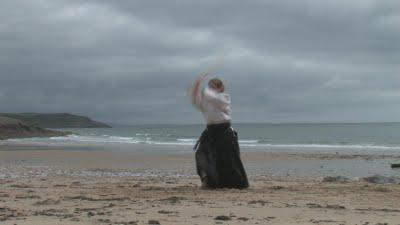 When she's not teaching Aikido, Jane is a film maker.  Some time last spring, she emailed me.  She'd had a dream about an improvised dance Aikido film.  Did I fancy it?
Well, there was no way I was going to turn that down.
Perhaps it was Kirstie's elemental influence or the preparatory discussions and moving with Jane over the last few months or just the beauty of the location (Pwlldu Bay, which translates to "black pool" but bears no resemblance to the northern English town of the same name)… but the whole experience felt very Earth Mother, Shakti, Prakriti... the Goddess everywhere…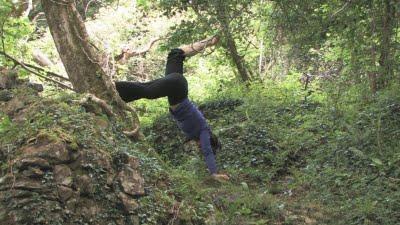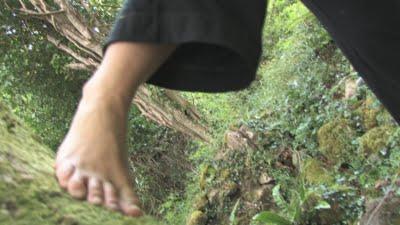 Or perhaps it was all that wet moss and sand between my bare toes…  At any rate, filming was fun, and in such a beautiful place, I thought of Adam's "ghosts" and Nancy's "states of grace" and Kirstie's descriptions of the underlying vibration of our bodies and everything else and Mike's "transcendence".  I thought that essentially they are the same thing and when the wind whispers in leaves above me, moss cushions me and the sea sings to me, it is easy to touch them, if only fleetingly.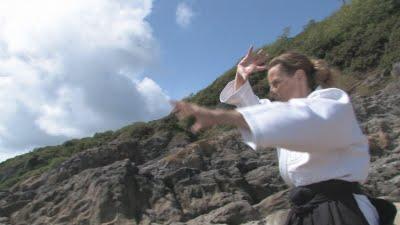 Our working title, which we've never got round to changing is:
There's a crack in everything; that's how the light gets in.
(with thanks to Leonard Cohen and a book I've been reading on dealing with grief, fear and despair, inconsequentially).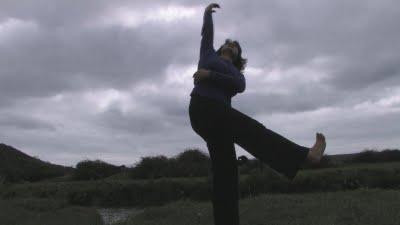 We filmed and edited the whole thing in a week, and a day after dropping the DVD in the post to the Wales Dance Platform, I still feel square-eyed from long, long days in front of Jane's computer, her dog and three cats curled up nearby, as we worked out how to piece our footage together over innumerable cups of tea.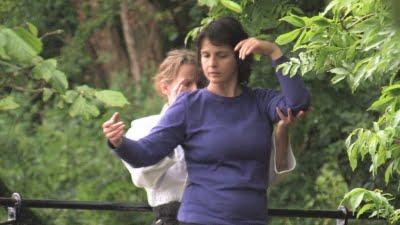 But it's pretty much done, bar a few probable tweaks.  For anyone not coming to Cardiff to see the screening on July 3rd, I'll post a link to it once it's online.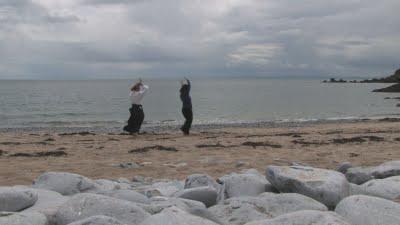 All pictures in this entry are stills from our film footage.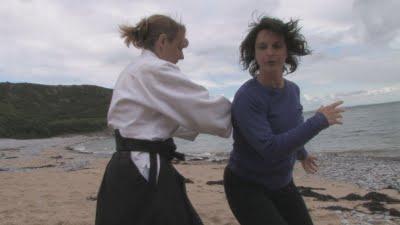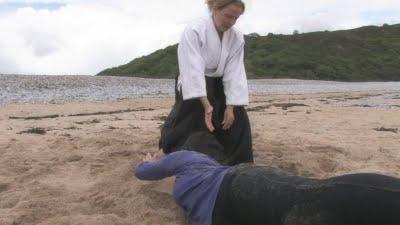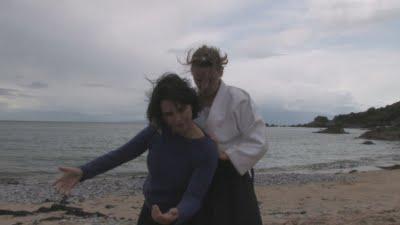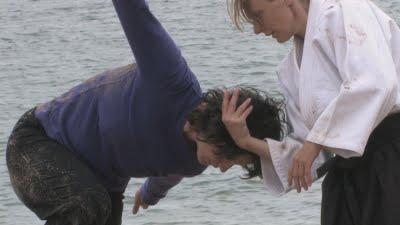 And here's a lovely, if not always convenient, old dog who was determined to split up any perceived fights and be part of the first day's filming: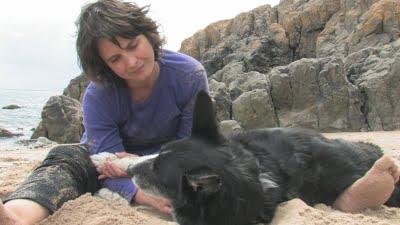 I had an email from my brother shortly after my birthday.  I've been swallowing my envy this last month of his current trip around Southeast Asia (I had my turn, I know). He and his girlfriend were in Kampot, exactly where I was, exactly a year ago, when I was dancing with the lovely people at Epic and eating Cambodian mango birthday cake.  I love these random coincidences, how they bring people, places, experiences washing back into immediacy…
From Lucy, with love xx