Beach houses pave the way for interior design trends that everybody else follows. Their owners spend extra time and effort in creating stylish and uniquely designed homes. The look of the California beach home is popular with architects and interior designers because they have a simple yet elegant quality. A blend of mid-century, contemporary, and modern design elements creates charming interiors that are stylish and minimal. This stunning beach home featured on onekindesign.com has an attractive modern design bathroom that incorporates classic design influences. The house is located in Manhattan Beach, CA.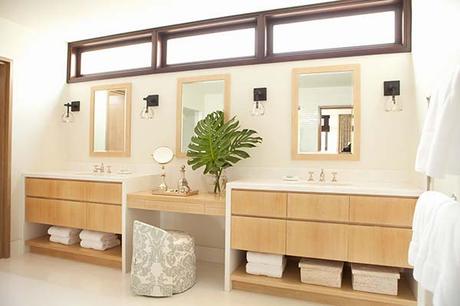 Image via 1Kindesign
The Manhattan Beach CA home features several gorgeous bathrooms. Each one does an excellent job of balancing various design influences into a cohesive whole. The master bathroom is wide and spacious enough to accommodate two single bathroom vanities to create a large dual vanity design. They are joined together in the middle by a vanity table and mirror for grooming and applying make-up. The vanities have a unique look that combines modern and antique elements. The sharp masculine lines are reminiscent of a modern vanity, but the ornate faucet and fixtures have a more classic appeal. As described, what separates this home from other modern designs is the use of strong and clean masculine lines balanced with feminine layers.
The bath tub and shower design is a beauty to behold. The walls feature bright white tiling with a fireplace next to the sleek modern bath tub. Controls for the tub are mounted to the wall, creating a minimalist look. The bathtub faucet is floor mounted and adds to the elegant look. The showers feature glass enclosures that are popular in modern bathrooms. These help create an open and sleek feeling that compliments a bathroom well. Another bathroom uses gray subway tiling that is popular in masculine bathroom design. It also incorporates a porcelain vessel sink atop a marble floating vanity. Check out the link below to see more of this Manhattan Beach home.