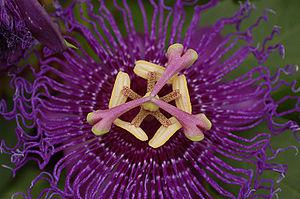 Image via Wikipedia
Author Joe Vitale shared this about when he gave his "15 Minute Miracle" talk in Maui, the message was that this moment is the one you are seeking, yet it's also the one you are dismissing.
When you appreciate this moment, you're at one with all and you've experienced the greatest miracle of all: happiness.
Are you in this moment, or reflecting on the past or dreaming about the future?
Are you in this moment, or waiting for something to happen to feel happy again?
Are you in this moment, or reliving a past memory that you thought was better than now?
The miracle is now.
Be here now.
Friday Funny
On the first day of college, the Dean addressed the students:
"The female dormitory is out-of-bounds for all male students, and the male dormitory to the female students. Anybody caught breaking this rule will be fined $20 the first time. The second time you will be fined $60. A third time will cost you a fine of $180. Are there any questions?"
A male student inquired, "How much for a season pass?"
You create your day by the way you think. Make it magnificent.
Blessings, Shawna
www.RelationalResults.com
Advertisement