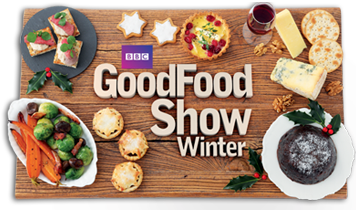 At the end of November I was given some tickets for the BBC Good Food Show by the lovely people at ao.com, I jumped at the chance to visit the show again as I went lasted year and enjoyed wondering around checking out all the different products and of course sampling as much free cheese as possible!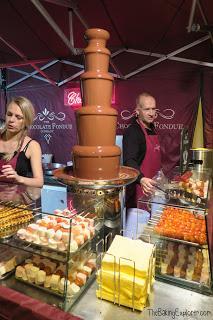 I couldn't help but be drawn in by this chocolate fountain when we first arrived, doesn't that liquid layer of chocolate cascading down look so perfectly shiny and delectable? How could you resist indulging!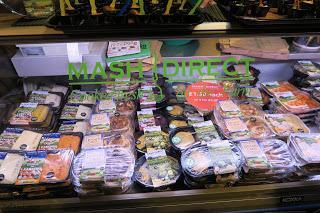 I passed by Mash Direct's stand and with a boyfriend who is not only vegetarian but also one of the biggest mash potato fans I've ever met, I couldn't not stop and purchase some of their products. I bought some champ, potato cakes and vegetable burgers. I prefer to support independent family run companies like this and it's a bonus to know that all of their food is free from anything artificial, and that it's cooked and packaged on the same farm it's grown on.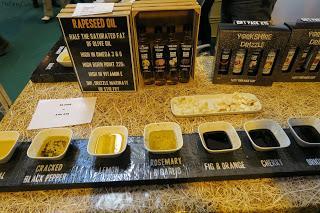 I was intrigued to try Yorkshire Drizzle's products as I am a big fan of dipping bread into oil and vinegar. They had a delicious rosemary oil and cherry balsamic vinegar that I particularly enjoyed sampling.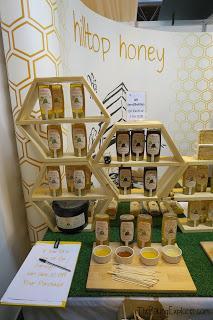 Hilltop Honey are a brand that I have recently become a big fan of. Ever since my WI bee themed meeting (where I made Honey & Orange Cupcakes) I've become more aware of how honey is made and what goes on 'behind the scenes' so to speak. All of Hilltop's Honey is raw, and it either comes from British bees, or organic European ones. I got the cinnamon infused honey which is amazing! I've been enjoying it every morning with my yoghurt.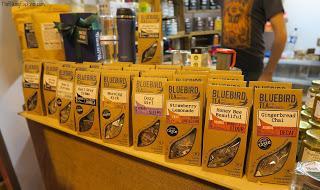 I'm not a tea drinker myself but I can recognize a tea brand that are going to be a hit! Bluebird Tea make some delicious sounding flavours such as Christmas Cake, Gingerbread Chai and Strawberry Lemonade. They are an independent company and their tea is hand blended in the UK.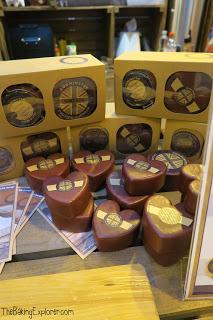 So most of my day involved eating cheese samples, which was pretty amazing. I actually ended up buying some cheese from Snowdonia Cheese, but I also had to feature these super cute heart shaped cheeses from Godminster - how adorable! Godminster also make vodka and their cheese is organic.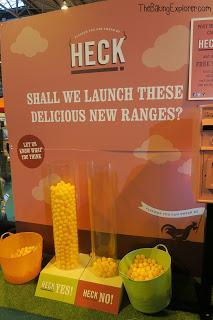 For lunch we grabbed a sausage butty from Heck. The company is a family business who focus on quality. That is certainly evidenced from their delicious products, and also the giant queue outside their food truck!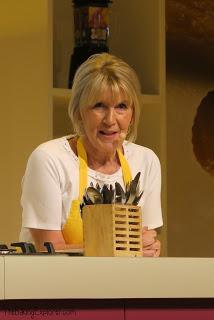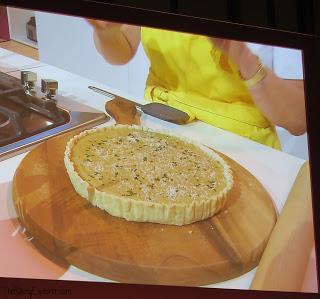 I watched Nancy Birtwhistle - the winner of The Great British Bake Off series five - make a Sage & Onion Tart. It looked absolutely delicious! I might try it myself as it's a very simple and cheap recipe to make.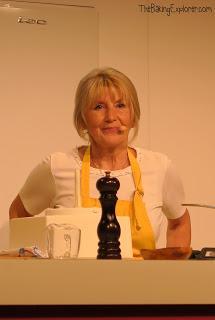 Nancy was fantastic on stage and chatted away comfortably. She also concentrated on passing on her baking tips and tricks, such as using her food processor to make pastry and to roll the pastry out between two cut open freezer bags as they don't wrinkle up like cling film.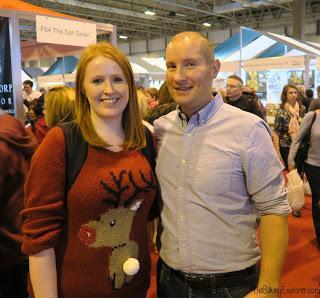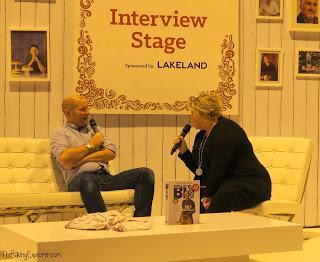 After I watched Nancy I ran into Bake Off series five finalist Richard Burr. I was so excited to meet another Bake Off contestant! I then watched him be interviewed, he talked about his new book and about how he made a cake for a gorilla!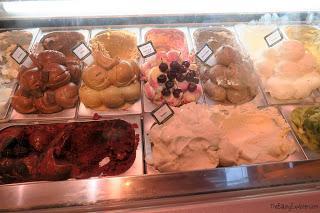 I couldn't resist some of Joe Delucci's gelato. I had a scoop of coconut and a scoop of cookies and cream. They were so creamy and honestly some of the best ice cream I've ever tasted!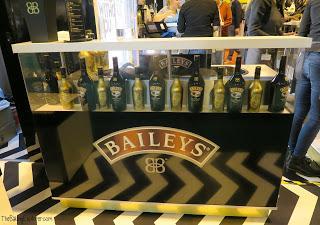 I absolutely love Baileys and they had a stand to promote their new cocktail recipe - the flat white martini. It's a mix of espresso, baileys and vodka. It felt like a sophisticated drink and had a real kick to it!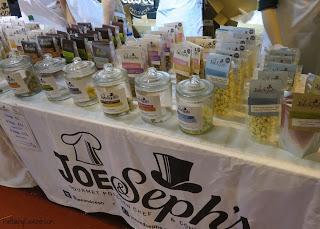 My last stop of the day was Joe & Seph's, who make gourmet popcorn. I got the Christmas flavor of mince pie, which is so moreish. All their popcorn is air popped which gives it a lighter flavor. I had such a fun day at the Good Food Show! I came home with a bag full of quality products that I am so excited to start eating my way through. You can see my vlog of the day below.