Just over a week ago I made my way down to London for the BBC Good Food Bakes & Cakes Show. BBC Good Food are known for their seasonally themed food shows, I previously attended the BBC Good Food Show Winter last December and although I enjoyed it there just wasn't enough baking related for a baking obsessed girl like me. So looks like the BBC were listening and they decided to do a show entirely devoted to Bakes & Cakes - thanks BBC!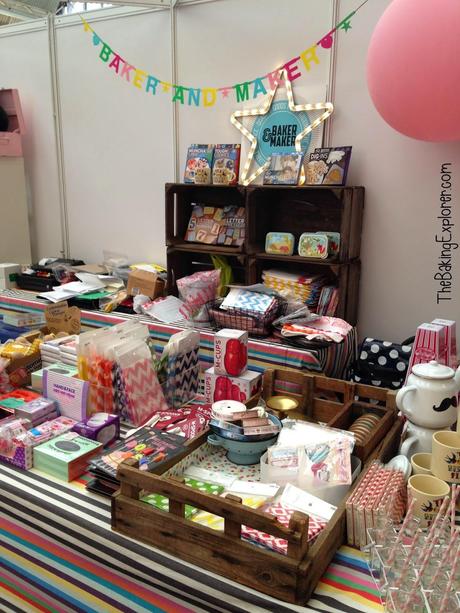 I started the day by wondering around, checking out the stalls and features. I spotted Baker And Maker's stall right away. They sell an array of fun and quirky goods including baking accessories.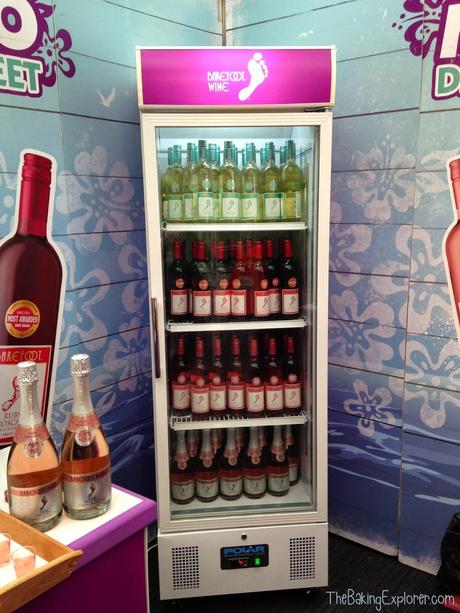 I was so excited to see that Barefoot Wine had a stall as their Zinfandel Rose is my favorite wine. I'm not much of a wine connoisseur and I really love sweet wine, so it's perfect for me. They were offering samples of their new Moscato wine range. I made sure to try each one and can confirm they were all very delicious!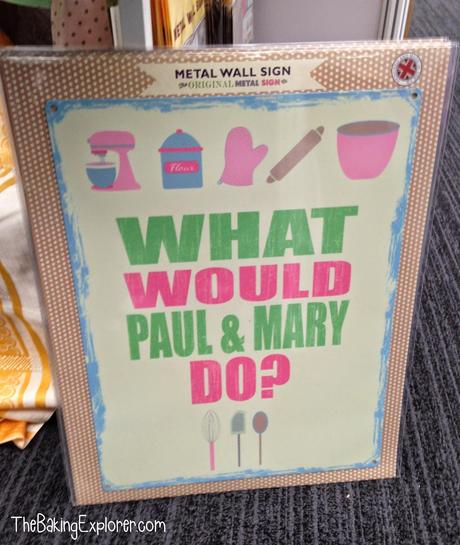 A great sign to have in the kitchen for any stressful baking moments!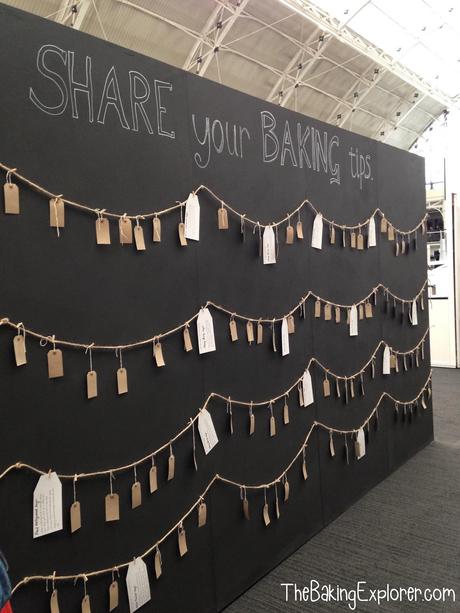 The show had this fab idea board for guests to share their baking tips. Some of the celebrity bakers had already added their tips to the board, such as Francis Quinn who advised to always carry a pencil around to write down your baking ideas.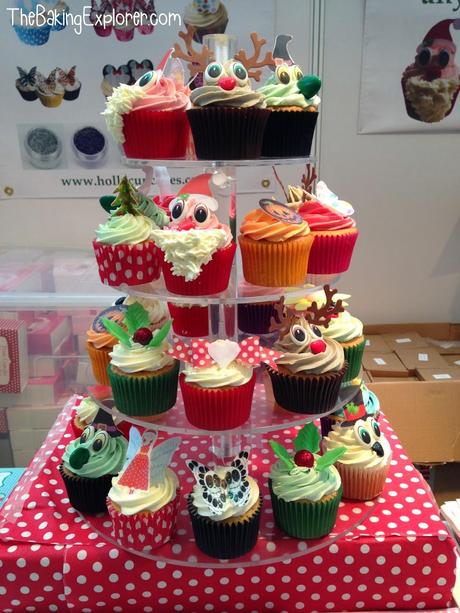 I've seen rice paper being used a lot more in baking decorations to make them edible. The decorations on the cupcakes above are all edible so you can eat everything. I even saw edible cupcake cases in a supermarket a couple of weeks ago!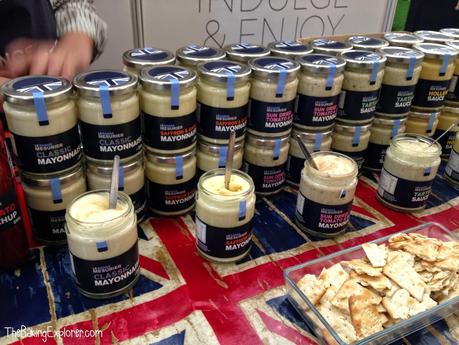 Can't forget the savoury stuff, and mayonnaise is one of my addictions. I love the stuff! Le Mesurier had lots of tasty varieties on offer such as Mayonnaise with Saffron & Garlic, and Sundried Tomato & Basil Mayonnaise.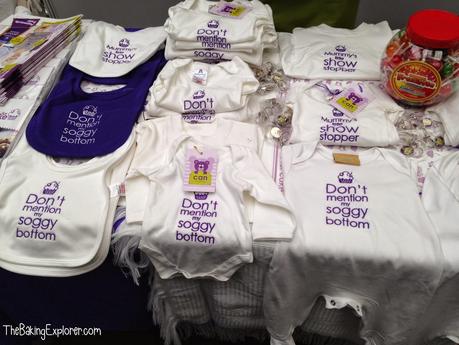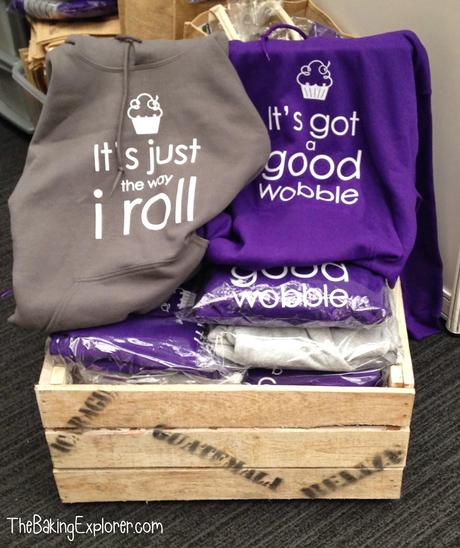 How awesome are these?! So so funny too, I had a right giggle at the slogans on these hoodies and baby grows. You could also buy aprons too. It's all for a good cause too as they are sold by disability charity the Papworth Trust.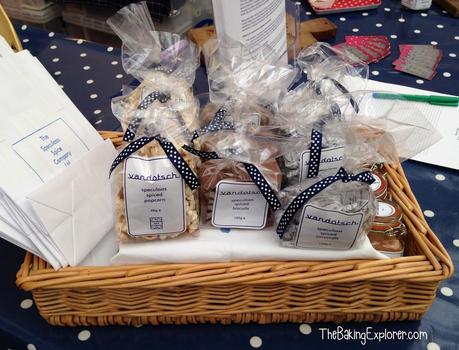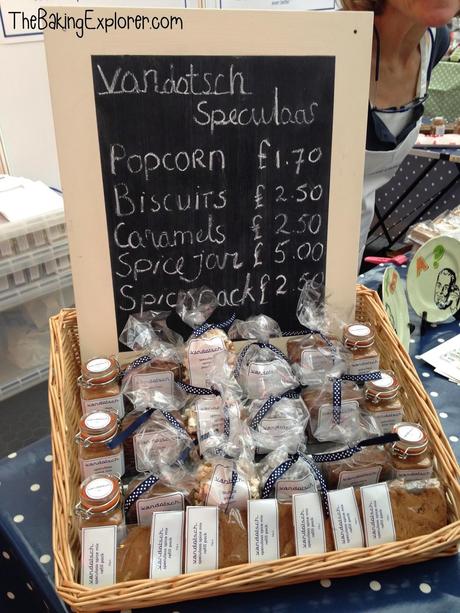 Vandotsch Speculoos spice is a mix of nine organic spices. It is inspired by a family recipe handed down from the owner's Dutch grandmother. It can be used in all sorts of recipes. I tried a biscuit and you really do taste the spices in layers. They come through one by one as you eat. It really is quite clever, and yummy too!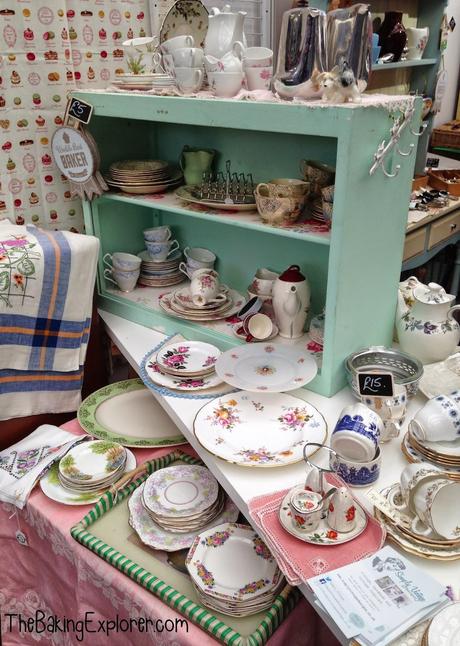 Simply Vintage is simply gorgeous. I love old teaware like this and I bought 4 beautiful cake plates from the stall. The first addition to my collection!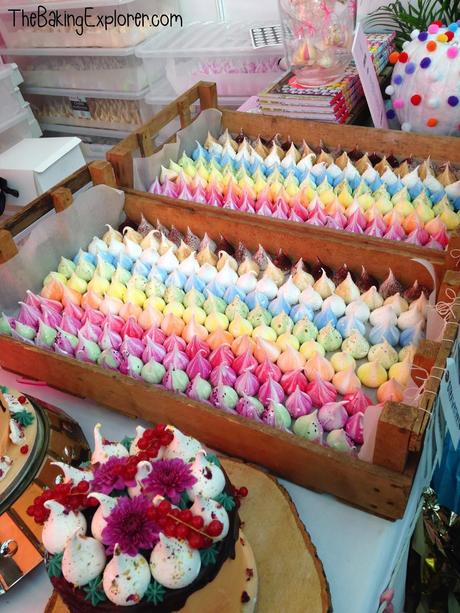 Meringue Girls have devoted a lot of time to meringues and making sure there's are the best. It certainly seems to be working and they look so pretty too! They even have their own cook book out too.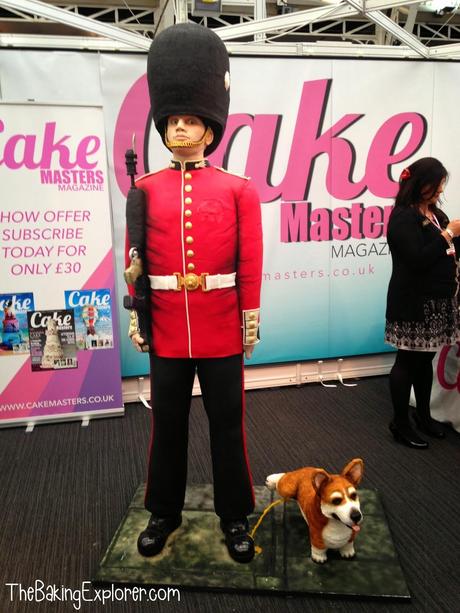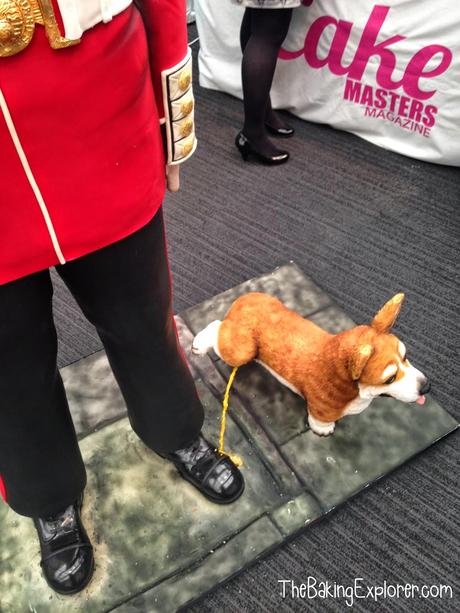 The Queen's Guard are an iconic British image, but have you ever seen one made from cake and covered in icing? Or with a Corgi relieving itself on his shoe?!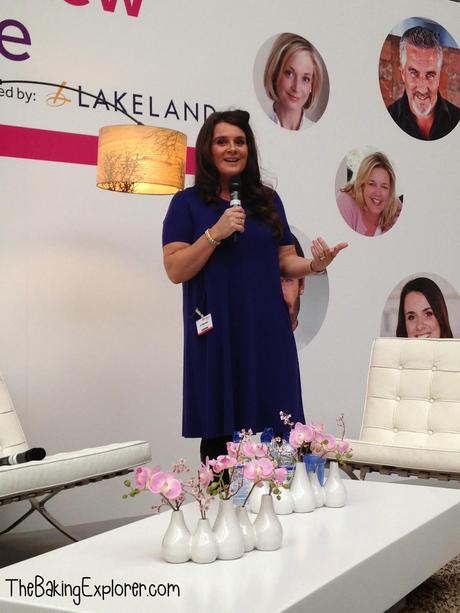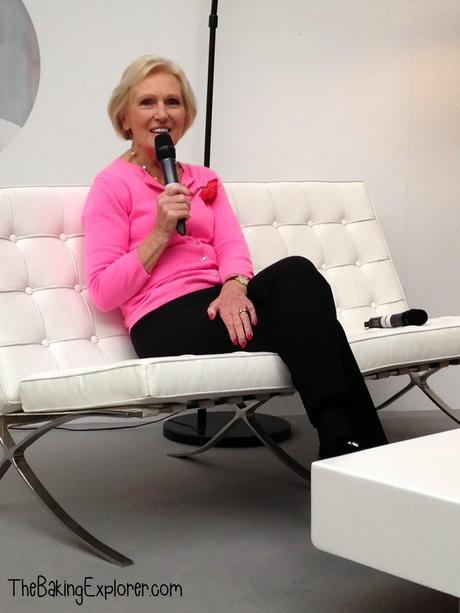 I watched Mary Berry get interviewed on stage by Bake Off winner Jo Wheatley. Mary told us that her biggest inspiration was her domestic science teacher, and she stayed in touch with her after school until she passed away. Mary would love to see more hands on cookery in schools and she also revealed a desire to cook with Hugh Jackman! After selling 5 million recipe books, she cites her favorite recipe as her Lemon Drizzle Cake. Her baking nemesis are Opera Cakes. If she could eat a bake from the Bake Off again it would be Ryan's Key Lime Pie. Finally, she told us how she was looking forward to Christmas with her family, she makes a fish pie every Christmas Eve and her favourtie part of Christmas dinner is the stuffing. Me too Mary!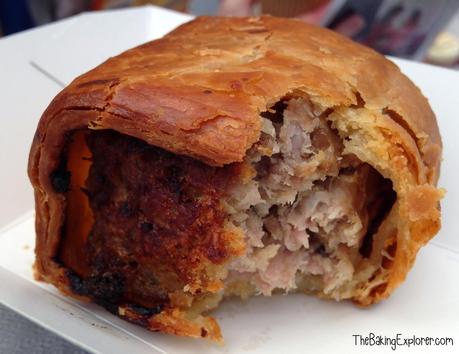 I stopped for a snack and enjoyed this park and sage sausage roll from Little Jack Horner.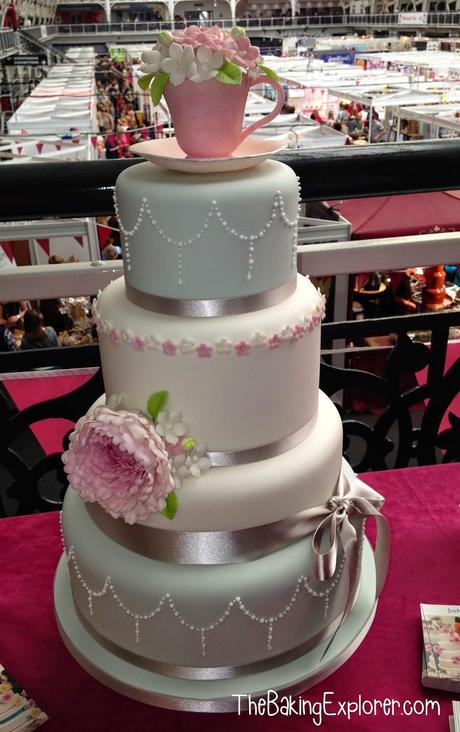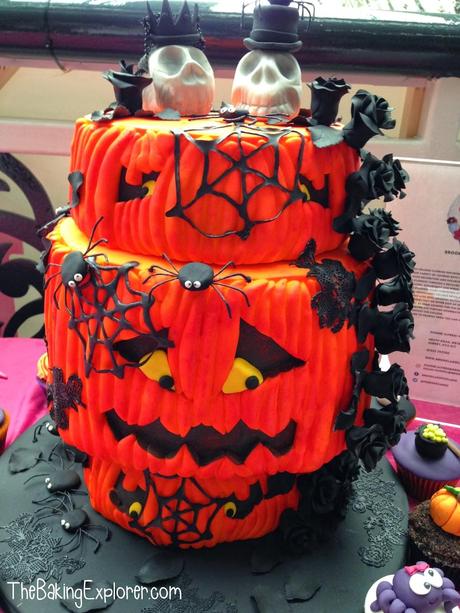 There were some fabulous competition cakes on display including lots of Halloween themed offerings.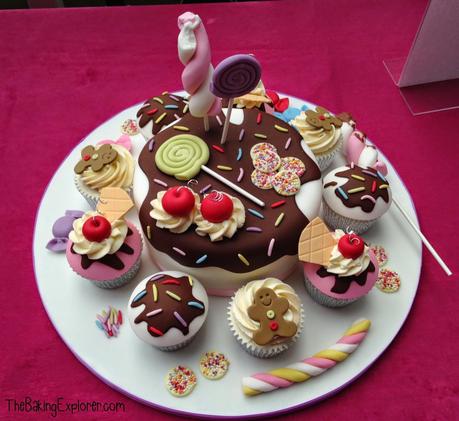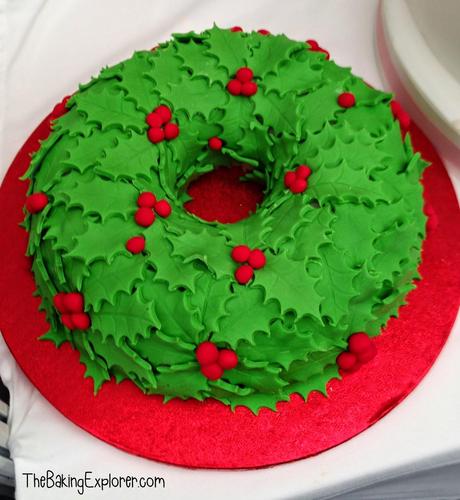 And some Christmas designs too!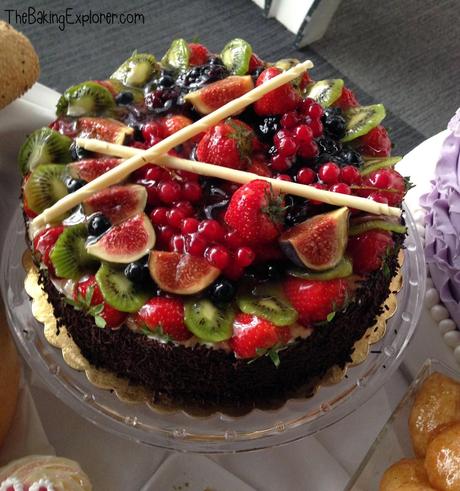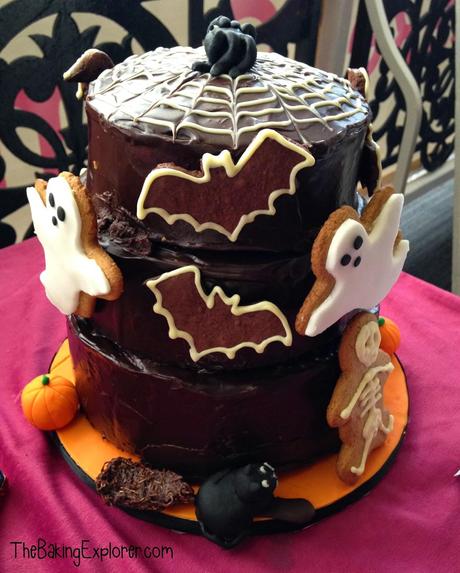 I was really impressed by some of the cakes that had been entered into the competitions, especially the junior competitions. The cake on the right was made by a 14 year old!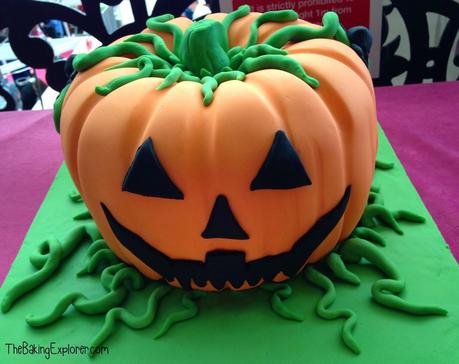 The cake above was made with two bundt cake, one turned upside down on top of the other, then covered in fondant.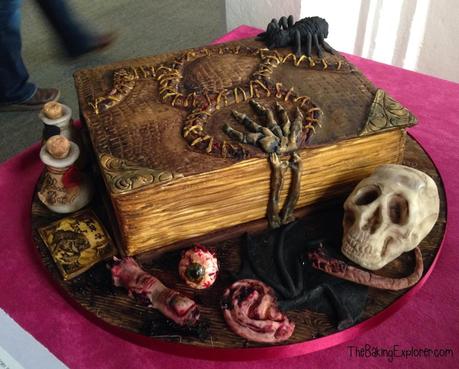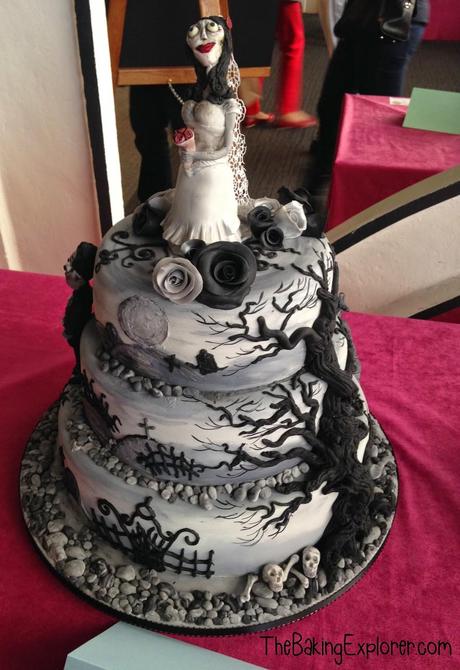 I did go and see Cat Dresser, Mary Berry and Mich Turner in the Supertheatre section of the show, which you have to buy seperate tickets for. I really enjoyed watching them all, but the lighting was very poor and photos were not a possibility. Mary Berry has fantastic stage prescence and I throughly enjoy watching her bake and tell stories. It was great to see Cat Dresser, she has recently opened her own bakery and released a cookbook.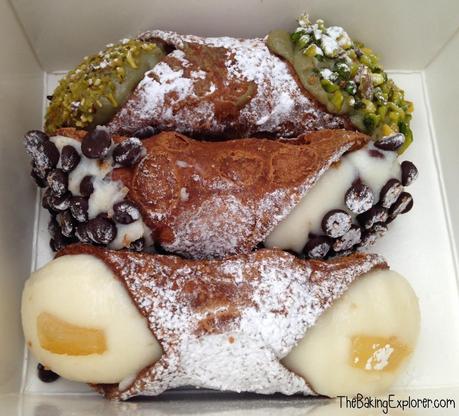 I had a great day at the show and I took home these cannoli's to have as dessert after dinner. I like trying new things and I had heard of these but never seen them before. Casa Cannoli import the shells from Sicily and fill them with their creamy filling. The flavours above are pistachio, chocolate and lemon. They are very tasty!