As I mentioned earlier, I gave myself a mini-break and headed to Getting Gorgeous in NYC a few weeks ago. Sponsored by CVS Extra Care Beauty Club, I was introduced to new beauty products including that oh-so-talked-about BB Cream. 
Heard of it? Probably. 
Know what it is? Mmm, not really. 
I got to talking with one of the CVS beauty specialists and I finally got the 411 on BB Cream.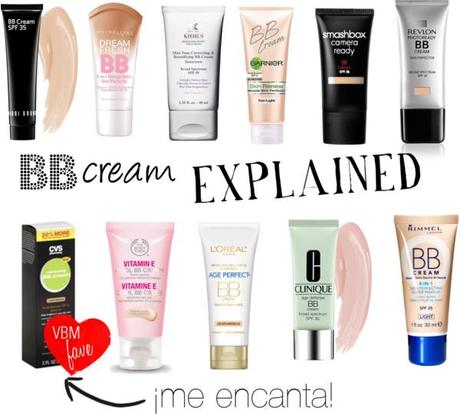 What is BB Cream?
BB stands for Beauty (or Blemish) Balm. Simple as that. It's basically a tinted moisturizer times 100! It is an all in one product that includes: sunscreen, primer, concealer, moisturizer, illuminator, foundation and powder. It is made to simplify beauty routines creating a smoother and more even texture and tone. Honesty, it's a mama's best friend.

How much do they cost?
Depending on the brand, prices can range from $7 to $50.

Best BB Creams? I've been using the CVS Brand of BB Cream with SPF 15 at $9.99 — substantially less than the leading brands. I've also used Nuance Salma Hayek Brightening BB Cream at $15. Some are creams are more lightweight than others — I suggest always testing them out first.

How to use BB Cream?
I'll tell you how I use it because I don't think these is right or wrong way. Even though it has moisturizer my skin is a bit drier and I still use my regular daily moisturizer first then apply the BB Cream. I apply evenly all over my face, then go back and dab a bit extra under the tired eyes for added coverage. Depending on the kind of day, I will either leave it at that or go on and do blush and mascara.

Very Busy Mamá Final Say
¡Me encanta! Worth it! My budget doesn't go past $12 for BB Cream so consider CVS Brand, Rimmel, Revlon, L'Oreal, and Garnier. Does what is says, and for me, it saves time and money on other products. Was skeptical before, but I am a believer now.
And hang tight — there are also CC Creams and DD Creams. No, I'm not kidding — Color Correction and Daily Defense. Haven't dabbled in those yet, but you know I'm going to give them a try!
What do you think — is the all in one worth it to you? What is your favorite?

Follow me on Instagram and Facebook and don't miss daily beauty and style mini-reviews and behind the scene pictures. Hashtags #verybusybeauty #verybusystyle

Disclosure: I received different brands of BB Cream from CVS when I attended Getting Gorgeous. However, I was not required to review or post. These are my own views and recommendations.