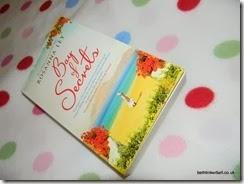 I don't know about you but I love curling up under a blanket with a book. I was very lucky to get 2 weeks off over Christmas and so I indulged in one of my favorite past times, and made my way through a few books.
I've decided that 2014 is the year I bring books to the blog, they have been mentioned over the past 18 months but I'm going to try and do reviews every time I read a book. I will only be reviewing the books I read for pleasure, I'm not quite sure you'll be wanting a review of 'Handbook of the Sociology of Religion'.
Anyway on with todays book, Bay of Secrets by Rosanna Ley which is her second novel, the first being The Villa. I would say that Bay of Secrets is one better suited to the beach than a cold winters day in December! If you like Victoria Hislop, and Belinda Alexandra, then you'll love Rosanna Ley.
This is a story of 2 people Julia a nun in Spain, and Ruby a journalist in England. Julia enters the Convent during the second world war, and carries out volunteer work within a maternity clinic, however she begins to question the way in which the doctor and the clinic carry out their adoptions. Ruby is 34 when she discovers that her parents have suddenly passed away, she moves back home and as she is packing up she discovers a shoe box containing photos that she has never seen before.
I don't want to give much away about the story otherwise there's no point in you going and reading it for yourself. You will find as you read along that you begin to weave together the pieces of the story and as you reach the last few chapters you know how it will pan out. My heart went out to Ruby at times, she is so lost, and I could feel how torn Julia was, she wants to do what is right by the women at the maternity clinic but is bound because of her duties as a nun.
Bay of Secrets is not your average easy reading book for the beach, it's a novel with something to get your teeth in which makes you want to carry on reading. History is entwined with the classic components of easy reading chick lit, making it anything but your classic chick lit read.
Have you read either of Rosanna Leys books before? Also would you like to see more reviews? Do you have any book recommendations for me?
Tink x
Ps. Would you be interested in a book swap? Like a beauty box swap, but instead you choose a couple of books for your chosen person. I'd love to organize one if there's any interest.