Creating more useable space in the bathroom is tough when you have a small bathroom. Designers of new bathroom products take this into consideration when coming up with new designs for bathtubs, sinks, vanities, and showers. The OpenSpace shower by Duravit is a good example of this growing trend. A small bathroom can feel as luxurious as a large bathroom simply by creating more space. OpenSpace allows users to fold the shower doors back flush against the walls. This encloses the shower fixtures and optional accessories while opening up the space that a normal shower occupies. It's as if the shower disappears!
The new line called OpenSpace B features a wider range of sizes with various dimensions. This creates more options in terms of planning and creating a layout. The shower enclosure can be installed directly over tile or combined with any shower tray from Duravit. To keep water from pouring out, a mechanism within the door profile lifts and lowers both doors so that it rests directly on the floor tile or shower tray. An optional mirrored door conceals the shower fixtures and helps make a small space feel larger.
The sleek and minimalist design of this shower is a perfect compliment to modern bathrooms. The use of clear glass, polished aluminum, and mirrors creates a clean sharp look. Glass enclosures are already a hot trend in modern design bathrooms and this shower takes it to the next level. The OpenSpace is highly functional and aesthetically pleasing while making space more open and useable, a very efficient design.
Read the Full Article & View Pictures
Trade Winds Imports offers sleek glass shower enclosures that are perfect for modern bathrooms. Glass enclosures are a stylish and luxurious way to enhance your bathroom experience. They help space feel more open and have high aesthetic value. Check out their selection available online when planning your next remodel.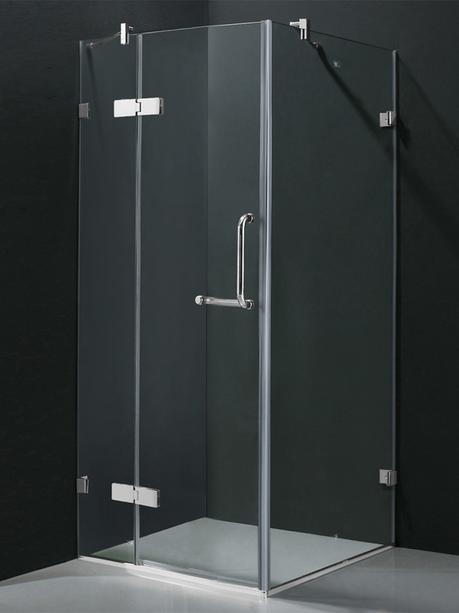 Cimarron Shower Enclosure