The open space bathroom concept has been a signature feature in many luxury hotels around the world. This contemporary style began in hotels and has spread to residential homes. Although it is now being applauded for its edgy new look, this was not always the case.
Open plan bathroom bedroom suites blend your master bedroom with your bathroom suite. With glass walls, peek-a-boo showers, and smaller room dividers, it increases the size of both rooms.
Tradewinds Imports.com has the floating bathroom vanities to complete your open space bathroom plan. Visit us today!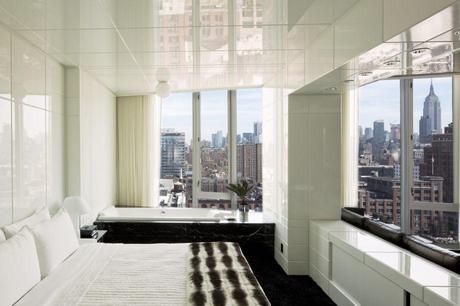 Source: Slate.com
No Walls Between Bedroom and Bathroom Gaining Popularity
What was once a concept reserved for meager living and budget hotels has become welcomed by those seeking a luxury lifestyle. The open space concept has been adopted in the kitchen in years past and aligns with the guiding principles of modern architecture. Open plan kitchens allow parents to prepare dinner while keeping young children within view.

Modern architecture in residential homes often elicit glass walls that reveal remarkable views. In the same way, open space bathrooms have sought to increase perceived space and allow a positive flow of air. This modern trend is associated with the oneness with the outdoors.
The removal of interior walls comes certain implications. Open plan bathrooms challenge the dual-functionality of His and Hers Bathrooms. Some say that the open space brings down barriers between couples and increases intimacy leaving no secrets to be kept hidden. The bathroom becomes a sanctuary in the home where you can do everything conveniently all in one area.
Open Space Bathroom Concept
The Open Plan Bathroom Bedroom Suite
The bathroom has already begun to blend with the bedroom with fireplaces in the bathroom and televisions equipped with complete entertainment systems. In this way, the elements of the master bedroom have already begun to intrude upon the traditional bathroom. The open bathroom concept tears down the divider between two areas of the home that are used the most.
Open plan bathroom bedroom suites can be seen with glass walls or no walls at all with optional modesty curtains available at the homeowners discretion. Peek-a-boo showers allow more natural light to penetrate every corner of the room. Glass walls can create a barrier to prevent moisture and humidity from damaging bedroom furniture. While many raise the issue of fungi in these designs, it's important to keep in mind that heat dissipates more quickly in larger rooms.
While the combination of bathroom and bedroom design is very forward thinking and a bit risqué, they can make both rooms look and feel bigger. This open space is akin to outdoor showers that produce a refreshing feeling that is zestful and revitalizing.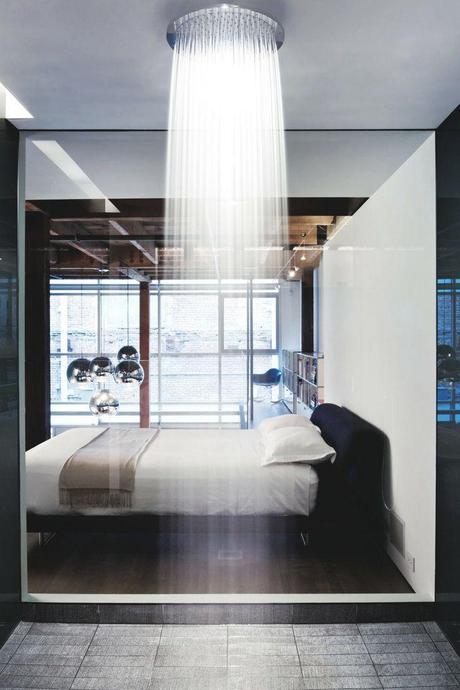 Peek-a-boo showers leave no room for the imagination. Source: Pinterest
About the Author
Cheryl Khan is an interior designer and freelance writer. She is a fan of everything pink and loves cheetah print shoes. You can find her on Facebook, Google+. and Twitter!