Basil Hayden's Two By Two Rye is a blend of a 5-year-old rye, a 7-year-old high-rye bourbon, a 13-year-old bourbon and a 6-year-old bourbon. The 5-year-old rye makes up 80% of the blend with the remaining 20% being the bourbons which begs one key question: how is it being labeled as a rye?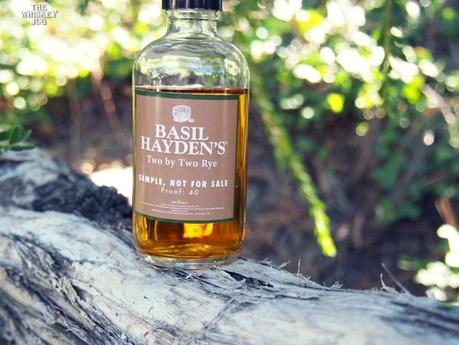 I'm seriously wondering how this got past the TTB to be labeled as a rye since it's a blend. Even using the unofficial "standard" Jim Beam mash bills there's no way to make an 80/20 mix that results in a "total mash bill" that would qualify.
The unofficial Jim Beam mashbills are 77/13/10 (standard rye), 63/27/10 high rye) and 51/39/10 (rye). Using those I did a lot of math and I couldn't get the end mash bill to be at or over 51% rye. So I'm well an truly at a losts why it's considered a rye. Anyways, on to the review.
Basil Hayden's Two By Two Rye Review: Details and Tasting Notes
In Jim Beam's Words: Basil Hayden's Two By Two Rye
Our blending team took on the challenge of bringing together rye and bourbon whiskies from our aging stock to create something incredibly balanced – something that embodies the best that both types of whiskey have to offer.

While blending is commonly used in American whiskies to deliver a consistent flavor from bottle to bottle, the art and craft is truly on display when balancing liquids from different origins. It takes immense skill to develop an original recipe and an incredible palette to deliver a final product that is more than the sum of its parts.

The final blend is about 20% bourbon to 80% rye and is best served neat or on-the-rocks to experience the complexity created by meticulously blending four component whiskies.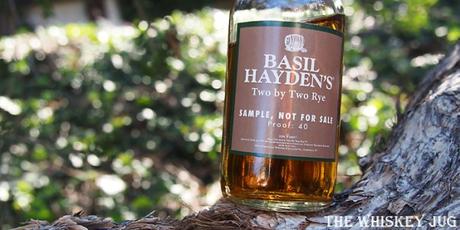 Basil Hayden's Two By Two Rye price, ABV, age and other details
Region: Kentucky, USA
Distiller: Jim Beam
Blend: 20% Bourbon, 80% Rye
Mash Bill: ~ (20% Jim Beam high-rye bourbon + 80% Jim Beam Rye)
Cask: New Charred Oak
Age: NAS (5 Years)
ABV: 40%
Batch: #3 in the series
Price: $50*
Basil Hayden's Two By Two Rye Tasting Notes
EYE
Toffee
NOSE
Spice, toffee, buttery grain, oak, herbal rye spice and a bit of orange zest.
PALATE
Toffee, baking spice, cocoa, citrus, oak, herbal rye and a bit of grain and soap.
FINISH
Medium – Spice, oak, grain and soap.
BALANCE, BODY & FEEL
Ok balance, medium body and a light warm feel.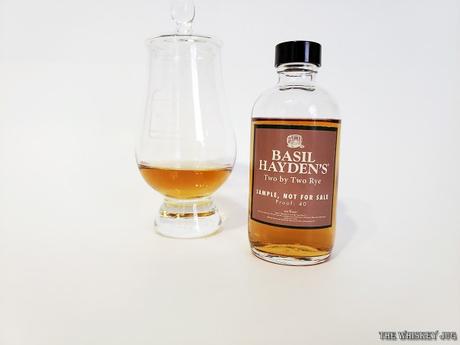 Basil Hayden's Two By Two Rye Review: OVERALL
The aroma of the Basil Hayden's Two By Two Rye is light and comes across young with a touch of raw wood and a sweetness that grows as it opens. The palate also comes across sweet and young with some soap notes that arrive as it sits and opens. The finish gathers more of that soap as time goes on; it never overpowers or becomes a dominant flavor, but it definitely makes itself known.
This is not a whiskey I feel strongly about one way or the other. It's decent, drinkable, and something I wouldn't mind having in my glass if offered. On the other hand, it's not a whiskey I'd grab off my shelf on a regular or even semi-regular basis if I had a bottle… don't even want to snag a bottle like I did the original Basil Hayden's Rye. Overall, not my thing.
SCORE: 80/100 (B-)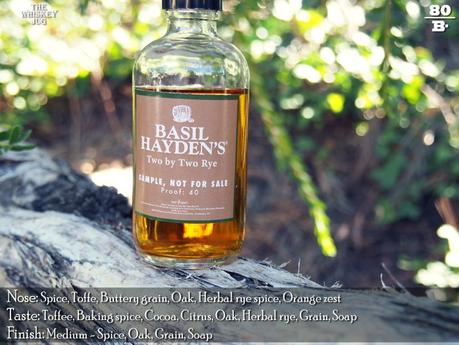 *Disclosure: This Basil Hayden's Two By Two Rye sample was graciously sent to me by the company for the purposes of this review. The views, opinions, and tasting notes are 100% my own.
Basil Hayden's Two By Two Rye
50
Nose -

80

Palate -

80

Finish -

80

Balance, Body & Feel -

80
80
Basil Hayden's Two By Two Rye Review Summary
Basil Hayden's Two By Two Rye is a young tasting light whiskey with an overall sweet nature that turns a little soapy on the finish. Sending
User Review
0

(

0

votes)
Comments Rating
0

(

0

reviews)

<>'<>