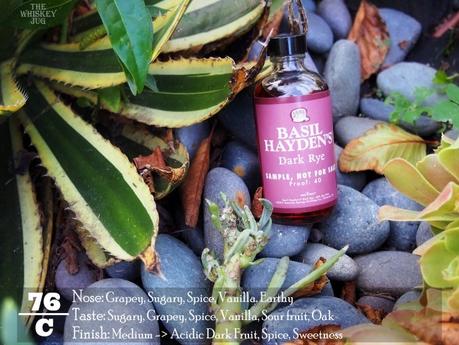 Basil Hayden's Dark Rye is an amalgamation of liquor from multiple areas and in the way it's assembled makes me think of the
Alberta Dark Rye
but with the ratios swapped a bit. The ADR is mostly Alberta with some Jim Beam and sherry (a fortified wine) added to it, but the Basil Hayden's Dark Rye is mostly Jim Beam with some Alberta Rye and a bit of port added to it. Different but similar.
In Jim Beam's Words: Basil Hayden's Dark Rye
"It all begins with Kentucky Rye, providing a firm foundation of spice, oak, dried fruit and subtle molasses undertones for this release to build upon. From there, Canadian Rye from our award-winning Alberta Distillery is skillfully layered in. A touch of California Port, and its complementary notes of ripe fruit, provides the third and final layer to a whiskey just as at home on the rocks as it is in a cocktail."
Aaaaaaaaaaaand now on to the Basil Hayden's Dark Rye Review!
Basil Hayden's Dark Rye Info
Region: Kentucky, USA Distiller:
Jim Beam
Blend: Jim Beam Rye + Alberta Rye + California Port Cask: New Charred Oak + ex-Bourbon Age: NAS ABV: 40% Price: $60*
Basil Hayden's Dark Rye Review
EYE
Ruby
NOSE
Grapey sugary spice and vanilla with a slight earthy aspect. Kinda flat and muted in the delivery.
PALATE
Sugary grapey spice with a bit of vanilla, sour fruit and a touch of oak.
FINISH
Medium drop of acidic dark fruit, spice and and odd sweetness.
BALANCE, BODY & FEEL
Not balanced, medium body with a light syrupy feel.
OVERALL
If someone poured the Basil Hayden's Dark Rye for me blind I would guess it was a cognac or grape liqueur before I ever guessed it was a rye. Heck, I'd guess it was a rum before I guessed it was a rye because there is nothing about this whiskey that even whispers rye to me. The port has completely overtaken the whiskey and that's really all I can taste or smell in this. I don't know if they used sopping wet barrels, super weak batches of rye or a combination of the two, but the sweetness is overpowering for me and I don't enjoy it. As a young fruit-forward cognac it's "ok", but as a rye whiskey, the Basil Hayden's Dark Rye fails to present anything that resembles the last 1/4 of its name.
SCORE
: 76/100 (C)
*Disclosure: This Basil Hayden's Dark Rye sample was graciously sent to me by the company for the purposes of this review. The views, opinions, and tasting notes are 100% my own.